Q&A with DMN writer Adam Grosbard: Assistant coaches, underused players, culture change
Which assistant coach has stood out developing talent?
Posted on 10/31/2017 by PonyFans.com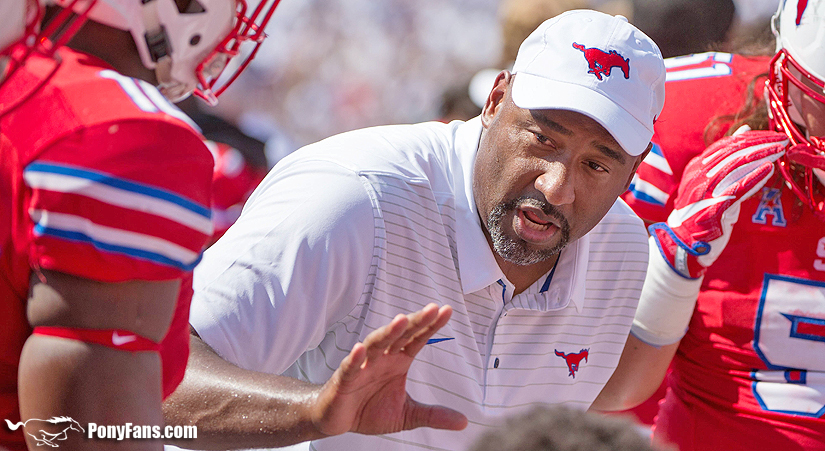 Adam lauds Buddy Wyatt for the job he has done this year with the SMU defensive line, which has benefited from the emergence of Justin Lawler and Mason Gentry into players who could play just about anywhere and gotten a boost from three transfers (photo by Patrick Kleineberg).
PonyFans.com is proud to announce a new partnership with the
Dallas Morning News
. Throughout the season, we — the webmasters and readers of PonyFans.com — will pose questions weekly to Adam Grosbard, the SMU beat writer for the
DMN
, and he will do the same to us, and then we will publish the results in each outlet.All PonyFans are invited to submit questions to be asked to Adam, either on the message board or through a private message on this site to Webmaster or PonyPride. We will select a few each week and submit them to Adam, so be sure to check back each week to see if yours is selected.Make sure to follow Adam on Twitter @AdamGrosbard!___________________________________________________________________________________________________________________________
PonyFans.com
:
In terms of developing players — either new players, or 2016 backups who have emerged into bigger roles this year — which assistant coach has impressed you the most?
Adam Grosbard
: Buddy Wyatt. Defensive line has proven to be SMU's deepest position this season and he's had success with long-term projects and new additions alike. Demerick Gary was a big-time contributor last season as a freshman. Justin Lawler and Mason Gentry have developed from "good for SMU" to "good for anyone" in their three seasons under Wyatt. Pono Davis has been terrific since coming to SMU from the JuCo level before this season. The depth at the position has been the only real strength for SMU on defense this season.
PonyFans.com
:
(Submitted) Which player(s) do you think are being underused this year?
Grosbard
: There are a few receivers who have not been able to carry their own weight this season, though I'm not sure that qualifies as "underused". But Alex Honey and Kevin Thomas were supposed to be big contributors to this team in summer camp and neither has had much of a discernible impact on any game this season. On the defensive side, would like to see more snaps with Delontae Scott and Michael Badejo but considering SMU's success at pass rush this season it's hard to say that either Scott or Badejo is being underused.
PonyFans.com
:
(Submitted) Since Chad Morris got hired at SMU, what the biggest changes you have seen, on or off the field, in the program and the way it's run?
Grosbard
: That's a tough question because the two staffs are such a night and day difference in everything from playing style to attitude to general culture. When I covered the June Jones staff I was working at Rivals and previously Scout so I mostly covered recruiting. The Jones staff was so blase about recruiting, especially in a competitive state like Texas, it was pretty stunning. Now SMU is like almost every other school in the country in that everything is about recruiting, from jerseys to edits to the Tempo Copter and on down the line. Even in the season, the staff spends a lot of time on recruiting. Maybe it's just because of how close I was to recruiting when the coaching changed happened, but that's the biggest difference, especially because it's the root of a lot of the differences.

Previous Story
Next Story

| | |
| --- | --- |
| | Former SMU quarterback not yet ready to give up on playing |

| | |
| --- | --- |
| | Mustangs, Knights kick off at 6:15 Saturday |