PonyFans.com Q&A with Mason Gentry
Former SMU defensive lineman switching to offense in hopes of getting NFL chance
Posted on 04/22/2018 by PonyFans.com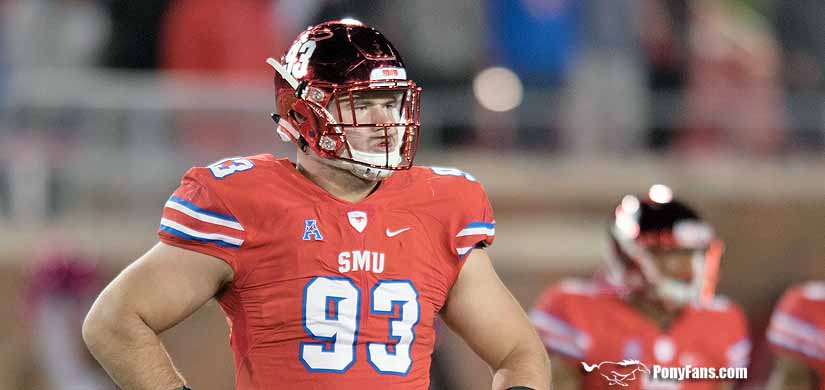 Former SMU defensive lineman Mason Gentry is making the unusual move of changing to the offensive line in the hopes that he can earn a chance to keep playing in the NFL (photo by Patrick Kleineberg).
April is the time of year when college football players dare to dream about what's next. Having just finished their college careers, countless players train, modify their diets and work with performance coaches to fine-turn the skills they have learned over their playing careers in the hopes of getting a chance to continue playing at the professional level.SMU's Mason Gentry is taking a different approach. Initially recruited as a defensive end after playing just one season of high school football at Plano West High School, Gentry ultimately moved inside to play defensive tackle, where his size and strength allowed him to clog up running lanes and help collapse the pocket formed by opposing offensive lines. But ever since the end of his senior season, Gentry has been training for a chance to continue playing … as an offensive lineman, a role he never has played in his football career.Gentry, who measured in on SMU's Pro Day at 6-foot-6 and 300 pounds and says he now weighs "around 305" visited with PonyFans.com to discuss the transition, why the move just might make sense, and his expectations for the future.
PonyFans.com
: You spent your entire college career on defense, and now you're training as an offensive lineman in the hopes of getting a shot at the next level. How did this come about?
Mason Gentry
: The first time someone suggested it was when I was getting recruited out of high schools. Some schools were OK with me playing defensive end — SMU was one of them, and that's one of the reasons I chose to come to SMU — but a lot of schools saw my size, even though I was skinnier then, and wanted to turn me into an offensive tackle. I had only played football my senior year of high school. That was a lot to take in, and switching positions after just one year of football would have been a lot to take in again. I figured if I was good enough on defense to play there, why switch?June Jones told me he thought I could be a really good offensive tackle. He said, "I'm not going to make you switch, but you could be really good." I was still pretty new to the game, and wanted to get better at defense before I thought about starting anything new. Then Chad Morris came, and after my junior (academic) year — my second year playing _ I did more studying about a possible move. But it wasn't what the team needed, and I wanted to win. When I started talking to scouts, they talked about it, but this year wasn't the right time … and we ended up having a winning record this year and going to a bowl game. It (the possibility of moving to offense) was always there, and at the end of the season, that's when I made the switch, and bought in.Right off the start, when I started doing drills, some of the movements were really weird to me and muscle memory would kick in. But I have been studying offensive linemen all along, anyway. Getting ready for games, you study the guys you're going against, and that really helped me, all the time I spent in the film room. So this is different for me, but not completely foreign. It's a lot of work, but in a way, there's a lot of science to it, too.
PonyFans.com
: Who is the last guy who successfully made the transition from college defensive lineman to NFL offensive lineman?
Gentry
: I don't know who the last one is, but a lot of teams I talked to mentioned people who have done it. One of them (Brian Mikalik) plays offensive tackle for the Detroit Lions. He was drafted by the Steelers as a defensive end, but a year in, it wasn't working out. He moved to offense, and he ended up in Detroit, and started a couple of games for the Lions last year.Having played on the defensive line, I know what they want to do, I know what they're thinking. If you're athletic enough … a lot of it is just effort. A lot of the technique, I haven't mastered it as much as a lot of other guys. But I'm learning quickly, and effort makes up for a lot.Part of it is I have to learn all of the positions on the (offensive) line. Not a lot of teams are going to put someone who hasn't played offense at tackle, so I'll probably start as a guard. The San Francisco 49ers said they wanted me to snap the ball. If it helps, I'll play anywhere a team asks me to play. So I need to be able to all positions.
PonyFans.com
: You trained with former Cincinnati Bengals lineman Willie Anderson at his training facility. What was that experience like?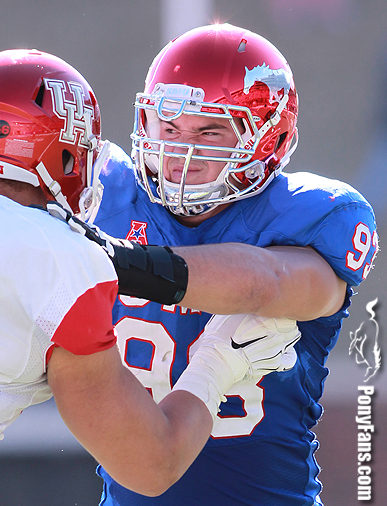 To accelerate the learning process at his new position, Gentry has been training with former NFL offensive linemen Willie Anderson and Jon Stinchcomb (photo by Patrick Kleineberg).
Gentry
: It was great. I was out there for about three months, and I worked with (former New Orleans Saints tackle) Jon Stinchcomb. He's great, he's a really intelligent dude. So I'd work with him and then work with Willie Anderson, and it was really nice to go with the two of them, since they played in different systems, and I could work out with each of them as I kind of find my style as a blocker. It's cool to work with the two of them, to go through and pick and choose what works for me.
PonyFans.com
: How much has Willie Anderson talked with NFL coaches and scouts on your behalf?
Gentry
: He played in the NFL for a long time, has a lot of connections, so he'll say "hey, you should look at this guy." He has gotten video of me, which I need because I've never played on the offensive line, so it's risky for a team. So any extra help from him is a benefit for me.
PonyFans.com
: Other than your size and strength, what do you have that makes coaches — or you — think that playing at the professionally level really is a reachable goal?
Gentry
: I think the main thing that I bring besides being strong and athletic is my ability to pick things up quickly, to make decisions. Everything about playing offensive line is that you don't have time to think, because you have big dudes coming at you, so being big and strong doesn't matter if you make the wrong decision. But I pick things up pretty well, I'm a quick learner and I'm very coachable. Since I don't have the background on the offensive line, those things are really important.
PonyFans.com
: When this time of year rolls around and players are hoping to catch the attention of NFL scouts, they often talk about how their training is different and as much about changing their bodies as it is about football-related drills. In your case, you not only are trying to impress scouts, but you're also moving to a new position. So while you're learning about playing offensive line, how different are your workouts from anything you have done before?
Gentry
: The workouts in Atlanta were very different from anything I have ever done. Instead of just trying to make 40s fast and running combine drills, I did position work every day. We would work on run blocking and pass blocking, spend 20-30 minutes a day on combine drills, then put in an hour and a half on position work and another hour and a half lifting. From that standpoint, it was very different, but I enjoyed it a lot.Working out with NFL teams is a little weird. The workouts are short and not that tiring — sometimes you only get about 30 minutes. I'm used to running stadiums, running 20 100s — workouts that are designed to try to make you exhausted, which is great for conditioning, even though that's not realistic — as an offensive lineman, when are you going to run 100 yards? With the NFL teams, they have you trying to do drills, see your movement, see your flexibility, how you bend in your hips and knees. They're not trying to tire you out so much as they are trying to see how you move.
PonyFans.com
: On SMU's Pro Day, you were measured at 6-foot-6, 300. Do you want to get even bigger, and if so, how much?
Gentry
: I'm about the same weight I was when I played: 305. At times, I got up to maybe 315, but this was my weight when I played most of the time, and my body fat is down a little. I assume I'll stay at this weight, unless a team asks me to put on weight. I have done that before, and I'll do it again if they ask me to. That has never been a problem.
PonyFans.com
: Have you visited with any NFL teams?
Gentry
: I met with a scout from San Francisco when he came to SMU, and I went to a Tampa regional combine.
PonyFans.com
: Has any team told you that if you're not drafted, it will sign you?
Gentry
: All of the scouts I have talked to said they really like me, and some have told me "if we had film on you (playing offensive line), we would draft you." I'm realistic — I'm probably an undrafted free agent, and I'm fine with that. It comes down to me working hard, proving myself, and I have done that before. I'm not going to be upset if that's the way it goes, because I have had to prove myself before.

Previous Story
Next Story

| | |
| --- | --- |
| | New safeties coach was a conference leader in college ... as a receiver |

| | |
| --- | --- |
| | Former SMU offensive lineman hoping strong Pro Day, position versatility translates to pro career |