PonyFans.com Q&A with Evan Brown
Former SMU offensive lineman hoping strong Pro Day, position versatility translates to pro career
Posted on 04/25/2018 by PonyFans.com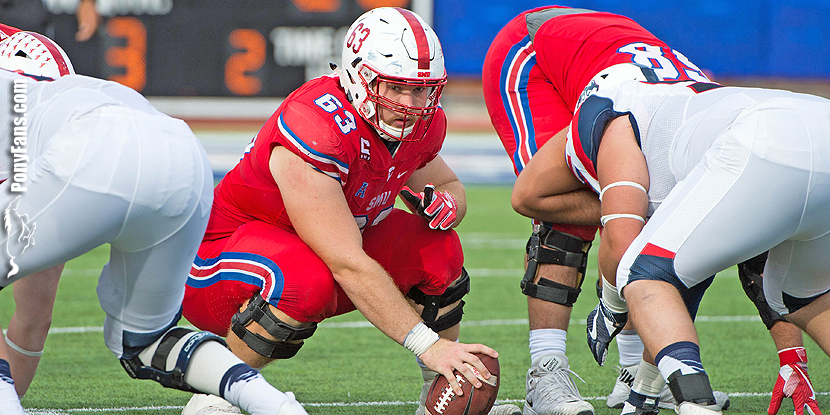 Former center Evan Brown is hoping that an exceptional performance at SMU Pro Day translates into a selection in the 2018 NFL Draft (photo by Patrick Kleineberg).
Those who attend Pro Day across the country often focus in on a quarterback's deep passes for wide receivers, or running backs' times in the 40-yard dash and assorted shuttle drills.But when NFL scouts descended upon the SMU campus in late March, one of the most impressive performances was turned in by former SMU center Evan Brown. The four-year starter at center and guard measured in at 6-3 and 306 pounds, ran a 4.97 in the 40, put up 36 reps with the NFL-standard 225 pounds on the bench press, jumped 36 inches in the vertical jump and leaped 9 feet, 5 inches in the standing broad jump.Brown also visited with PonyFans.com to discuss how those numbers might translate into a chance at a professional career.
PonyFans.com
: To an outsider, the numbers you put up were pretty eye-catching. Were you surprised by anything you did?
Evan Brown
: All of my numbers were in the upper range of what I expected to do, but they weren't shocking. I have been training really hard, and I came out on Pro Day and did about like I expected to, like I hoped to.
PonyFans.com
: One of your numbers that jumps out right away is in the vertical jump. You jumped 36 inches … which was one inch higher than Courtland Sutton, who appears ready to be chosen pretty high in the draft. Does that mean you can claim to be a better athlete?
Brown
: (Laughing) No way … I'm not saying that. I've always been able to jump pretty well, and I have been training hard at APEC over in Fort Worth, and they did a great job of getting me prepared for Pro Day. But (Sutton) is a physical freak. There aren't a lot of athletes out there like him.I was played with the whole thing all around. I wouldn't say one test was my best or surprised me. I had a good Pro Day, and all my numbers would have been in the top five at my position at the Combine, so I'm definitely pleased about that. I would have liked to go to the Combine, I would have liked to be invited, but that wasn't in my control. Hopefully the numbers I put up on Pro Day will convince teams they should take me.
PonyFans.com
: Everyone training for a shot at the pros changes up their workouts to a degree, but you look distinctly different than you did at the end of the season. Once the bowl ended, how did you change your workouts, your diet?
Brown
: I've changed my body comp a little. APEC had a great diet plan and a great workout plan, and I got great results through three months of training over there. I was focused solely on training, and that's a lot different when you don't have school or even football. My weight is about the same as it was during the season, but I dropped 4 or 5 percent body fat. Any time you're cutting fat and adding muscle, and seeing your body change, that's going to help. You can feel it. I definitely feel quicker and stronger.
PonyFans.com
: You have started at center the last few years, but started your SMU career as a guard. Are some teams considering you as a potential guard, or are they viewing you exclusively as a center?
Brown
: To the best of my knowledge, I'm only being considered as a center, across the board. My goal is to get drafter, but I know different teams want different measurables. So if I don't (get drafted), I'll be a free agent, go in to whatever team signs me and compete, and part of that will be by showing I can play guard or center. There's only 53 guys who make every roster, and they can't have backups at every position, so the fact that I can play both definitely should help.
PonyFans.com
: You have played so many games, starting all four years at SMU, but scouts sometimes try to project what you will become as much as they do at your production. So what do you consider your best selling points as a pro candidate?
Brown
: It probably starts with that versatility you mentioned. I'm one of very few with so much game film at both guard and center. They can try to project all they want based on how big someone is, but with me they can see it, and they can see it at more than one position.I have gotten a lot of feedback. After Pro Day, I got a bunch of calls from teams all over the country. I got out there on Pro Day and got them talking about me — "this dude tested out of the water." I had a private visit with the 49ers when they were in town, and the Cincinnati Bengals flew me up there. They only get to have 30 players on visits, and I got one of them. That, plus the way the visit went … I came away feeling pretty good about the visit.
PonyFans.com
: You played your last three years under (former SMU offensive line coach) Dustin Fry, who did the same thing you did: he had to fight for attention, getting drafted late (in the fifth round by the then-St. Louis Rams) and made it to the NFL. Have you stayed in touch with him, and what has he told you about making scouts notice you, either in the workouts leading up to the draft or once you get into camp?
Brown
: I talked to him a couple times since they moved to Arkansas, and I wish them the best up there. He just talked about getting ready for Pro Day and then showing the best of my ability. I heard from multiple scouts that the coaches up at Arkansas were really talking me up, and I'll always appreciate them for that.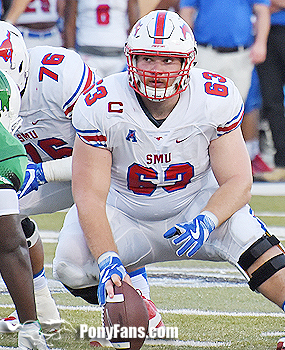 Evan Brown has the advantage of showing scouts extensive game film at two offensive line positions, showing flexibility that is valued by NFL teams (photo by Patrick Kleineberg).
PonyFans.com
: Players at certain positions get pigeonholed into being a fit for one system or another, like when someone says that certain defensive ends and linebackers are better suited to playing in a 3-4 defense as opposed to a 4-3 alignment. Does that apply to offensive linemen, or do you feel like you would be equally successful in any kind of blocking scheme?
Brown
: I think I have the knowledge and the mindset and ability to fit any offense. There definitely are some offenses with coaches who have certain things they want in certain positions, and if a team wants all of its linemen to be 6-6, 330 … well, I'm not going to fit in. So if I don't get drafted and I get to pick where I go as a free agent, then I wouldn't look at teams like that. But I really think I can play in any blocking scheme, given the chance.
PonyFans.com
: At this time of year — since the end of senior season — how much are you working on technique, or is it all fitness and strength and quickness?
Brown
: It's both. I started early on, working with APEC in January, and I also worked with (former University of Texas offensive lineman) Jonathan Scott (who also played nine seasons in the NFL). I spent about three days a week with him, working on technique and getting critiqued by him. He played in the NFL for a long time, and I learned a lot from him. He watched my film and critiqued my performances, telling me little things that I can use, and then I did a lot of footwork.
PonyFans.com
: You mentioned visits with the San Francisco 49ers and the Cincinnati Bengals. Were there any more?
Brown
: San Francisco came here, I did the Dallas Day for local players, and then Cincinnati flew me out for a visit. Teams only get to bring in 30 players, so yeah, I was a little surprised that they flew me up there. I'm so glad to those teams for giving me the opportunity. I got along really well with the coaches, and there was a lot of medical work. One of the interesting parts was meeting (Cincinnati offensive line) Coach (Frank) Pollack. We got along really well, and when we were talking, we figured out that when he was the offensive line coach for the Dallas Cowboys, he lived in Southlake. I didn't know him, but it turns out we lived pretty close to each other.
PonyFans.com
: What kind of feedback have you gotten from the scouts on those visits?
Brown
: Not too much positive or negative — I think they didn't want to show too much about their impressions or what they thought. Even at the Cowboys' local day, they wanted to see guys work, to see how we move, but obviously they had their meetings behind closed doors. They didn't discuss much with us.
PonyFans.com
: You're a Dallas fan — if you could choose, is that where you would end up?
Brown
: (Laughing) I'm of every team when we're getting ready for the draft. Whatever team I end up with, that's my team. My dad is from New England, the Boston area, so I grew up a Patriots fan. Honestly I'm a big Tom Brady fan — I'm a fan of the way he works, the way he plays, the way he takes care of himself and how that has allowed him to stay in the league for so long. But once the draft is done, I'm immediately a fan of whatever team I end up with.
PonyFans.com
: Are there NFL players you compare yourself to, or consider yourself a younger version?
Brown
: It's not someone I resemble, but I really like watching Travis Frederick of the Cowboys. He just finished what, his third year? [Frederick just finished his fifth NFL season.] He's still young, but he's the best center in the game in my opinion. He hasn't been in the league that long, but he has made great strides. We're different players, but when you look at how much he has improved, he's a guy I like to watch.
PonyFans.com
: So what's your mindset at this point, as far as getting drafted, signing as a free agent. What is a realistic outcome?
Brown
: Honestly, you never know until it happens. Teams make last-minute decisions, their plans change, so you never know. But I'd like to think I will be drafted. If not, that's OK, too — I'll sit down with my agent and my family, and we'll make a list of where I would fit best. Then once I get on a team, I'll put my head down and go to work.

Previous Story
Next Story

| | |
| --- | --- |
| | Former SMU defensive lineman switching to offense in hopes of getting NFL chance |

| | |
| --- | --- |
| | New coach inherits enviable task of juggling Jones, West, Freeman |