Camp Primer: How will the passing game differ without Sutton, Quinn?
Mustangs hoping more receiving targets will emerge in 2018
Posted on 07/31/2018 by PonyFans.com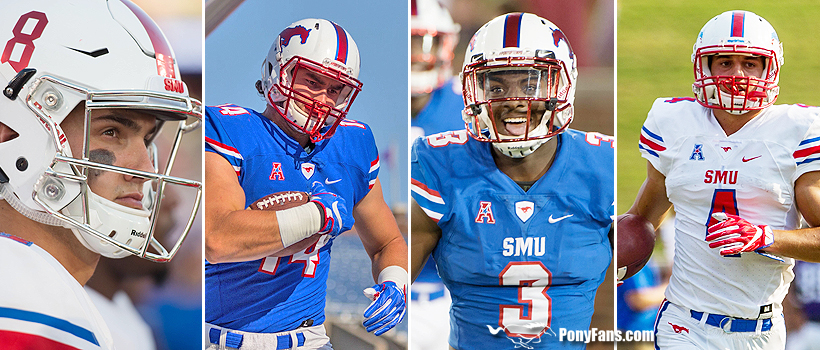 Few teams lost as much in the passing game as SMU did when Courtland Sutton and Trey Quinn were drafted, which means more will be asked in 2018 of players like quarterback Ben Hicks, tight end Ryan Becker and receivers James Proché and Tyler Page (photo by Max Franklin/Pat Kleineberg).
Every team in the country faces significant questions as preseason camp gets started. All teams have to replace players who didn't return from last year, either because of graduation, the chance to pursue a professional career or some other circumstance. Some teams have to adjust to new coaches, while others work toward implementing new schemes. Spring workouts offer initial teaching sessions and a peek at what's to come, but players are trying to make contact with opposing players, not hand out extensive physical punishment. Spring workouts are more about knowledge and familiarity than they are about doing anything that resembles the version of football that will be seen in the fall.The SMU Mustangs must do all of those. Three starters on last year's team were drafted by NFL teams: wide receiver Courtland Sutton by the Denver Broncos, defensive end Justin Lawler by the Los Angeles Rams and wide receiver Trey Quinn by the Washington Redskins. Two others are in NFL camps as undrafted free agents: defensive lineman-turned-offensive tackle Mason Gentry with the Houston Texans and center Evan Brown with the New York Giants.Everything on the sideline at Gerald J. Ford Stadium will be different in 2018, as Sonny Dykes and his staff take over the program that ended last season with an appearance in the Frisco Bowl, although not with a result that anyone affiliated with SMU wanted.So as is the case with every other team in the country, the Mustangs have plenty of questions that need to be answered in preseason camp, which starts Saturday.Among the items that need addressing:
How will the departure of Sutton and Quinn to the NFL impact the passing offense?
To say the loss of the team's top two receivers won't alter the passing game would be ridiculous. Quinn and Sutton accounted for 182 receptions and 25 receiving touchdowns. Out of all other players who found themselves on the receiving end of any passes, James Proché had 40 receptions; the rest of the team accounted for 61. Does that make Proché the automatic go-to target? Sure ... at least initially.Proché certainly is the best-known among returning SMU receivers, but is not the only one who impressed. The coaches saw flashes from several young wideouts during spring workouts, including Tyler Page, who played in eight games in as a true freshman, just a year after his final season as a high school quarterback was cut short by a knee injury, and Myron Gailliard, who impressed despite being limited in the spring. Several young players, like Brandon Benson, Judah Bell and Joshua Shelmire, will be given chances to crack the rotation. Also in the mix will be at least six freshman wideouts, plus former TCU transfer Armanii Glaspie and C.J. Sanders, the 5-8 speedster who will have one year of eligibility remaining after transferring from Notre Dame.It would not be a surprise if the Mustangs rely more on the running game, at least at first. But new offensive coordinator Rhett Lashlee said that while some might assume that Dykes' background in the Mike Leach Air Raid offense means the Mustangs will be passing all the time, his offense will bear a striking resemblance to the scheme run by the previous coaching staff, as both have roots that can be traced back to now-Auburn head coach Gus Malzahn."There's not too many differences," Lashlee said. "There's a lot of similarities in the styles. Obviously, in the run game, we maybe do things a little differently here or there, and then in the passing game, there are things I have my personality with, and Coach Dykes with his background might be a little different. But overall, the scheme and the philosophy is pretty much the same."Like many coaches in their first seasons with new teams, Lashlee says the quarterback position is open to competition. But the idea that anyone other than junior Ben Hicks might start is hard to imagine. In almost two years as the team's starting passer, the junior already holds the SMU career record in touchdown passes with 52 and the single-season touchdown pass mark with 33. His 510 career completions are fourth in school history (the record is Chuck Hixson's 642), and his 6,499 passing yards are the second-highest total in school history, trailing only Hixson's 7,179."You've definitely got to have a quarterback," Lashlee said. "I know this: if you don't have a quarterback, you don't have a chance, and we fortunately feel like we've got some guys that give us a chance."It's open at every position — we're a new staff, so everybody gets a fresh start. Obviously, when you play two years, and played well lately, you've got the advantage, and that's fine, but he's still got to come earn the job, and prove it, and he's got to prove to his teammates and us that he's willing to raise his level. So he had a good year last year, but you haven't tapped the ability you have to the fullest of your potential. So he's got to keep pushing himself, and if he does — which I know he will — he can improve off of last year. But if not, maybe someone else rises up. There's no question, when you're a returning starter, people can say what they want. You've got an advantage, but nothing's secure."One area in which the coaches say this year's offense will differ from the one the Mustangs ran over the last few years is at the tight end position. Members of the previous coaching staff insisted that tight end was a premium position in their offense, and yet the Mustang tight ends caught just four passes as a group last season. That, the new coaches say, should change."Tight ends are their own animal," new tight ends coach Josh Martin said. "You don't treat tight ends like an offensive lineman, and they're not a receiver, either. I think just having an overall understanding of what everybody does … at this position you've really got to know the most, besides the quarterback, because you're involved in every aspect of the game — you're involved in the run game, you're involved in the passing game and you're involved in protection."Martin stopped short of making any predictions about how many passes will be thrown to tight ends, deferring instead to the theory of taking what the defense gives."We're going to try to gameplan to get the ball to where our best players (are) and take what the defense gives us, for the most part," Martin said. "If there's a game where the tight ends catch 10 balls and we win … great, and if there's games where we don't catch any balls and we win, that's great, as well."Martin said he was pleased with his first impressions of returning tight ends Ryan Becker and Corey Rau, as well as Hunter Thedford, who was limited in the spring because of a shoulder injury."I think these guys are all really smart," Martin said. "They take the meeting — what we talk about in installations — and they take it onto the field, and they're able to execute pretty well. I've been pleased, for the most part, how we've gone out and executed, schematically. It always hasn't been the best, fundamentally, but their understanding of football, overall football knowledge has been pretty good. I think there's a good level of toughness with those guys. They're getting better, and improving. There's still a long ways to go, but we're going to get there."We want competition at that position. Everybody gets a little bit better when nobody's safe. We're going to have our first- and second-team guys, but we try to build and get better every day."

Previous Story
Next Story

| | |
| --- | --- |
| | New receivers coach played college ball under Sonny Dykes |

| | |
| --- | --- |
| | Mustang defense must replace five 2017 seniors up front |