Camp Primer: What should be expected of new-look defensive line?
Mustang defense must replace five 2017 seniors up front
Posted on 08/03/2018 by PonyFans.com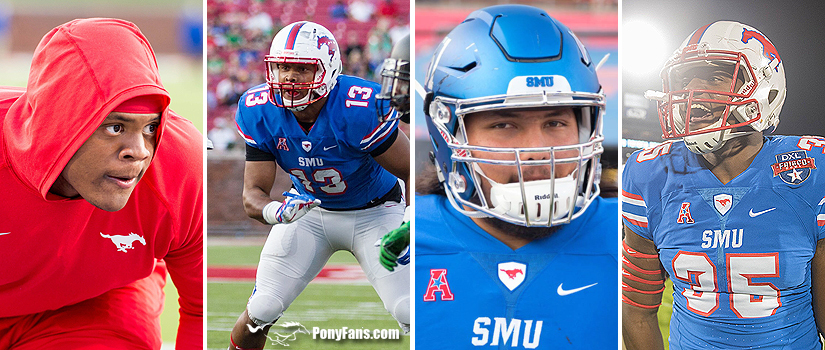 Tackles Demerick Gary and Pono Davis and defensive ends Tyeson Neals and Delontae Scott are the most experienced returning defensive lineman as they prepare for their first season under new defensive line coaches Randall Joyner and Brett Diersen (photo by Pat Kleineberg / Max Franklin).
No position group on the SMU football team has undergone as big a facelift since 2017 as the defensive line. Five seniors from last year's group, defensive ends Justin Lawler, Dimarya Mixon and Nick Horton, and defensive tackles J.T. Williams and Mason Gentry, are gone — Lawler to the Los Angeles Rams and Gentry to the Houston Texans.The departed players were more than familiar mainstays at the front of the Mustangs' defense. They also were key parts of the unit. It's easy to point to the graduation of Lawler, whose 74 tackles were second on the entire team, and whose 9.5 sacks led the entire defense. But to suggest that Lawler was the only contributor among last year's seniors would be simply inaccurate. Of the 248 tackles in 2017 by defensive linemen, 166 were turned in by those five players. The same group accounted for 14 of the defensive line's 23 sacks during the season.The quartet with the most playing experience, at least at SMU, would be tackles Demerick Gary and Pono Davis between defensive ends Tyeson Neals and Delontae Scott. Davis led the group with 26 tackles a year ago, while Neals finished the season with 4.5 quarterback sacks, which tied linebacker Kyran Mitchell for the second-highest total on the team.The rest of the defensive line will be a mixture of youth and new faces. They aren't listed on the official roster yet, but SMU is expected to add a couple of transfers — former Cal defensive end Noah Westerfield and former Arkansas defensive tackle Jake Hall — for a year as graduate transfers. Beyond that, new defensive ends coach Randall Joyner and defensive line coach Brett Diersen will be tasked with accelerating the maturation of a group of youngsters that includes junior Chris Biggurs, sophomores Pat Jones and Ken McLauren, redshirt freshmen Toby Ndukwe, Harrison Loveless and Turner Coxe and a recruiting class with at least four freshman defensive linemen.Diersen, who followed new defensive coordinator Kevin Kane to SMU from Northern Illinois, said he is not put off by the relative youth in the group, and said the fact that the Mustangs lost so much experience from last year's defensive line doesn't discourage him in the slightest."I didn't really look at what was coming back — that doesn't mean anything to me," Diersen said. "I think if the kids are willing to work hard, and I think the thing that's fresh for these kids is it's kind of a brand-new slate. They've got a new scheme coming in, and … see if they like it."We were young up north, and I never left that job because we were young. When I got to Northern (Illinois), after my first year, we graduated six seniors, and I stayed there for five years, total."Diersen said that rather than focusing on the players' age and experience, he and Joyner will focus more on getting into situations that can aid the defense overall. Getting into the optimal down and distance means the Mustangs will be able to turn loose their pass rushers more aggressively, and at that point, speed is as important as ever."If I can get to a certain front on third down — I mean in personnel — that's what I want to get to … meaning guys that can get after the quarterback," Diersen said. "At the last place, two of my … better players off the edge were high school running backs, and we signed them as running backs."Before the Mustangs took the field for spring workouts, Diersen didn't pore over 2017 stat sheets or base his assessments on past performances."I watched a couple games," he said. "I didn't go off of jersey numbers and stuff, because that's not fair to the kids. I wanted to see how they played, and I wanted to see what the conference was like."Now that he and Joyner have 15 spring practices to assess, the teaching continues. It still is too early to declare whether the four experienced holdovers will claim and retain starting jobs. It is safe to assume, however, that the defensive line coaches will rotate numerous players in and out of the lineup, at least early on, while determining which players best fit their system.If the Mustangs lack experienced depth, the returning foursome at least has numerous games — and in some cases, seasons — of experience upon which to fall back.

Previous Story
Next Story

| | |
| --- | --- |
| | Mustangs hoping more receiving targets will emerge in 2018 |

| | |
| --- | --- |
| | Coach pleased with progress, acknowledges 'long way to go' |