Pony NATE-tion: Mustangs to face elite defense at Michigan
Wolverines led nation in pass defense last two years
Posted on 09/12/2018 by PonyFans.com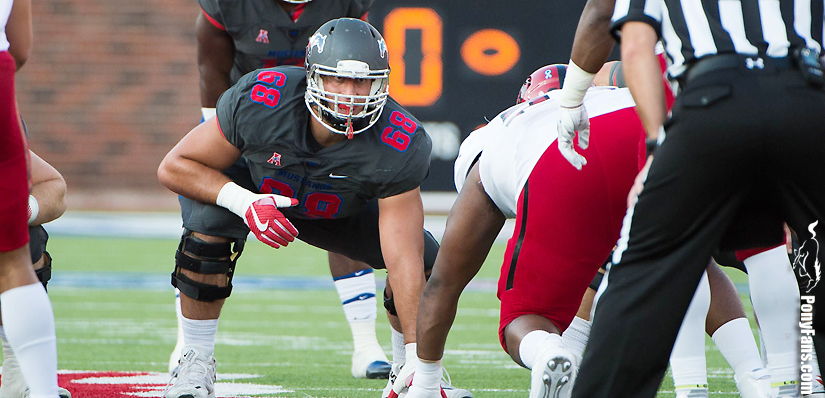 Nick Natour and the SMU offensive line will face perhaps their biggest challenge of the season against Michigan, which boasts one of the elite defensive fronts in the nation.i (photo by Patrick Kleineberg).
PonyFans.com is proud to have 18-year-old Nate as a guest columnist. This week, Nate breaks down SMU's matchup Saturday afternoon at Michigan.
Feel free to post comments and constructive criticism, ask him questions, and/or give suggestions for upcoming columns! (He can be followed on Twitter at @Pony_NATE_tion.)___________________________________________________________________________________________________________________________The Ponies dropped to 0-2 after a 42-12 loss to TCU. It followed the same pattern as most of the recent Iron Skillet games: SMU fought hard, leading 9-0 at one point and only trailing 14-12 at halftime, but TCU's talent and depth took over and things quickly swung the other way. This pattern is statistically true as well: TCU has outscored SMU 83-14 in the second half of the last three Iron Skillet matchups. It was certainly tough sledding for the SMU offense, as Ben Hicks threw for just 111 yards on 38 pass attempts, a ratio that is less than desirable. Replacing guys like Courtland Sutton and Trey Quinn isn't easy, but the Mustangs need someone to come forward as the lead receiver. Braeden West performed quite well, but he only had 27 yards on the 10 carries other than his 51-yard touchdown.The defense kept SMU in the game as long as it could, but there were some hard-luck plays at which we all just can't help but shake our heads, most notably the TCU runner getting hit in the open field at about the SMU 10 yard-line, the ball popping out, rolling right into the hands of Jaelen Austin for a TCU touchdown. The defense got worn down, but there were certainly some bright spots, like Patrick Nelson, who impressed again with an eight-tackle night. Special teams continued to be an Achilles' heel for the Mustangs as KaVontae Turpin changed the game with a punt return for touchdown. This unit desperately needed to improve from 2017, and it bit the Mustangs last Friday.Overall it was an encouraging step in the process for the Mustangs. They certainly looked better than they did in Denton, and SMU was competitive with TCU for quite some time. Part of it was the rain delay, and part of it was the Horned Frogs might have been peeking ahead to their primetime matchup with Ohio State at JerryWorld this week, but it was, at the very least, an improvement over the UNT game. The offense is what has held this team back thus far, a unit that carried this team a year ago. Things don't get easier this week either, as the Ponies head to the Big House in Ann Arbor.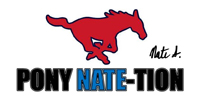 (photo by Patrick Kleineberg).
I would contend this is one of the best, if not the best, teams SMU has played in my lifetime as a SMU spectator. The Michigan offense is impressive, but what anchors this team is its premier defense. Three names to watch for Saturday that will wreak havoc on the Mustang offense: All-America linebacker Devin Bush Jr., and All-America defensive end Rashan Gary, as well as All-Big Ten safety Khaleke Hudson. I'd be shocked if Bush and Gary aren't first-round picks in the NFL Draft. The offense is led by Ole Miss transfer quarterback Shea Patterson, who was a top quarterback in his recruiting class.There was a lot of College Football Playoff hype surrounding this Michigan team coming into the season. But after the Wolverines (who were favored) got beaten by Notre Dame in South Bend, some of that talk has died down a bit, but this is still an elite team. The No. 19 ranking doesn't do this team justice in my opinion. Head coach Jim Harbaugh will get this team playing up to its capabilities soon, especially on the offensive side of the ball. Defensively, not much needs to change. This is one of the top five defensive units in the country. But there is a plethora of weapons on offense; the Wolverines have just had trouble meshing.These meshing issues are understandable, with a new quarterback. Fun fact: it had been more than a calendar year since a Michigan wide receiver had caught a touchdown until last Saturday. Shea Patterson finally found a receiver for a score last Saturday as Michigan torched Western Michigan, 49-3. Patterson finished the day with three touchdowns and had an impressive 70.6 (12 for 17) completion rate. What impressed the most was running back Karan Higdon exploding for 156 yards and a touchdown. Behind Higdon is Chris Evans, another talented back who also found the end zone twice last week. Michigan doesn't really pose a true threat on the outside, but Patterson does like to spread the ball around. The lack of threat from a dominant receiver is helped by a powerful running game led by Higdon and Evans. The Wolverines have had issues with their offensive line, and some shuffling will continue this week. Look for the SMU defensive line to have a little bit of success, following a zero-sack output against TCU.The defense will continue to dominate. Gary is an absolute monster and is right up there with Houston's Ed Oliver as the best defensive player the Mustangs will face all season. SMU has had trouble blocking on both fronts-running and passing. This is where I fear the Mustangs will get dominated to the point at which it will cripple the offense as a whole. This defense is loaded with talent and has played exceedingly well thus far (it has only surrendered 13 points per game through the first two games). This is an unfortunate matchup, with Hicks and the SMU offense struggling mightily through the first two games. Some keys to the game for the Mustangs:• Contain the Michigan front seven as much as possible. Gary will get his, but it's really about slowing him down. Protecting Hicks will go a long way for SMU.• Don't turn the ball over. The Big House will be packed and loud, so SMU needs to weather the crowd as much as it can.• Put pressure on Patterson. There has been a bit of turmoil on the Michigan offensive line. SMU might be able to have some success forcing rushed throws and getting to Patterson.This is simply a game in which SMU is far outmatched. A defense full of NFL talent, Michigan will shut down the already-struggling SMU offense. Gary and Co. will be all over Hicks throughout the game. I think the SMU defense will have some early success slowing down Michigan, but the defense will wear down due to SMU's potential inability to sustain a drive on offense. I think the Mustang defense can keep SMU in it for a little bit, but the Wolverine defense will rule the day.Nate's take: Michigan 48 SMU 6

Previous Story
Next Story

| | |
| --- | --- |
| | Ponies, Wolverines kick off at 2:30 (CT) Saturday |

| | |
| --- | --- |
| | Mustangs host Midshipmen at 11 a.m. Saturday |