Pony NATE-tion: Improved SMU defense awaits Navy's option offense
Mustangs host Midshipmen at 11 a.m. Saturday
Posted on 09/19/2018 by PonyFans.com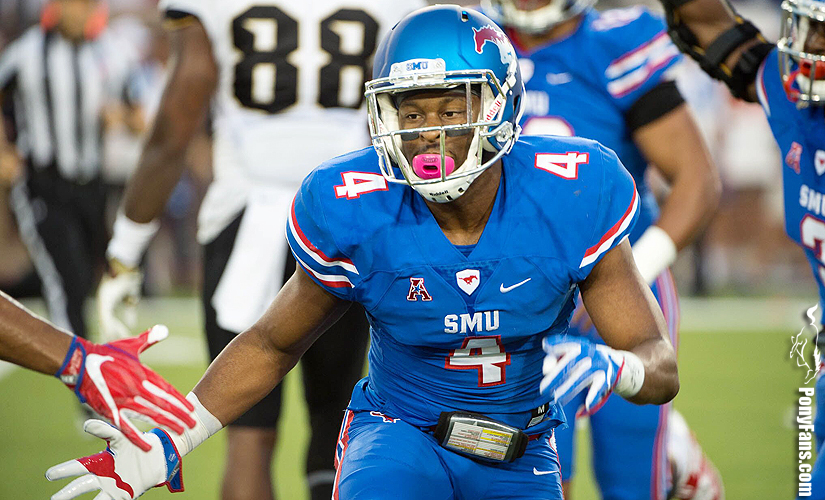 Nate says safety Mikial Onu and the SMU defense will have their hands full defending the Navy ground game, but could be up to the task (photo by Patrick Kleineberg).
PonyFans.com is proud to have 18-year-old Nate as a guest columnist. This week, Nate breaks down SMU's 2018 American Athletic Conference opener against Navy.
Feel free to post comments and constructive criticism, ask him questions, and/or give suggestions for upcoming columns! (He can be followed on Twitter at @Pony_NATE_tion.)___________________________________________________________________________________________________________________________Saturday's matchup in Ann Arbor, Mich., was one of the more interesting outings for SMU football in recent memory. A 45-20 defeat was handed to the Mustangs in what was one of the most encouraging losses you could have. Following games in which it looked dead against North Texas and lifeless on offense against TCU, SMU had much more success than I ever anticipated it having in the Big House.Early on, the defense was juiced up, shutting Michigan out for a good portion of the first half. Guys were flying around and making plays, and the front seven continued to impress. Names like Trevor Denbow (six tackles, one tackle for loss), who stuffed a third-and-1 early on, Turner Coxe, who was able to get pressure off the left edge quite a bit, and Richard Moore (six tackles, two TFL) were all consistently making plays. My big takeaway from this game was that the front seven can play, and the linebackers have continued to be the best unit on this team. When Michigan had moved the ball down deep into the red zone, Mikail Onu made a phenomenal play jumping a route in the flat to pick the ball off at the 1-yard line. I was very impressed with the playmaking ability of the defense and its ability to stop the run early on, an area in which the Mustangs have struggled in the past.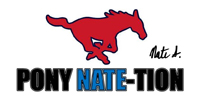 (photo by Patrick Kleineberg).
The offense also was impressive. The Ben Hicks touchdown pass to James Proché that knotted the game back up at seven was a nice concept, in which Proché ran a wheel route out of the slot, assisted by a nice pick route from the outside receiver. He was as open as can be, and Hicks couldn't have missed him. Proché had a phenomenal afternoon, finishing with 11 catches for 166 yards and two touchdowns. Early on, the play-calling was very creative — that was the most encouraging part. But turnovers bit the Mustangs again, as they had a chance to tie the game at 14 or cut it to 14-10 right before halftime. Hicks dropped back, and SMU ran the exact same route concept that Proché had scored on earlier. Safety Josh Metellus saw it coming a mile away, and to make matters worse, Hicks badly underthrew it, and Metellus was off to the races, making it a 21-7 game with no time remaining on the clock. The offensive line only surrendered just two sacks to Michigan's ferocious defensive line, a very surprising stat to me, as the o-line proved it can play a little bit. The run game lacked a little bit, with a meager 3.5 yards per carry, but its certainly improving and was much better than anticipated.The controversy of the day came when head coach Sonny Dykes had seen enough of Hicks (his fourth consecutive game with an interception or fumble returned for a touchdown dating back to the Frisco Bowl) and his turnover-prone play. Enter Will Brown, the 6-4 true freshman, a guy who Chad Morris targeted, received a commitment from, but Dykes ultimately closed the deal when the Indiana Hoosiers came calling last December. Brown showed all kinds of potential as a dual-threat quarterback, as he was thrown into the fire pretty quickly. He's very athletic, showed lots of control over the offense, and made all the right throws. His ability to run the ball brought a new dynamic to this offense as well. He seemed a bit antsy in the pocket with his footwork at times, but that was understandable given the obvious gravity of the situation he was thrown into. He finished the second half 11-for-17 with 82 yards and two touchdowns, combined with 48 rushing yards. I was thrilled with the composure and potential Brown showed Saturday, and he certainly won't make the decision easy for Dykes on who will start this Saturday. You'd like to see a little more downfield action with just 4.8 yards per attempt, but that will come with experience and confidence.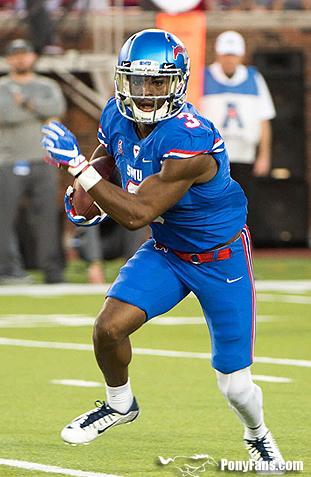 James Proché went wild at Michigan, with 11 catches for 166 yards and a pair of touchdowns, but Nate says it is time for other receivers to play roles in the passing game (photo by Patrick Kleineberg).
All in all, SMU is still yet to win a game in the Sonny Dykes era. With the Mustangs sitting at 0-3, the Navy Midshipmen come into Dallas riding a 2-1 record, a record full of inconsistency. Navy got blasted, 59-41, Hawaii in its first game, but followed it up with a 22-21 win over Memphis, a team which was regarded as a top dog in the American Conference. Last week, Navy defeated Lehigh handily, 51-21. The Midshipmen have been putting up points at a high clip, averaging 38 points per game with their classic triple-option offense, which generates 358 yards on the ground per game (second-most in the country). Leading the offense is Garret Lewis at quarterback, who doesn't really ever throw in this offense, with just 16 attempts through three games. The Navy ground game is headlined by Malcolm Perry, averaging 165 yards per game on a whopping 6.9 yards per carry, amounting to a team-leading six touchdowns. Other names to watch on the ground game are Nelson Smith (16 carries, 105 yards), Anthony Gargiulo (23-71) and Lewis (11-64-1). Their go-to receiver has been big-play threat CJ Williams who has 148 yards on just six catches. There isn't much to the Navy offense. It hasn't changed at all under Ken Niumatalolo, and the only key to stopping this offense is containing the triple option and slowing down the run game.Defensively, the Mids are very suspect, ranking 95th in total defense. They've been getting gashed for 412 yards per game, 160 of which have been coming off the ground. This could be a game in which we get to see SMU's offense get things going a bit. Playmakers to watch out for on defense include leading tacklers and impressive linebacker duo Hudson Sullivan (leading tackler) and Taylor Heflin (two sacks). Safety Sean Williams is also a playmaker on the back end of the defense. This will be one of the worst defenses SMU will encounter in its packed schedule, so look for the offense to finally start to materialize (regardless of who is the signal caller for SMU Saturday).Some keys to the game:• Get up early. A team that runs the ball like Navy has a hard time coming back from big deficits. If SMU can grab an early lead and run with it, it can put Navy on its heels immediately.• I personally hope Will Brown starts for SMU at quarterback, as I loved what he showed against Michigan, but regardless of who is the quarterback, SMU has to take care of the ball and sustain drives. The recurring theme through three weeks has been the offense turning the ball over and not being able to keep drives going, which has been tiring out the defense. The defense could potentially be worn down by the Navy rushing attack. • I'd like to see other receivers get involved. Proché was awesome against Michigan, but no one else has stepped up. Reggie Roberson (my preseason breakout pick), Tyler Page and CJ Sanders need to step up as well and take some of the load off of Proché. If Brown is the quarterback, you won't want to see him forcing the ball to one guy.• Contain the run as well as possible. Navy almost certainly will break 300 yards rushing — it does that essentially every week. The idea is to not get run over. It is one of the tougher offenses to defend in the nation, and always has given SMU trouble. Slowing down Navy on the ground and keeping it from sustaining drives will be huge.This is an opponent that isn't nearly as good as those the Ponies have seen the last two weeks. They have an opportunity to steal a game here and nab Dykes' first win as SMU's head coach. I think Navy's inconsistencies have shown that this isn't the usual bear of a team. Navy is much more beatable than in years past. I think SMU will slow down the ground game enough with the front seven playing like it has been, and Brown will make enough plays to secure a victory for SMU. Navy will be putting up a lot of points due to the SMU defense wearing down a bit, but I see the offense being up to the task this week. Nate's take: SMU 38, Navy 34

Previous Story
Next Story

| | |
| --- | --- |
| | Wolverines led nation in pass defense last two years |

| | |
| --- | --- |
| | Ponies win AAC opener, 31-30 |