Pony NATE-tion: Where will James Proché go in the NFL Draft?
PonyFans.com columnist breaks down record-setting receiver's game, draft projection
Posted on 04/10/2020 by PonyFans.com

PonyFans.com contributor Nate is back with an offseason column, in which he breaks down his expectations for SMU receiver James Proché in the upcoming NFL Draft.
Feel free to post comments and constructive criticism, ask him questions, and/or give suggestions for upcoming columns! (He can be followed on Twitter at @Pony_NATE_tion.)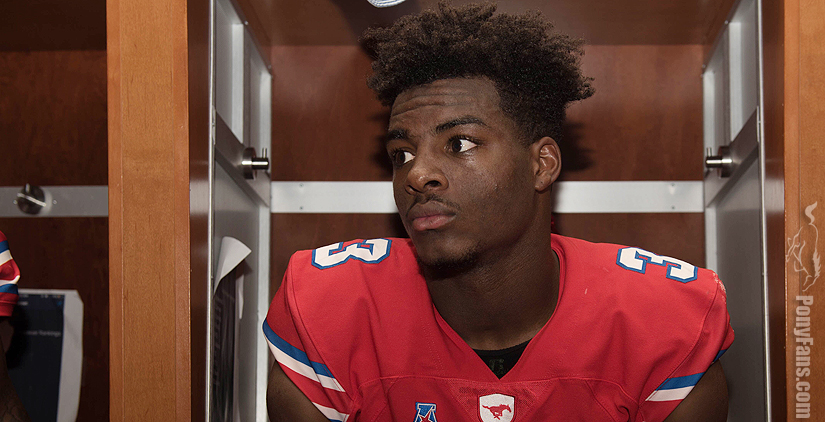 After graduating with just about every career receiving record in SMU history, wide receiver James Proché appears poised to be the next SMU wideout headed to the NFL (photo by Patrick Kleineberg).
James Proche DraftJames Proché has done more than enough to cement his legacy as an SMU Mustang. He hails from DeSoto, and his local ties are part of what drew him to SMU. He committed to SMU prior to his senior season in 2014, and never wavered despite Power Five offers from TCU, Louisville, Maryland and Wake Forest. He also spurned Houston for SMU. Given the context of where all those programs stood in 2014, for him to choose SMU was a significant victory for then-head coach June Jones. The three-star prospect stuck around through the hiring of Chad Morris, and blossomed into an NFL prospect.Proché is what recruiting is all about. He wasn't a four-star or five-star who drew tons of headlines. Instead, he was a mid-level recruit who worked incredibly hard and was guided by some phenomenal coaching. Take a step back and look at some of the brilliant offensive minds that coached him. Between Chad Morris, Joe Craddock, Justin Stepp, Rhett Lashlee and Sonny Dykes, it's impressive.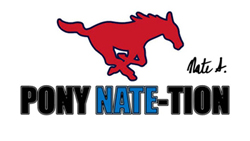 (photo by Patrick Kleineberg).
Proché's remarkable career at SMU was nothing short of spectacular, especially by the end of it. In his redshirt freshman year, he caught 57 balls for 709 yards and six touchdowns. The next year, 2017, was his last year as the "other" threat opposite now-Denver Bronco standout Courtland Sutton and now-Washington Redskin Trey Quinn. Proché had 40 catches for 816 yards and six touchdowns that year. Going into 2018, without Sutton and Quinn, there were a lot of questions surrounding whether Proché could be a true No. 1 wideout without the others drawing so much attention. He answered those questions emphatically, with 93 catches, 1,199 yards and 12 touchdowns. In his final year at SMU he was instrumental in SMU's first 10-win season since 1984. He capped his outstanding Mustang career with 111 catches, 1,225 yards and 15 touchdowns. It was a special season on the Hilltop, and Proché was a big part of that.He leaves SMU as the school's all-time leader in receiving yards, receptions, receiving touchdowns and all-purpose yards. The Mustang football record books are littered with Proché's name.After such a great college career, a professional career in the NFL lies ahead for Proché. Obviously, the NFL is very different than the American Athletic Conference. His role in the NFL will be almost completely in the slot for several reasons.Proché's strengths: he has remarkable hands and ball skills. Especially in his senior season, he was a human highlight reel, with some of the contested grabs he made. He has a legitimate case for having the stickiest hands in this year's loaded wide receiver class. In his time at SMU, he dropped just nine passes out of 457 targets! That is a ridiculously low drop rate of 1.9 percent. Part of why he has such good ball skills is the fearlessness he displays over the middle, as he doesn't lose focus on the ball. Proché is also highly regarded as a leader and possesses positive intangibles.His fearless demeanor on the field also translates to other areas of the game as he fights for every yard and is more than willing to block on the outside. Proché ranked fourth among all receivers at the Combine on the bench press, so the body strength needed for his blocking is evident, as well. He is a smart but not great route runner and moves very smoothly through the field. His route-running savvy and ridiculously good hands project him as a crafty slot receiver in the NFL.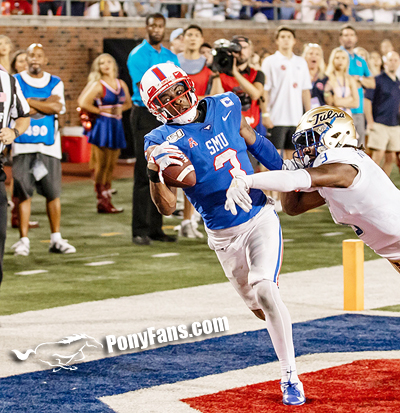 Nate says SMU receiver James Proché just might have the stickiest hands in an NFL Draft loaded with quality receivers (photo by Max Franklin).
As does every draft prospect, Proché comes with his warts, too. For starters, he tested rather poorly at the combine. He lacks NFL-level agility with a 7.27-second three-cone drill, which raises questions about his short-area quickness and ability to separate. He also has short arms (29.75 inches), which limits his ability on contested catches, and that shows up on tape. Especially against bigger corners, he struggles against press coverage and his releases can get sloppy. Proché's route-running could also use some refinery, which is more than fixable with a good NFL coaching staff. SMU used Proché in many ways, both in the slot, and on the outside. He also was the receiver of plenty of tunnel screens, which accounted for a decent chunk of his production. That leaves questions to be answered about how much of his production was scheme-dependent. In a draft in which teams are looking for youth with higher ceilings, being 24 years old by September doesn't help Proché, either.Overall, Proché projects as a receiver who will be almost strictly in the slot. He is undersized — at the NFL Combine, he measured 5-11 and 201 pounds — but has a competitor's edge to him to make up for it that is more than evident on tape. While he does have his physical limitations like his lack of suddenness, shorter arms and smaller frame, he shows time and again on film his ability to make unbelievable catches. His ball skills absolutely translate to the NFL with some of the remarkable catches he makes, and that alone will land him on almost every team's radar.The question to ask with receiver prospects is to identify how exactly they win. Some win with speed, route running, short-area quickness or any other skill. This is a bit of an unanswered question with Proché, as he often was schemed open in the receiver-friendly offenses in which he worked. It won't be enough to get by in NFL just on incredible hands. That is not to downplay how sticky his hands are — that is an important trait to have — but Proché will just need to become a route-running technician in order to have success in the NFL.With some refining of his route running, I think Proché will make a team very happy with its Day Three pick. A few things push Proché down to the Draft's third day, which includes the last four of seven rounds. This is one of the best and deepest draft classes at the wide receiver position in years, which suppresses his value a little bit. His lack of size and agility also hurts his stock. But in my opinion, he displayed good enough ball skills, competitive fire and an impressive enough tape to warrant being a fourth- or fifth-round option for a team in need of a slot receiver. The biggest question for Proché will be whether he can overcome his physical limitations and become a true technician with his route running, as releases, footwork and fakes are essential to have success in the slot in the NFL. His outrageous college production and the highlight reel of incredible catches are too much to ignore. If put into the right situation, Proché could wind up being one of the steals of the draft and be a very productive slot receiver in the NFL, adding to the impressive lineage of SMU receivers having success in the NFL.

Previous Story
Next Story

| | |
| --- | --- |
| | New OC talks playing career, how he ended up at SMU, early thoughts on SMU offense |

| | |
| --- | --- |
| | Defensive tackle Zach Abercrumbia hopes to parlay season at SMU into NFL job |