Zach Abercrumbia: Awaiting his chance
Defensive tackle Zach Abercrumbia hopes to parlay season at SMU into NFL job
Posted on 04/19/2020 by PonyFans.com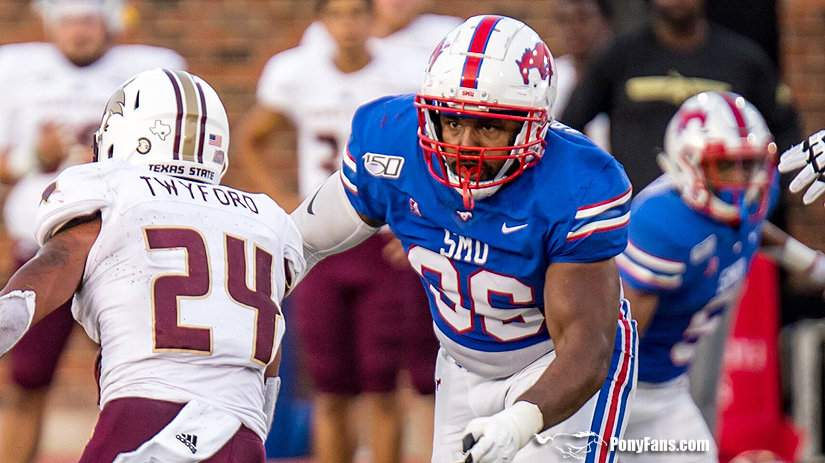 In his only season at SMU, defensive tackle Zach Abercrumbia registered 35 tackles and helped lead the Mustangs to their most victories in decades (photo by Max Franklin).
This time of year can be an anxious one for football players across the country who have played their last college games, and are trying to sort out what their futures hold. Some will get selected in the NFL Draft — the 2020 version starts with its first round Thursday night and run through Saturday — but many will not. For those who don't get drafted, the waiting game begins. Will an NFL team offer a free agent contract? Does an eventual trip to the NFL require a stint in the Canadian Football League?SMU has several graduating seniors hoping to make the leap from the Mustangs to the professional ranks. Most analysts seem to think wide receiver James Proché is a lock to get drafted. Beyond that, which Mustangs have the best chances to play after college depends on which expert is asked.Every player has followed a different path from beginning player to NFL hopeful. One of the Mustangs' more unusual is that of defensive tackle Zach Abercrumbia. After four seasons at Rice and armed with a degree in Sport Management, Abercrumbia transferred to SMU, in large part to be near his and his girlfriend's family. For the second time in five years, he had to learn a new defense, and get used to new coaches, teammates and terminology."In my first year at Rice, I can remember going in bright-eyed, with big hopes, big aspirations and big dreams," Abercrumbia said. "I had just come out of the recruiting process, getting so much attention, and then you get to college where you experience so many things you're not accustomed to — I just wanted to dive in and see what it's all about."That was the same feeling I had when I got to SMU. I was back home, but it was a new team, new coaches, a new defense. The difference between last year and my freshman year is lies in the time. When I was a freshman, I needed the older guys who came in and helped us acclimate to college life, making sure we stay in the weight room, eat correctly, make sure our academics are straight. When I got to SMU, it was the same thing. I was one of the older guys, but I was still new, and the players and coaches helped me get adjusted right away."By the second game of the season, Abercrumbia found his way into the starting lineup, where he remained until the end of the Mustangs' 10-3 campaign. He finished with 35 tackles, good for 10th on the team, third among defensive linemen and first among interior defensive linemen. Recognized as a sturdy run stuffer, he also had 1.5 sacks and broke up a couple of passes.His ability to adjust to his new team, Abercrumbia said, is among the biggest assets he can offer at the next level."That's what I've always done," he said. "I went from Skyline High School to Rice, and had to learn a new defense. At Rice, I had three different defensive coordinators, and each one had a new system to learn, because their philosophies are different, their styles are different. Then I come to SMU, and I have to learn a new system all over again. If I get to an NFL camp, I know I can learn a new defense again, because I've done it so many times before."In addition to his ability to absorb new defenses, Abercrumbia also brings positional versatility. Through his makeshift workouts created because of the coronavirus pandemic that prevents going to a gym, he has maintained his weight at 295 pounds — the same weight he carried on his 6-2 frame during the season — which he said presents options for the defensive coaches on any team that chooses to bring him aboard."In high school, at Rice and at SMU, I played up and down the defensive line, and in different (defensive) fronts," he said. "I have played in a three-man line and a four-man line. At Rice, I played nose, and at SMU I moved back to the 3 Technique (lined up over the offensive guard's outside shoulder). I have played a plethora of positions and can move up and down the line, depending on what a team needs."Abercrumbia understands that with the exception of the top prospects projected to go in the early part of the draft, nobody is assured of getting selected, and that many players never hear their names called."Nobody has a crystal ball, but I feel like it's everyone's hope, if they grow up playing, to hear their name called — that's definitely been my dream," he said. "That's my expectation, and I don't care if it's on Day One, Day Two or Day Three. It's that childhood dream, to have another chance to play. Whether I hear my name called or go somewhere as a free agent, a team is going to get the same player, because I'll put all my energy and passion into it."Like so many other players across the country, Abercrumbia said that while he doesn't know what his football future holds, he has been encouraged by the feedback he has gotten from NFL teams.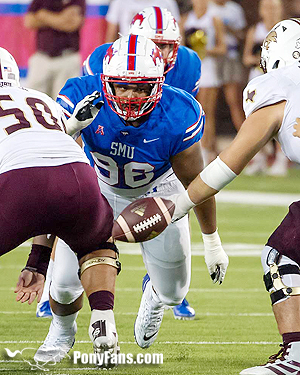 Zach Abercrumbia started 12 of 13 SMU games and led all interior defensive linemen with 35 tackles in 2019 (photo by Doug Fejer).
"I talked to Cowboys scouts during my playing years, and they were encouraging," he said. "Recently, the Denver Broncos reached out, basically congratulating me on my college career, and we had a great conversation. My agent has talked to a handful of other teams — I'm not sure which ones."Abercrombia understands the numbers of players vying for each NFL opening; to that end, he has retained dual representatives. James Sims, who also represents SMU teammate Pat Nelson, is handling Abercrumbia's pursuit of an NFL job. If that doesn't happen right away, Dwayne Wilkes will represent him in his efforts to land a job in the CFL. "One way or another," Abercrumbia said, "I'm going to be playing somewhere next year."When that decision is made remains to be seen, as the world navigates the changes brought about by the coronavirus pandemic. In lieu of extensive training sessions in the SMU weight room, Abercrumbia has used the weights in his home and created a group of modified on-field drills, many of which include a 45-pound plate that he brings out to the field, where he adds the plate to a series of drills that includes squats, lunges, calf raises, curls, overhead presses and core work. Because the pandemic has forced the cancellation of Pro Day at many schools, including SMU, some scouts have been quoted as saying that their evaluation of this year's prospects will be focused less on how many times a player can bench press the NFL-standard 225 pounds or how high he can jump, and more on each player's in-game performance — an industry strategic shift that Abercrumbia said he thinks could be to his benefit."I think that helps me a lot," he said. "I have a lot of experience. Even my true freshman year at Rice, I played, and the next three years I started, although my sophomore year was cut short by injury, which was made up with a redshirt. I feel like I played well, I showed what I can do, I understood the defense and my roles in the defense. It was the same thing at SMU: I showed again that I can learn a defense and perform."Abercrumbia said he doesn't know if he'll watch the draft. He admitted that in years past, he always watched, or at least had it on while doing something else. He'll at least do that this year, with family around to share in case he hears his name called, or even if he gets a post-draft call with a free agent offer."When I came to SMU, time was of the essence for me," Abercrumbia said. "At Rice, there was always 'more time,' but at SMU, it was my last year, and I feel like I proved what I can do. I grew up wanting to play in the NFL, I had those aspirations when I went to Rice, and I still do. "I have had a lot of people who have helped me along the way, at Rice and at SMU. I came into a great situation at SMU, with incredible coaches and teammates who helped me through the whole process. I played the best I could, and the team had one of its best seasons in decades. I think this year was phenomenal, and it really panned out for me, being near my family and on the field. Now I'm just excited to see what's next."

Previous Story
Next Story

| | |
| --- | --- |
| | PonyFans.com columnist breaks down record-setting receiver's game, draft projection |

| | |
| --- | --- |
| | Senior defensive tackle hoping work ethic, team-first attitude earns NFL opportunity |