One Moore year
Senior linebacker granted extra season of NCAA eligibility
Posted on 05/25/2020 by PonyFans.com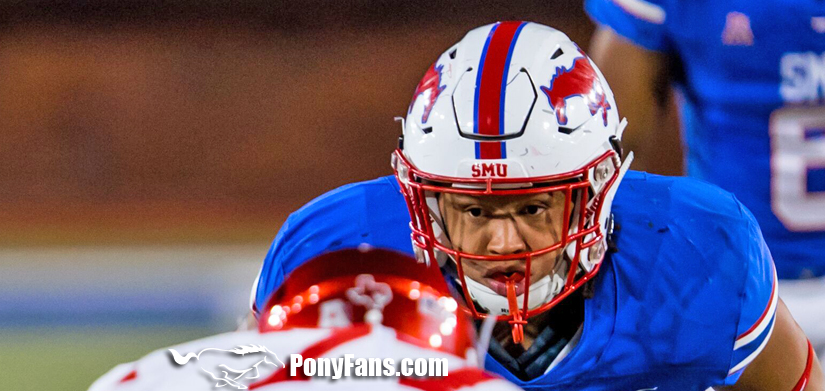 After his 2019 season was cut short by a knee injury, SMU linebacker Richard Moore has been granted an extra year of eligibility by the NCAA (photo by Max Franklin).
For just about everyone associated with the SMU football program, the 2019 season was one to celebrate. The Mustangs won 10 games for the first time since 1984. Quarterback Shane Buechele, running back Xavier Jones, linebacker Pat Nelson and wide receiver James Proché inked their names in the SMU record book, and head coach Sonny Dykes was a prominent figure in the National Coach of the Year conversations.For linebacker Richard Moore, the season started badly and got worse … literally.On the first day of the Mustangs' preseason camp, Moore injured his right knee during a drill, but was allowed to resuming practicing and playing in games as pain allowed. The Mustangs won their first three games of the season, and while practicing in preparation to face TCU, Moore's season came to a sudden end."It was the Wednesday before TCU," Moore said. "On the play, I pivoted and tried to strip the ball out of someone's hands, and that was it. I knew right away how serious it was."This time, the medical report was more serious. In addition to his ACL, Moore had torn his medial collateral ligament (MCL) and his meniscus. "It was the worst pain I ever felt in my life," he said. "They had to move practice into the indoor (facility). I was screaming out loud. I can take some (pain), but I'd never been through anything like that. It's weird to say, but in a way, I'm glad I experienced it, because I'm going to come out stronger on the other side. I also have a lot of respect for anyone who goes through a torn ACL, and how much work they have to put in to get back."The injury kicked off a waiting game for Moore, the Mustangs' leading tackler in 2018 who was in his final year of eligibility and suddenly faced the risk that his college career was over."I just started praying," he said. "I was hoping I got the sixth year, but I didn't know exactly. I talked to friends who had torn their meniscus, I did my research."About six weeks after his second injury, Moore underwent surgery to repair his knee and then embarked on a rigorous rehabilitation regimen. The process, he said, was as necessary to repair his confidence and mental strength as it was to fortify the structural integrity of his knee."It's some of both," he said. "When going through the rehab process, you don't want to overdo it. When you get past a barrier, do you want to go hard? Did you go too hard? I was always in my trainer's ear: is this good? Is this right? I can push, but sometimes I'm not physically ready, or sometimes I can do it physically, but I'm not mentally ready."Moore worked with Steve Plourde of SMU's Sports Medicine staff. "He's amazing," Moore said. "He has helped a lot of guys come back from injuries, and he has been huge for me. I can't wait to get back to him."While schools are shut down because of the novel coronavirus pandemic, Moore has been working out with the staff at The Star in Frisco, working with the training staff there while following a template provided by the SMU Sports Medicine staff.The relentless intensity Moore shows on the field has carried over to his rehab, and it has paid off. He now weighs about 220 pounds, and while he will continue to add strength, he does not want to get over 225. If there were a game this week, he said, he would play. While carefully strengthening his leg and knee, he has been hitting the weights hard with his upper body, which he said is stronger than it has ever been. His rehab program has called for a gradual build-up in lower-body weight training. He said he is leg-pressing as much as he did before the injury, and said that his squat remains 100-150 pounds lighter. He said his legs "look the same now," but the right is still not as strong as the left."My emphasis is on doing things for my knee right now," he said. "I've been at The Star for about a month now, working with them. We have gotten a lot of work in — running, straight-line stuff. Now I'm cutting, jumping, jumping on a single leg — doing everything. It feels good. I like where I am."Almost reluctantly, Moore admitted that he will look a little different when he takes the field again, because he will play with a brace on his repaired knee."I don't want to, but I have to — it's the right thing to do," he said. "They're looking out for me.All the work Moore put in paid off when he got a call May 6 from Ryan McCabe in the SMU Compliance office."I'd been waiting all semester for that call," Moore said. "(Waiting) was not fun, sitting around, going to get some doubt, that was rough."I told (McCabe) 'thank you,' and called my mom. I don't do a lot of jumping and screaming, but she did all of that for me. I heard from (SMU Director of Player Personnel) Jeff Jordan, Coach (Sonny) Dykes and Coach (Kevin) Kane right away. They were all excited, too. We were all waiting, and they knew how it was weighing on me. It was rough. I was optimistic, but you never know until you really know. I just wanted to play another year, the year that was robbed of me."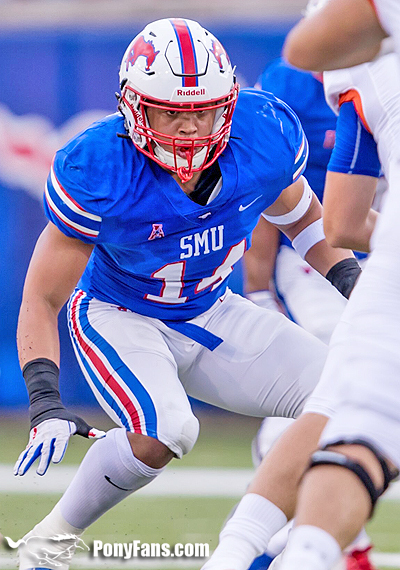 The return of Richard Moore means the Mustangs will welcome back their leading tackler from 2018 (photo by Max Franklin).
Watching the Mustangs play — even watching them practice — in 2019 was difficult for Moore, who wanted more than anything to be on the field with his teammates. On the sideline, he bided his time in part by offering guidance to his replacement at middle linebacker, Richard McBryde, and the rest of the linebackers."One thing that really helped: the coaches gave me time," Moore said. "I went to the games, but it was painful to even be at practice and not be out there, but they gave me time to cope, time to handle things. I didn't know what do. I did my research about what I needed to do to recover."I intervened when had to. It was a pleasure to watch (McBryde) play. They picked up where me and Kyran (Mitchell) were the years before. I just enjoyed watching Richard, Pat (Nelson), Delano (Robinson), Shaine (Hailey) and the rest of them … but it also hurt to watch."In addition to missing most of the season, Moore also missed out on the spring semester, during which he was expecting to train for SMU's Pro Day. Some NFL teams even expressed interest in him despite the injury."If I could get back to being healthy, there were teams that said they wanted to bring me to camp," Moore said. "Some wanted to see me play a sixth year, to see how I'd recover. I assume that's because of my résumé, what I did before getting hurt. People know I can play, and now I'm healthy, and that's most important. No matter what team you play for, your biggest ability is your availability.That he did his research into his injury and the best road to recovery should come as no surprise. Since transferring to SMU from Texas A&M, Moore already has earned his undergraduate degree in sociology and his Master's in Business Management, and now is working toward his MBA, a journey shortened to a single year because some of the curriculum for his Master's satisfies some of the requirements for his MBA. While rehabilitating his knee, Moore took on a rigorous academic load of 11 classes in one semester; a normal load for classes in a semester is five."With some of the graduate degrees, they split the semester in half, so you can do some in the first half and some in the second half, but you get a lot in a semester," Moore said. "Shane (Buechele) did the same thing, and he did it while learning a new offense and new coaches and new teammates."Much of the waiting is over for Moore, but not all. Players getting treated for injuries will be allowed to rejoin the SMU Sports Medicine staff in early June to resume on-campus workouts. But then what? Moore, like everyone else, does not know if or when the season, or under what circumstances as dictated by the coronavirus pandemic."It would be pretty intense if there are games with no fans," he said. "It would be just like you in a room with another person. I think I'd like that intensity. "But we like our fan base, we love our fans. We want them to be there, but safety and lives are more important."Assuming the 2020 season is played in some capacity, Moore said he has high hopes for the Mustangs, and specifically for the defense. Part of the reason for his optimism, he said, is the blueprint left behind by the 2019 seniors."We had so much leadership last year," he said. "I've talked a lot with 'Xa' (Xavier Jones) and Rodney (Clemons) and James (Proché) and (Chris) Biggurs and the rest of the seniors. After they left, since I've been at SMU, we had the best beginning to the offseason I've ever seen. The young guys came in and really worked. We had such great leadership last year, so many good role models. We got the experience of winning 10 games — remember, some of the guys have never won that many games — and that really bled over into the offseason."Moore said he even thinks the Mustangs will benefit from the thud with which they ended the 2019 season, a 52-28 loss to Florida Atlantic in the CheriBundi Boca Raton Bowl."That wasn't fun, but it will make us better," he said. "Our focus could have been better, and really, I thank FAU for giving us the whooping that they did. If anybody beats you like that, you should be thankful, because they exposed you. If you're a smart person, you see what you did wrong, and you're better the next time."I know as soon as we get to get back in the summer, we're going to pick up where we left off. I think that will give us an edge over a lot of teams. We won 10 games, but we won 10 games and we're coming back hungry."

Previous Story
Next Story

| | |
| --- | --- |
| | DC Kevin Kane looks to returning players, newcomers to replace productive 2019 senior D-linemen |

| | |
| --- | --- |
| | Tim Jankovich hoping junior forward can make significant leap for second consecutive season |