Fortifying the front line
DC Kevin Kane looks to returning players, newcomers to replace productive 2019 senior D-linemen
Posted on 05/09/2020 by PonyFans.com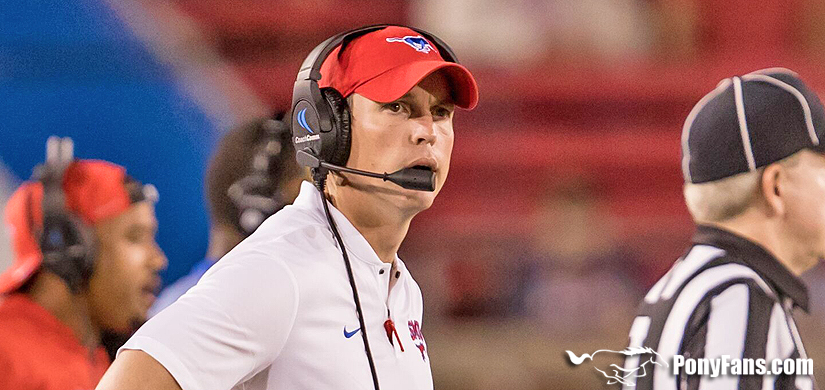 SMU defensive coordinator Kevin Kane said he never has had to replace as many key players at a position than the six defensive linemen he lost this year, but he sees reason for optimism in the returning and incoming players (photo by Max Franklin).
It's one of the givens of any offseason. Every newcomer, whether an incoming freshman or mature transfer, arrives with a predetermined date of departure. As players develop and improve during a college career, coaches plan for their replacements. It's part of college coaching.Few coaches, however, face the overhaul at any given position group that awaits Kevin Kane. Last season's defense, which tied Pittsburgh for first in the country with 5.92 sacks per game, was significantly better than the 2018 version, in large part because the Mustangs boasted a deep defensive line that could roll in three or even four players at a position during a game. Defensive linemen usually are not as bulky as the blockers they see across the line of scrimmage, making the ability to roll in fresh replacements critical to holding up over the course of a four-quarter game.Like every coach on every campus, Kane is used to seeing players graduate and move on. But this season is different: Kane and defensive line coach Randall Joyner followed SMU's 10-3 season by facing the realization that they must replace six key players in the Ponies' defensive line rotation. Ends Delontae Scott and Tyeson Neals, and tackles Pono Davis, Zach Abercrumbia, Demerick Gary and Chris Biggurs all played their last games in a Mustang uniform in 2019.Kane said he never has had to replace such a group in his coaching career."No, not really," he said. "That's not just a lot of players — it's a lot of very productive players. They were absolutely critical to our success on defense last year."Doing the math makes clear how significant those players' contributions were last season. Those six combined for 142 tackles, which amounted to 15.3 percent of the Mustangs' 929 stops last season. They combined for 36 of the team's 111 tackles for loss (32.4 percent), and piled up 20.5 of the team's 51 quarterback sacks, or 40.2 percent."It's a part of the job every year," Kane said, "but that's a really good group. That's a lot to replace."Thankfully for Kane and Joyner, it's not as if the cupboard is completely bare on the defensive line. Defensive end Turner Coxe led all SMU defensive linemen with 50 tackles, including 8.5 tackles for loss and 3.5 sacks, is back and will be a junior next season. Also back are defensive end Gary Wiley, Gerrit Choate, Toby Ndukwe and Nelson Paul, as are tackles Elijah Chatman, Terrance Newman and Harrison Loveless. Kane said Loveless is progressing well on his rehabilitation from the knee injury that ended his 2019 season. Because he played in only three games last season, Loveless is still listed on the Mustangs' online roster as a sophomore."We're fortunate that those guys were all part of the rotation last year," Kane said. "They're not brand-new and being asked to play for the first time. They have played for us."Loveless was starting to emerge in the Mustangs' defensive tackles rotation before he was injured, but Davis said he is optimistic about Loveless's future."He's going to be a great player," Davis said. "He's one of those guys I was always around — we'd watch film together, we sat in the meeting room together, we were always on the same lifting rack. He's smart, really strong and works hard. You put him back in there with 'T-New' and Derron Brown and Elijah Chatman and Will Jones and those guys, and then you add the new guys and you have a good rotation."Kane is grateful that he and Joyner will welcome back a group of players who know the defensive system and have experience playing at the college level, but he also acknowledges that the Mustangs will have to rely on newcomers on the front line as much or more than any team he has coached.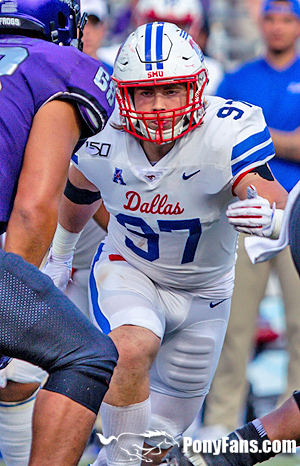 Defensive end Turner Coxe led all SMU defensive linemen with 50 tackles in 2019, and added 8.5 tackles for loss and 3.5 sacks (photo by Max Franklin).
"We're very excited about the guys we have coming back — Turner Coxe and Terrance Newman both took a really big step forward last year — and we have some really good players who are going to do more than they have before, because they're improving and because they'll have more opportunities" as they move up in the Mustangs' defensive rotation, Kane said. "But we also have some pretty good newcomers coming in who will have to play."One of those newcomers is DeVere Levelston, the Tyler Junior College transfer from DeSoto, Texas. Kane said Levelston has added 10-15 pounds to his listed weight of 245, and has the talent and versatility to play a hybrid role, moving back and forth between defensive tackle and defensive end. Every school in the country had its spring workouts either abbreviated or cancelled entirely in response to the coronavirus pandemic, but Kane said that in the Mustangs' three spring workouts, he and Joyner were impressed by what they saw from Levelston, who had 42 tackles, 12 tackles for loss and five sacks a year ago at Tyler JC."We only had three practices in the spring, but he had three really good practices," Kane said. "He's smart and strong and fast. We can mix him around, depending on whether we're in a four-man or three-man front. He's up to 255 or 260 now, and he'll get bigger, so he can go inside, and he's quick enough to play outside, too."Other new additions on the defensive line include defensive ends Warren Walls, Mason Mastrov and Junior Aho, "and we hope we have more coming," Kane said. Kane was generous with his praise of all three. Aho is the only one who already has played beyond high school — he collected 40 tackles and 5.5 sacks and forced a pair of fumbles in his lone season at New Mexico Military Institute, a public military junior college in Rosewell, N.M. — but he also is relatively new to the sport."He's originally from Africa and was raised in France, so he has only been playing football at any level for two or three years," Kane said. "But he's incredibly powerful, and he's a really smart guy who works hard and wants to get better. He's just beginning to learn how good a player he could be."Davis acknowledged that the group that finished playing in 2019 was exceptionally productive, but he said that predictions of doom for the defensive front would be unwise, in part because of the presence of Joyner as the line's mentor."That's an awesome group of guys coming back, and they have a really good young group coming in," Davis said. "We learned a lot, and we talked about how good we could be if we'd had Coach Joyner for all four years. These young guys have that chance."(Joyner) brings that 'juice' every day — he always has that high energy. I'm happy I went the route I did, and I got to play for some great coaches, but he has so much knowledge. He played the game, and he GA-ed for one of the best D-line coaches in the country (Larry Johnson) at Ohio State, who keeps putting out all of those high draft picks (like Joey Bosa, Nick Bosa and Chase Young. His technique works, his system works, and Coach Joyner has brought that knowledge here. Those (returning) guys have learned that technique, and now it's time to see what they can do after the season we just had."Scott, whose 10 sacks trailed only Pat Nelson's 12, echoed Davis's optimism about the defensive front."They're still going to be very productive — they're going to try to break the records we broke last year," he said. "The big thing is they're going to be hungry. They had a taste of being No. 1 in the country in sacks, and they want to outdo what we did last year. Me and Pat had a lot of sacks and TFLs last year, but next year they'll have a lot of cats who show they can do the same thing."Coach Kane's favorite word is 'attack.' That's what they're going to do."Kane stopped short of saying the success of the Mustangs' defense in 2020 is as simple as solidifying the defensive line rotation, but that obviously a major key."Our guys — the guys coming back and the new guys coming in — they know what they've got to do," Kane said. "Now it's a matter of going out and doing it."

Previous Story
Next Story

| | |
| --- | --- |
| | SMU tight end Ryan Becker hopes to turn free agent contract into NFL career |

| | |
| --- | --- |
| | Senior linebacker granted extra season of NCAA eligibility |