Safety plan
Mustangs hoping talent overrides youth at back of 2020 secondary
Posted on 08/03/2020 by PonyFans.com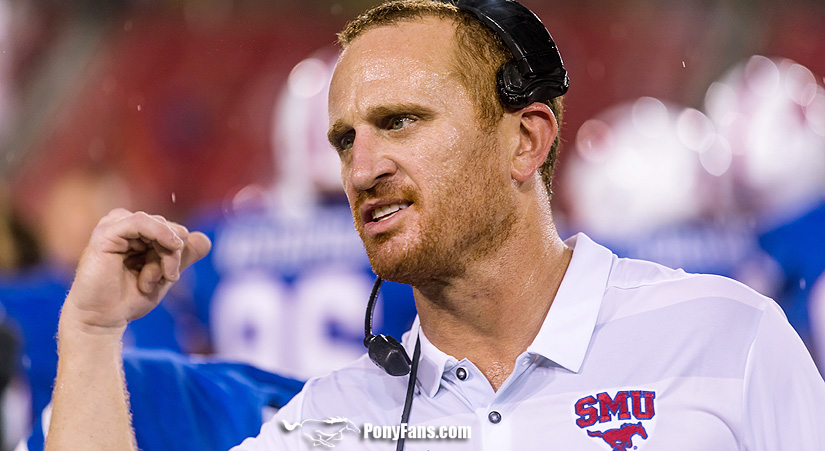 SMU safeties coach Trey Haverty acknowledges that he would have preferred to keep a couple of players who moved to another position, but is optimistic about the talent he has at safety (photo by Max Franklin).
There are two ways to look at the overhaul of the safety position for the SMU Mustangs.In 2019, safeties accounted for 196 of the 929 tackles the SMU team collected. That's 21.1 percent — a fairly normal turnover rate that every team must replace when players graduate and move on.But when viewed through the lens of the safeties as a group, the lost production is more than significant. Of the safeties' 196 tackles a year ago, 150 — that's 76.5 percent are gone. Rodney Clemons led the group last year with 80 stops; he's now in camp with the Kansas City Chiefs. Trevor Denbow and Cam Jones combined for 72 more, but they have moved to linebacker, where they will work at the "Fox" position occupied last season by Pat Nelson.Safeties coach Trey Haverty makes no secret of the fact that he would like to have kept Denbow and Jones with the safeties, but the Fox position is critical in defensive coordinator Kevin Kane's system. Last year, Nelson finished second on the team with 80 tackles, tied for the team lead with 18 tackles for loss and set the program's single-season record with 12 sacks."Selfishly, sure I'd like to have them back," Haverty said. "They're smart, they're good athletes, they're strong, they can hit. Every single coach would like to have those guys in their (position) room."But it's a 'big picture' thing, it's about what's best for the team. I hate seeing Trevor and Cam move to another room, but they can do that because we have a pretty good group in our room, too."What the Mustangs, who opened preseason camp Monday, have now a group that is inarguably younger, but still boasts athleticism that makes Haverty eager to get to work."It's going to be 'safety by committee' for a while, until we start to see some separation," Haverty said, "and that's not a bad thing. We have some guys back and some new players who can really play.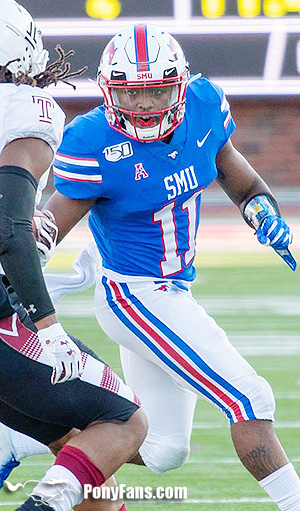 Chevin Calloway had 20 tackles, 1.5 tackles for loss and an interception in 2019, his first season after transferring to SMU (photo by Doug Fejer).
"Chevin Calloway is a mature young man who came in last year and played quite a bit and really handled his business (with 20 tackles, an interception and a pass breakup). Chace Cromartie played a lot as a freshman (picking up 22 tackles and breaking up a pair of passes), with a very high upside. If you know about his family (which includes longtime NFL defensive backs Antonio Cromartie and Dominique Rodgers-Cromartie), you know the pedigree is there. Roderick Roberson and Donald Clay are really good athletes who could have played last year as freshmen if we had needed them to, and Michael Salerno and RaSun Kazadi are walk-ons who can play."That doesn't mention the incoming talent. Ty DeArman transferred from Oklahoma with some fanfare, but he is joining Denbow and Jones to compete at the Fox position.The wildcard among the group might be Karl Taylor, the true freshman who graduated from Lee High School in Midland, Texas a semester early so he could enroll early at SMU and get started working with his new teammates."Karl is a tough kid who has worked really hard since he got here," Haverty said. "I think he has put on close to 15 pounds of muscle already,"Haverty acknowledged that in an ideal world, the coaches might well opt to redshirt a player like Taylor. But given the changing landscape in college athletics, the best players — even freshmen — will play."Back in the day, before the transfer portal, you'd go in (as a coach) with the mindset to just win games," Haverty said. "But with as much player movement as there is now, you just play the best guys, no matter who they are."In my mind, every one of those guys has to be ready to play. The way things are now (with the coronavirus pandemic), what if someone tests positive? What if someone needs to quarantine? I don't think you have the luxury to redshirt a player just because he's a freshman. I'm not saying he's ready to play now, but he's a talented player and really smart. We only had three practices in the spring, but I liked what I saw. He's got a chance."Haverty is optimistic about the talent and athleticism with which he has to work in 2020, but he also is realistic. Safety is a dicey position for young players. If an offensive skill position player drops a pass, he shrugs it up and lines up again with the promise to do better the next time. When a safety makes a mistake, there's a chance he could be watching an opponent celebrating in the end zone."Remember when the (Seattle) Seahawks had the great secondary, with (safeties) Earl Thomas and Kam Chancellor?" Haverty asked. "They were guys with size who could run and hit … I think that physical element was what we missed last year without Elijah McQueen (who stopped playing because of an injury and assumed a volunteer coaching role). Part of what works in any great secondary is a short memory. When the first guy makes a hit, the second guy has to get there, to make sure they get the guy down. Whether you give up a completion or not, you have to forget that play and get ready for the next."Football has changed. The days of not giving up more than 20, 21 points in a game are sort of over. Now it's about 'don't give up a big play. Keep them in front of you, make the tackle and make them snap it again … because eventually, they're going to mess it up, with a fumble or an interception or a holding call."Haverty and his young charges will learn on the job this fall. Despite the loss of Clemons and Denbow and Jones, Haverty sounds optimistic."You need players — players make coaches look good — and I'm excited about the players we have this year," Haverty said. "The way the game is now, it's not just going to be our starters. It's also about the twos and threes — we have to have a rotation of guys who can play, and I think we do."If you look at guys who always have great defenses — guys like Bill Belichick or Mike Tomlin — with guys like that, the game comes down to running and blocking and tackling. In our group, we have guys who can make those plays. I'm excited about what we have."

Previous Story
Next Story

| | |
| --- | --- |
| | Guard eager to take the floor at SMU after transferring from Cal, sitting out 2019-20 |

| | |
| --- | --- |
| | Ponies combining preparation, protection in preseason camp |