Sonny Dykes, Mustangs navigating uncharted territory
Ponies combining preparation, protection in preseason camp
Posted on 08/11/2020 by PonyFans.com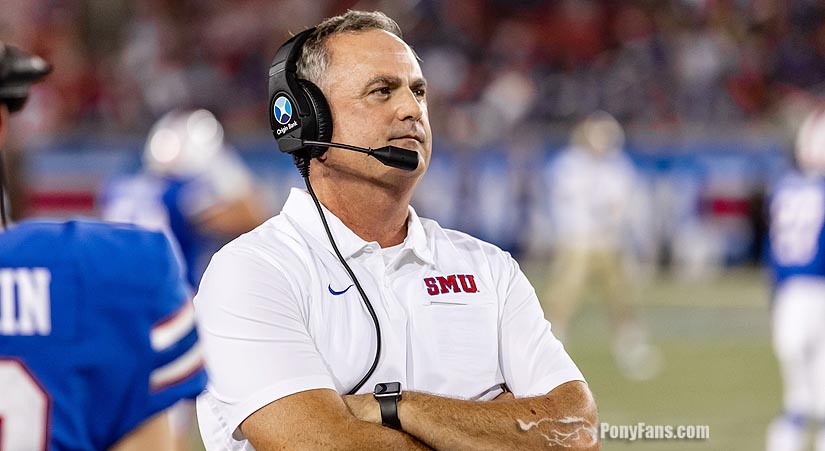 SMU head coach Sonny Dykes and his team are learning as they go along, following coronavirus protocols while preparing for the 2020 season (photo by Max Franklin).
To say this offseason has been like none before it would be a gross understatement. The coronavirus pandemic has had a massive impact on businesses, schools, and of course sports. The National Basketball Association and National Hockey Association are launching their postseasons in "bubble" environments in an effort to reduce the chance of transmission. Major League Baseball has opted to travel to each team's city in its abbreviated schedule, and has dealt with more positive tests than the other sports, while the National Football League has opened training camps with strict protocols in place designed to protect its players and coaches and staff. College conferences, including the Big 10 and the Pac-12, have postponed fall sports with the intent of exploring a spring schedule. Other conferences, including the American Athletic Conference that includes SMU, still could follow suit.Until then, head coach Sonny Dykes and the Mustangs are preparing as if they are going to play the 2020 season as scheduled. The preparation is anything but normal, but the team is making every effort to take the field in as safe a manner as possible."One of the things that, since I got here, I have talked to the player and coaches about: control what we can control," Dykes said. "That's our ethic — we try to get better, to figure out ways to improve this program. All of this (pandemic) obviously is not something any of us envisioned, but it's the way things are."Dykes said he and his assistant coaches have talked to the players about their concerns, as well as how to maintain their focus."We talk a lot about how much information is out there, and how some of it is right and some of it is not," Dykes said. "We have the attitude that we're going to play football until someone tells us we're not. For us, it's about coming to work, coming to campus to do what we love. When we practice, it's a couple of hours when we don't have to worry about what's going on outside and we can just practice football."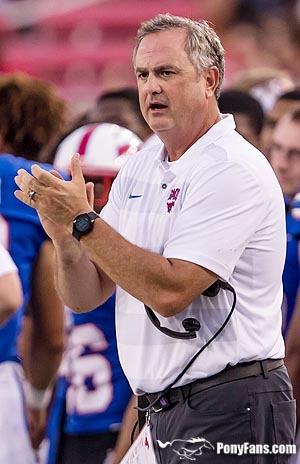 Sonny Dykes applauded his players for maintaining their focus and enthusiasm amid the uncertainty surrounding the 2020 season (photo by Max Franklin).
This year's preseason practice only vaguely resembles the Mustangs' preseason workouts from years past. The Ponies no longer change in their locker room — instead, they show up dressed and add their pads and other equipment in the open-air concourse of Ford Stadium. Positions attend no in-person meetings with their position coaches, instead connecting online through video-chat technology, and there are no team meals. "Everything is designed to be done with contact with as few people as possible," Dykes said. "For example, when we do tackling drills, they tackle the same person all the time to reduce the transmission as much as possible. It has been quite a process to get there, and it has tested the creativity of our coaches and our staff, who have done an incredible job putting it all together."The changes have carried over to the players' equipment. "The players all have full faceshields in their helmets, to slow transmission down," Dykes said. "Every player wears a gaiter (an elastic tube worn around the neck that can be stretched over the face). So when they lift their helmets, they pull their gaiters up to keep their faces covered. The coaches are wearing faceshields, on the field and in our offices. We're doing everything we can to reduce the chance of transmission as much as we can, whether it's on the field, in the offices, in the weight room, where the bars are sanitized after every set. "Even on the practice field, we not only have guys tackle the same player every day, but their pads get sanitized after every hit. It's pretty incredible what we're doing, but we're doing a good job with it because we want to play and we want to play safely."To maximize the spacing on the practice field, workouts are split into two sessions in the morning and the afternoon. Because of that, the restricted drills have not limited the chance for newcomers to impress and catch the attention of their coaches."If anything, it has the opposite effect," Dykes said. "Because we try to split up the squad, guys are getting more reps, and that gives them more chances to shine. If a guy deserves to play, we'll see it."Dykes acknowledged that preparing for a season while navigating the pandemic and keeping tabs on the changes across the college athletic landscape can be tiring, confusing and even frustrating. But he said he and the Mustangs are managing, and that the players' enthusiasm, a key ingredient for any team, remains high."All of us had a bit of uncertainty early in camp," he said. "The first day, the second day, we talked about what things look like. We talked about the different protocols. We're not going in to the locker room now — everything is way different. These guys have a way they're used to doing things pretty much their whole lives, and we, as coaches, are used to a routine for, in some cases, 20 or 25 years. Now, all of a sudden, guys are putting their pads on in a concourse and we're wearing facemasks around the office."After a while, we all got comfortable wearing a facemask — that's what you do, that's how you have to do it. We're all learning together with this thing, and we rely on each other a lot. We're figuring it out, learning and adjusting, and even with all of these question marks, these guys are working hard and focused on what they're doing. That speaks to the resilience and the character of the guys on this team. I'm excited about this year. I think we have a chance to be a special football team, and it's because of the kind of guys we have, guys who face what we have to face, learn and adjust as we all go forward."

Previous Story
Next Story

| | |
| --- | --- |
| | Mustangs hoping talent overrides youth at back of 2020 secondary |

| | |
| --- | --- |
| | Sonny Dykes optimistic Mustangs' attack can remain potent despite key losses |