Observations from the sideline: Tulane
Check out some of the storylines in the Mustangs' 37-34 OT win at Tulane
Posted on 10/17/2020 by PonyFans.com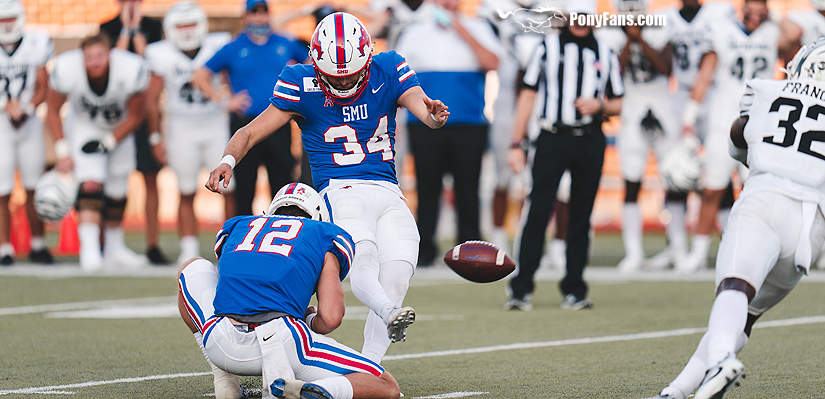 Transfer kicker Chris Naggar drilled three field goals Saturday, thanks in large part to the deft handiwork of holder Derek Green (photo by SMU athletics).
Being the sideline reporter for the SMU Football radio broadcast is an amazing gig. Being at or near the line of scrimmage for every single play of every game offers views that some do not see from the stands or on TV. So while most fans either saw the game or read the stat sheet or both, here are a few thoughts and observations from SMU's 37-34 overtime win over Tulane
:• Shane Buechele is not known as a running quarterback, but he runs better than the stopwatch probably says he should … and yes, it's a little strange to be hailing his running ability after a game in which he finished with minus-9 rushing yards. He reads defenses well, and has a feel for when the pocket is breaking down around him and can stop forward and find a lane to pick up yards. That being said, Buechele took some real shots in the Tulane game, which like caused a few coaches and teammates to hold their breath. But he popped up each time, and a couple of times it even seemed like he was laughing with the Green Wave defenders who just drilled him. With T.J. McDaniel out with an ankle injury, the Mustangs have to modify their running offense, and one game is not enough of a sample size to determine whether the coaching staff is calling more designed quarterback running plays, or whether his eight carries (including three sacks, which drove his stat line into negative yardage) were simply to escape the pass rush. It's nice to have that option there, but local hospital cardiac units will be less crowded when he either hands off or throws downfield, rather than absorbing those hits.• It is no secret that Chris Naggar has been an enormous addition. Prior to Saturday's game in New Orleans, the transfer from Texas had connected on all seven field goals and 21 of 22 extra points — in other words, he had done exactly what the coaches had hoped for when they brought him in, and more. But Saturday was a different story. With 5:32 left in the first quarter, he drilled a career-long 48-yard field goal that would have been good from 58 — partly because he has a very strong leg (he regularly connects from well beyond 50 during warm-ups) and partly because he had the benefit of a healthy tailwind. Early in the second quarter, after the teams had changed directions on the field, the results changed. Naggar hooked a 45-yard attempt to the left that looked like every weekend golfer who nearly jumps off the ground trying to crush a drive while teeing off into a stiff wind. After connecting from 33 yards out in the third quarter, Naggar doinked a 57-yard potential game-winner with 21 seconds left off the upper half of the right goalpost — told you he has a strong leg. Full disclosure: I'm a kicking nerd, but I don't know Naggar — haven't talked to him other than in the group interview after the Memphis game — but being 2-for-4 can't be great for focus and self-confidence. More than one kicker has explained that for every missed kick, the goalposts seem to get a yard or more narrower on each ensuing kick. So imagine what it was like when he trotted back out on the field in overtime for his second chance at a game-winner — yes, a 34-yarder is a lot less daunting than a 57-yarder, but still, he had a lot to think about. After the last two games, head coach Sonny Dykes has talked about how nice it is to have a kicker in whom he has complete confidence, that he can send out "knowing he's going to make it."Nailed it.Naggar has a cannon of a leg — that 57-yarder in the final seconds of regulation would have had the needed distance from another 10 or more yards out — but his best weapon Saturday was his mind, which helped him bury a couple of miscues to drill his second game-winner in as many games.• SMU had three receivers pull in more than 100 yards in receptions: Rashee Rice caught seven passes for 139 yards and a touchdown, Danny Gray caught five for 133 and a score, and Tyler Page hauled in four for 101 yards, including a critical 41-yard catch-and-run in the fourth quarter. But the best receiver Saturday was Derek Green. The backup quarterback is, of course, Naggar's holder on placekicks, and he was spectacular Saturday in New Orleans. He fielded three bad snaps, including on the game-winning field goal, as well as on an earlier field and an extra point — one that skidded into his hands and one that he fielded on a short hop. Each time, he effortlessly scooped it like a shortstop and got the hold down, and Naggar then drilled the kicks. After one, Green got more congratulatory greetings on the sideline, and with all due respect to Naggar, Green deserved it. Holders are players who absolutely never get mentioned unless something goes wrong, so it's only fair that Green's performance gets pointed out when he performs like he did Saturday.• From the Department of Things That Can Not Happen:➢ An assortment of Tulane miscues and penalties left the Green Wave with third-and-39 … and Tulane got the first down with a 41-yard pass down the right sideline to Deuce Watts. The coverage wasn't awful — it's not like a communication breakdown left no DBs in the area, or a Mustang had fallen down — and to be fair, it was a good throw by quarterback Michael Pratt and a better catch by Watts, but still … can't happen.➢ The Mustangs were called for 10 penalties for 92 yards, both of which were season highs. SMU had been flagged seven times in wins over North Texas, Stephen F. Austin and Memphis, and the previous season high in yardage was 63 against UNT. The Ponies were able to escape Saturday, but 10 flags against a team like Cincinnati could be fatal.➢ The offensive line is better than last year, but there is room for more improvement. In general, this year's line is bigger and stronger, and with four of five 2019 starters back, more experienced. And leading up to the game, the Mustangs acknowledged that Tulane had a strong defensive front that would present challenges. SMU rushed for 142 yards on 43 carries (3.3 yards per carry) and allowed three sacks to Tulane — not horrible numbers, by any means. But offensive line coach A.J. Ricker wants the line to impose its will more, to move the opposing defense off the line of scrimmage even when the defense knows what's coming. The line has been solid, but can be even better.• The best pass of the night was Tyler Page's 55-yard receiver option pass to Rice. It's easy to point to any pass that covers 55 yards and compliment the players on each end of the play, but that pass represented more than that. The SMU offense had gotten a big stagnant, and the play clearly helped jump-start the Mustangs.But consider the pass itself: Yes, Page is a former high school quarterback, but he did a lot of running in high school … and it's been a few minutes. He did complete two passes last year — one was a two-point conversion, and completed two of three (including a touchdown) as a sophomore — that's fewer passes than Buechele throws when warming up for drives. Speaking of which, if Page warmed up his passing arm, I didn't see it, and I was on the bench … and he threw a strike to Rice … while on the run. He wasn't cold, after running pass routes all night, but to come in untested and deliver like that was seriously impressive.• In the week leading up to the game, Dykes said the right things when asked about whether he and his staff were concerned about players looking ahead to facing Cincinnati this week. He was very complimentary of Tulane and said the Green Wave is too good to take lightly; that's true. He also played the humility card, saying the Mustangs aren't good enough to just show up and "out-athlete anyone" — that also is true.That said, the Mustangs agree that to compete with Cincinnati, they need to play better. See you Saturday.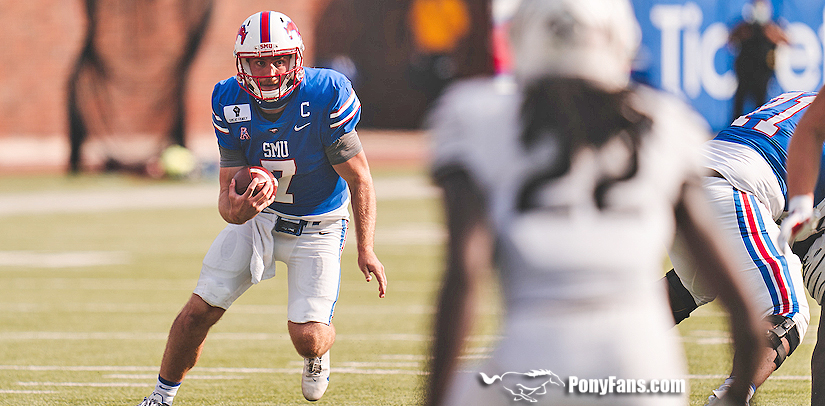 Known as a prolific passer, quarterback Shane Buechele has emerged as a legitimate, if underrated, runner (photo by SMU athletics).

Previous Story
Next Story

| | |
| --- | --- |
| | SMU faces Tulane at 5 p.m. Friday |

| | |
| --- | --- |
| | Coach addresses Covid-19, SMU game, last meeting against Mustangs |