Pony NATE-tion: How will Mustangs fare without injured teammates?
SMU faces Tulane at 5 p.m. Friday
Posted on 10/15/2020 by PonyFans.com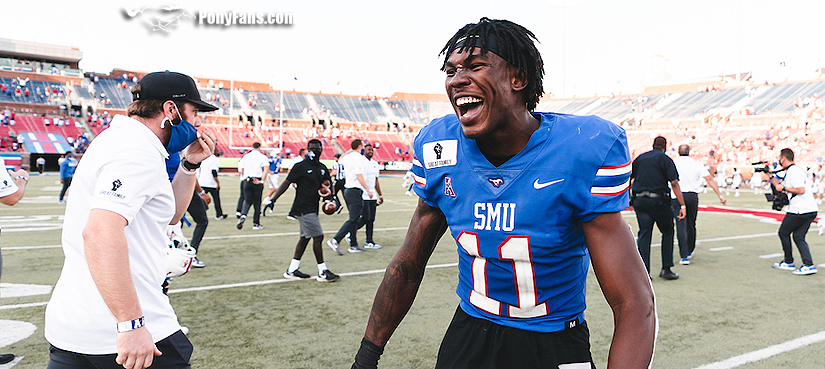 After wide receiver Reggie Roberson went down for the season with an injury, other targets like Rashee Rice are going to be more important than ever to the SMU passing game (photo by SMU athletics).
PonyFans.com is proud to have journalism student Nate back as a guest columnist for the 2020 season. This week, Nate reviews the Mustangs' impressive but costly victory over Memphis and looks ahead to Friday's game at Tulane.
Feel free to post comments and constructive criticism, ask him questions, and/or give suggestions for upcoming columns! (He can be followed on Twitter at @Pony_NATE_tion.)___________________________________________________________________________________________________________________________The 4-0 and No. 17 SMU Mustangs head to the Bayou for conference matchup with Tulane Friday night. The Ponies are coming off a huge win over then-ranked Memphis, in a 30-27 thriller that had its highs and lows. While there were certainly some highs of the gritty win by the Mustangs, there were no lows that were as low as losing wide receiver Reggie Roberson and running back T.J. McDaniel for the year.As crucial as the win was for SMU in terms of the American Athletic Conference championship race, it was almost too costly of a win with McDaniel and Roberson gone for the season — especially Roberson. SMU can survive without McDaniel, especially with a guy like Ulysses Bentley waiting in the wings.But the loss of Roberson is crushing on many levels. Firstly, you feel for a kid who was a surefire second- or third-round pick in the 2021 NFL Draft, who was in the middle of a career day (five catches, 243 yards, two touchdowns) and now faces a career clouded with uncertainty. There is a new, in response to the coronavirus pandemic, under which all athletes get another year of eligibility if they want it. Roberson will have another opportunity if he wants one.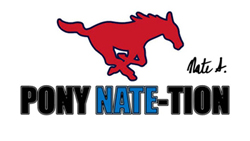 (photo by SMU athletics).
In terms of what it means for SMU, the impact is significant. Losing a home run threat like Roberson impacts the offense in more ways than one. A player that can take the top off of a defense and be a touchdown threat from anywhere on the field like that is singular and impossible to replace. It showed when SMU stumbled down the stretch last season without him, going 2-3 in their final five games. Losing the Buechele-Roberson duo, presumably forever, hurts. But SMU does have several weapons on the outside who can mitigate the loss of Roberson. The Mustangs still have Rashee Rice, Danny Gray and Kylen Granson, and now hopefully newly reinstated Arkansas transfer TQ Jackson will be called on to contribute more. I think probably the most likely candidate to directly replace Roberson is Gray, who has the same elite speed, but is not nearly as polished. Above all, SMU does still have an outstanding offensive coaching staff, so don't anticipate these injuries wrecking the season.With that said, SMU has a daunting two weeks ahead with a strange, Friday-night trap game against Tulane, followed by No. 8 Cincinnati at home. The Green Wave comes in with a 2-2 (0-2 against teams from the American Athletic Conference) record. Its two wins came against South Alabama in a tight one and a blowout over Southern Miss. Tulane's two conference losses were somewhat similar as it blew double-digit leads to Navy and Houston, including blowing a 24-0 halftime lead to Navy in a 27-24 thriller.Tulane's offense is back with its ground-and-pound style of football, and its offense is ninth in the country with over 241 rushing yards per game and throwing for only 145 yards per game. After starting the season off with Keon Howard, it appears Michael Pratt is the man at quarterback going forward. In two games, he has thrown for 283 yards, three touchdowns, and no picks with a 45 percent completion percentage. There is only one receiver who has broken 100 total yards for the season so far: Jha'Quan Jackson, who has exactly 100 yards and two touchdowns.Tulane has four different running backs with at least 25 carries and 120 yards, but Cameron Carroll is the lead back with 54 carries for 285 yards and seven touchdowns. Not far behind him is Tyjae Spears, who has 274 yards on more than seven yards per carry and two touchdowns. Stephon Huderson also averages over seven yards per carry. One big thing to note about Tulane's offense: it has been horrendous on third down, converting just 27 of its third downs. SMU is allowing an alarming 44 percent third-down conversion rate. Third downs will be key this week for the SMU defense. Tulane also has struggled mightily to protect he passer, giving up 14 sacks in just four games. SMU on the flip side has racked up 11 sacks so far, continuing the momentum of last season's outstanding pass rush.Defensively, Tulane has been struggling mightily. Teams are throwing for more than 270 yards per game. One thing Tulane does well is take the ball away, with eight takeaways so far, five of which came against Houston.While Tulane's defensive stats don't look too bad, look no further than what Houston did to the Green Wave. Houston rolled up close to 500 yards of offense and 49 points despite turning the ball over five times! Even with a horrendous five turnovers, the Cougars were able to put up all sorts of crooked numbers. Houston had several big plays, as four receivers averaged at least 22 yards per catch.Tulane is particularly strong up front, surrendering just three yards per carry. Its leading tacklers are the linebackers Marvin Moody and Dorian Williams, each with 31 tackles and Williams with two sacks. Tulane's top pass rusher is Cameron Sample, a 6-3, 280-pound, defensive end who has 23 tackles and three sacks so far. SMU's offensive front will have a tall order Friday night with Tulane's defensive front.This is a quintessential trap game for the Ponies. With a top-10, potential College Gameday feature on the horizon next week against Cincinnati, SMU runs into an inferior opponent on a Friday night in an empty stadium. Weird things happen to ranked teams in weeknight college football games. It will require a focused and prepared effort from the Ponies.The keys for SMU will be to stifle Tulane's run game and get off the field on third down on defense. Tulane has been horrid on third down and SMU needs to keep it that way. Tulane's defense, while stout up front, has been susceptible to the big play. The Mustangs need to figure out how to stay explosive without Roberson. Gray may be the solution in that department.As much as this appears to be a trap game, I trust SMU's coaching staff to have the veteran squad ready. Coming off a bye week, SMU will be fresh and prepared. Tulane will give the Ponies a game, but SMU will be 5-0 heading into Cincinnati week.Nate's take: SMU 35, Tulane 31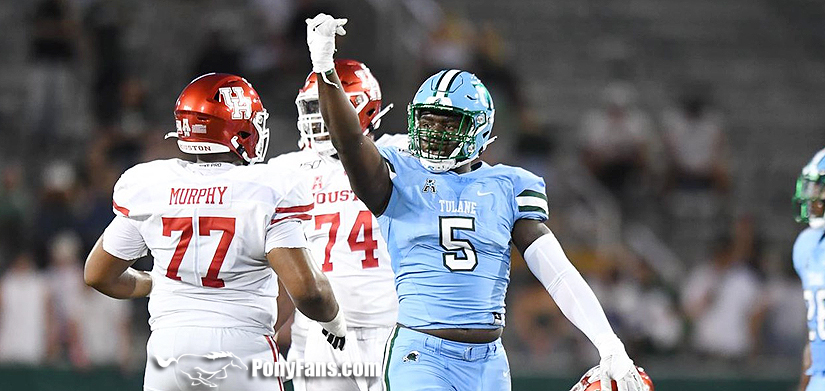 Tulane defensive end Cameron Sample is the top pass rusher in a stout Green Wave defensive front (photo by tulanegreenwave.com).

Previous Story
Next Story

| | |
| --- | --- |
| | High-powered clash Saturday at Ford Stadium |

| | |
| --- | --- |
| | Check out some of the storylines in the Mustangs' 37-34 OT win at Tulane |