Pony NATE-tion: Mustangs welcome No. 9 Cincinnati Saturday
Bearcats return to action after Covid-created hiatus
Posted on 10/21/2020 by PonyFans.com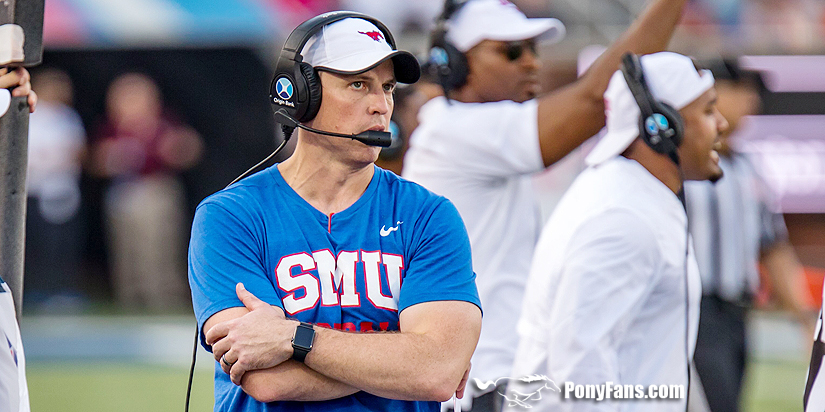 Defensive coordinator Kevin Kane is directing a defense that has generated 15 sacks through the first five SMU games this season but will have to deal with a prolific rushing attack Saturday against Cincinnati (photo by Max Franklin).
PonyFans.com is proud to have journalism student Nate back as a guest columnist for the 2020 season. This week, Nate looks back at Friday's win at Tulane and offers his preview of Saturday's showdown against No. 9 Cincinnati.
Feel free to post comments and constructive criticism, ask him questions, and/or give suggestions for upcoming columns! (He can be followed on Twitter at @Pony_NATE_tion.)___________________________________________________________________________________________________________________________The SMU Mustangs are 5-0 in a second straight season for the first time since 1983 after the Ponies came away with a 37-34 overtime win over Tulane last Friday. While it wasn't pretty, it was a scrappy win for SMU in a trap game. Tulane was up to the task and gave SMU all it could handle.The common theme of the night was "finding a way to win." Sonny Dykes touched on that in his Monday media availability, and addressed what he liked about the Ponies' performance. While it certainly wasn't SMU's "A Game," per se, players, most notably the wide receivers, made huge plays when it counted. In the team's first game without Reggie Roberson, the Mustangs had three 100-yard receivers, as Rashee Rice hauled in seven balls for 139 yards and a score, Danny Gray had five catches for 133 and a touchdown (and a 32-yard rushing score), and Tyler Page had four catches for 101 yards (and a 55-yard completion to Rice on a trick play). This was the first time SMU had three 100-yard receivers since Courtland Sutton, Trey Quinn, and James Proché did it in 2017.Others stepped up, as well, in what was a team win in a generally sloppy game for SMU. Dykes cited several uncharacteristic miscues like 10 penalties, two missed field goals, multiple fumbles, missed assignments and more. Dykes also said the Mustangs were not fundamentally sound in a lot of areas. There were some bright spots, as SMU was fantastic again on third down, going 10 for 18.While the defense surrendered 387 yards and 34 points to a middling Tulane offense, cornerback Brandon Crossley was ultimately able to come up with what turned out to be a game-winning interception on Tulane's first overtime possession. Crossley is now tied with six other players for the national lead with three interceptions among Football Bowl Subdivision (FBS) players.On a night when the defense generally struggled and had several mistakes, including an inexcusable Tulane conversion on third-and-39 late in the game, it seemed to fit in with the "feast or famine" identity of the SMU defense under defensive coordinator Kevin Kane. While the Mustangs may give up higher yardage and point totals, they also create huge splash plays like tackles for loss, sacks, and most importantly, takeaways. Their performance Friday fit that billing: Tulane had a lot of success, but SMU was able to record four sacks and a huge interception. The win column doesn't account for style points, so they all count the same. Regardless of the sloppiness, the goal was to get out of New Orleans with a win, and SMU did that.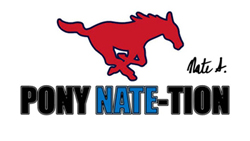 (photo by Max Franklin).
Now the Ponies are 5-0 and will be hosting what might be the biggest SMU football game since the Pony Express days. No. 9 Cincinnati will meet the No. 16 Mustangs in Dallas in a game in which SMU could make a statement both nationally and within the American Athletic Conference. In his media availability, Dykes referred to this as a measuring stick game for the program and said he knows his team will be ready to play.After lots of speculation that bigger programs might poach him, Cincinnati head coach Luke Fickell is back with another very talented Cincinnati team. This Cincy team certainly fits the billing of past Bearcat teams under Fickell: it is built on an elite defense and running the football. Coming off back-to-back 11-win seasons, the Bearcats are off to a 3-0 start but are not without some adversity. Their last game was Oct. 3, because three of their four non-conference games originally were scheduled against Mid-American Conference (MAC) and Big Ten teams (both conferences elected for a conference-only slate in 2020 due to Covid-19). After the gap had ended, Cincy was supposed to take on Tulsa last Saturday, but some positive COVID cases in Cincy's program postponed that game.With such a huge break since Cincinnati's last game, it's hard to know what the Bearcats will look like Saturday night, a similar situation to when SMU played Memphis two weeks ago. The Mustangs are a bit more banged up from the grind of a normal schedule but also might be sharper and not be as rusty as Cincinnati might be. Regardless of how you look at this game, the Covid aspect is certainly an interesting layer to this game.The Bearcats are 3-0, ranked in the top 10 and a fantastic football team. But their three wins have come by a combined score of 107-37 over Austin Peay, Army and South Florida. The biggest question mark for Cincy has been the apparent drop in star quarterback Desmond Ridder's play. He is averaging under 200 (199.0) passing yards per game and just under eight yards per attempt, along with four interceptions after throwing just six all of last season. His struggles are certainly being talked about to the point which backup quarterback Ben Bryant's name is being thrown around. Ridder's leash may be shorter than we all realize.Ridder's weapons on the outside appear to be somewhat limited. No receiver has broken 10 catches or 200 total yards yet. Jayshon Jackson is the leading receiver with 132 yards. Starting running back Gerrid Doaks is right behind him with 130 yards and two scores. Josh Whyle is the leading tight end with 88 yards and two scores. Cincinnati clearly leans on its run game much more than its pass game, so a key for SMU might be to try to turn this game into a track meet.Cincy's run game, while still good, is just 35th in the country in rushing yards per game. The Bearcats aren't running the ball any less — they just are not nearly as efficient. Doaks is the leading rusher with 145 yards on 3.5 yards per carry with four scores. Charles McClelland and Jerome Ford back him up and get the rest of the carries. Cincinnati's running game so far is certainly not the force it was in 2019, even though the offensive line has surrendered just four sacks all season.Defensively, it's another story for Cincinnati. Simply put, the Bearcats' defense is elite again. They are surrendering just 12.3 points per game. Offenses are rushing for only 3.6 yards per carry and are throwing for just 5.1 yards per attempt against Cincy. Only giving up 306 yards per game is elite in today's high-scoring age; for context, SMU's offense is averaging 563 yards per game. Cincinnati is also elite at getting off the field on third down, as opponents are just 15-for-45 on third down.The Bearcat defense is led by linebacker Jarell White, who leads the team with 31 tackles (16 more than the next leading tackler). Darrian Beavers and Joel Dublanko are the other impact linebackers, as Beavers has 15 tackles with a pick and Dublanko has three tackles for loss. Cornerback Ahmad Gardner and safety James Wiggins lead the secondary. Gardner has three passes defended and two picks while Wiggins has three passes defended and is the second leading tackler. Defensive tackle Myjai Sanders is the leading pass rusher with 2.5 sacks so far.What makes this Cincy defense great is that it plays team defense, is disciplined and is fantastic in key situations: third down and in the red zone. Teams are converting just 33.3 percent on third down and 28 percent in the red zone against the Bearcats. SMU, on the other hand, has been fantastic both on third down and in the red zone. The Mustangs are converting 53 percent on third down and 68 percent in the red zone. These will be key areas for SMU on their way to victory Saturday.This is the classic matchup of the immovable object against the unstoppable force, as an elite offense takes on an elite defense. I think at this point, even without Roberson, SMU's offense is still very explosive and will generate big plays. SMU leads the nation in plays of 40 or more yards, 50 or more, 60 or more and 80 or more yards. The matchup of SMU's offense and Cincinnati's defense will be a fantastic chess match and will be great football to watch on both sides. The key for SMU is to finish drives in the red zone when things are compressed and to move the chains on third down. The SMU defense, while flawed, creates havoc up front and will get after Ridder (SMU averages three sacks per game) and force him into mistakes. If SMU is going to win, Club Takeaway will have to be in effect once or twice. The Mustangs have struggled against run-heavy offenses like Tulane and will need to slow down Cincinnati's rushing attack. The key will be to stop the run and make Ridder beat them. If SMU can put some heat on Ridder, the SMU secondary will be able to make some key plays. Surprisingly, I love this matchup for SMU defensively, simply because Ridder is not playing at a high level at all.This is a statement game for SMU as a program. Taking down a top-10 team would be a feather in the Mustangs' cap and could potentially vault it into the top 10. This is a huge game for SMU both in terms of winning the American Athletic Conference and in terms of making a New Year's Six push. This will be a lower scoring game than the Mustangs are accustomed to, but the SMU offense will still be able to make enough plays to win this game. Ridder is struggling right now, and I think Kane is going to force Ridder to win this game. I'm not sure he is capable of going toe-to-toe with the NCAA's active career leader in passing yards in Shane Buechele. I'm going with the better quarterback in this top 25 showdown.Nate's take: SMU 31, Cincinnati 28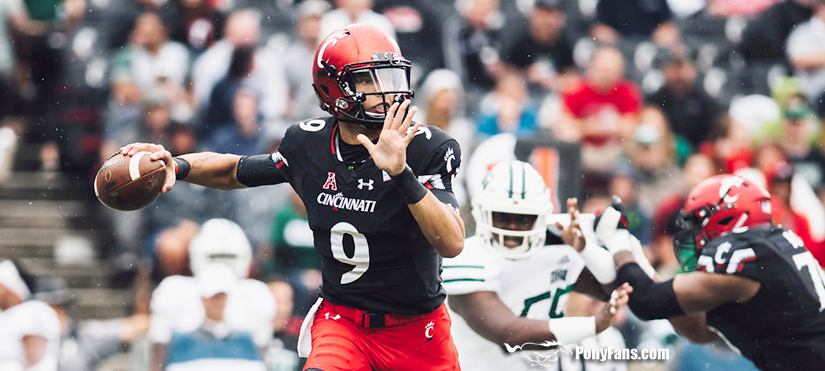 The Cincinnati running game has performed so well that Nate says SMU defensive coordinator Kevin Kane might try to tailor his defense to make quarterback Desmond Ridder decide the outcome (photo by gobearcats.com).

Previous Story
Next Story

| | |
| --- | --- |
| | Coach addresses Covid-19, SMU game, last meeting against Mustangs |

| | |
| --- | --- |
| | SMU hosts Midshipmen at 6:30 Saturday |