Pony NATE-tion: Mustangs seek rebound against Navy
SMU hosts Midshipmen at 6:30 Saturday
Posted on 10/29/2020 by PonyFans.com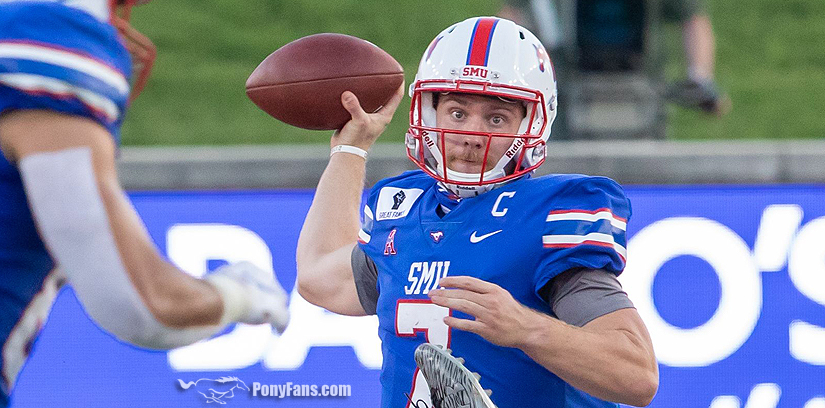 A week after sub-par offensive numbers against Cincinnati, Nate expects Shane Buechele and the SMU offense to bounce back Saturday against Navy (photo by Max Franklin).
PonyFans.com is proud to have journalism student Nate back as a guest columnist for the 2020 season. This week, Nate reviews last week's loss to Cincinnati and looks ahead as the Mustangs try to rebound against Navy.
Feel free to post comments and constructive criticism, ask him questions, and/or give suggestions for upcoming columns! (He can be followed on Twitter at @Pony_NATE_tion.)___________________________________________________________________________________________________________________________The 5-1 Mustangs are fortunate to still find themselves in the top 25 after an embarrassing outing against Cincinnati, SMU's first home loss since November of 2018. SMU was sloppy from the jump, dropping passes, lacking execution, missing tackles, blowing assignments and getting dominated at the line of scrimmage by a Cincinnati team that looked prepared. The Bearcats gashed SMU for 313 rushing yards and five rushing touchdowns, but the Mustang defense largely kept the Mustangs in the game despite some of the crooked numbers. With two takeaways, SMU was given a short field multiple times but failed to capitalize. I identified the two keys for SMU as moving the chains on third down and finishing in the red zone. SMU was miserable in both of those categories going seven-for-20 on third down and one-for-five on fourth down.The missed opportunities were immense. With the game still within reach, SMU came away with three total points on three trips to the red zone. Shane Buechele was under siege all night, receivers had an unbelievable number of drops, and the playcalling wasn't any better. There was an unusual stubbornness about running the ball, and Ulysses Bentley was stonewalled all night. SMU is missing T.J. McDaniel, and the offensive line needs to pick up the slack.The Mustangs were flat-out dominated, but they still have everything in front of them. With other great teams in the American Athletic Conference, the Mustangs might need to run the table in order to secure a date with (most likely) Cincinnati in the AAC Championship Game.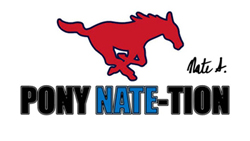 (photo by Max Franklin).
SMU sits in fifth place in the AAC at 2-1, trailing Cincinnati (2-0), Houston (2-0), Tulsa (2-0) and Navy (3-1). The good news: SMU controls its own destiny, as the Mustangs will have a chance against the three teams they need to leapfrog in the standings in order to earn a spot in the AAC Championship. While it's certainly a bit early to start watching the standings, it's important to note that Saturday night was not the disaster it felt like. Everything is still right in front of the Mustangs to take. That starts Saturday night as Navy comes to town for a big conference matchup.Last year's matchup between SMU and Navy was of similar import, and SMU fell in a tight one to the Midshipmen. There is one big difference in this year's matchup: Malcolm Perry is gone after a prolific career at Navy, during which he was a constant thorn in SMU's side. This year's Navy team comes in at 3-3 and has had a wild roller coaster of a season so far. The three losses have all been blowouts and the three wins have all come down to the wire. Led by new quarterback Dalen Morris, Navy's offense has regressed significantly. Points per game are down to 19.3 from 37.2. Rushing yards per game are down to 186.3 from 360.5. Passing yards are up a bit, but some of that is a function of Navy playing from behind so much this year. Total offense is down to 288.2 yards per game from 455.8. The Midshipmen also have regressed on third down, converting just 39 percent this year after converting 46 percent in 2019.Dalen Morris obviously doesn't throw much in this offense, but he is completing 59 percent of his passes at 11.3 yards per completion. He doesn't run nearly as much as Perry did, rushing for just 74 yards so far on 60 attempts. The leading rushers are Nelson Smith (393 yards on 6.6 yards per carry with six touchdowns), Jamale Carothers (82 carries, 326 yards) and Myles Fells (122 yards on 8.7 yards per carry). Navy's leading two receivers are Mychal Cooper and Ryan Mitchell, with Cooper as the leader and Mitchell as the deep threat (35.3 yards per catch). The regression has also hit Ken Niumatalolo's defense. Opponents' points per game are up from 22.3 to 34.7. Navy's run defense has been atrocious, as opponents rushing yards per game are up to 242.5 yards per game after surrendering just 105.8 in 2019. The pass defense has been better but that may be a function of teams passing less in their blowouts. Total offense is up to 427 yards per game from 314 a year ago. The Midshipmen defense is once again led by linebacker Diego Fagot, who is the leading tackler with 50 tackles and also leads the team in sacks with three sacks. John Marshall accompanies Fagot in the backfield as the third leading tackler. The other linebacker to watch for is Tama Tuitele, who has force two fumbles so far. Navy's leading defensive backs are Kelvin Brennan and Michael McMorris with a combined eight passes defended. Cameron Kinley also has four passes defended and a pick. Navy doesn't appear to have much of a pass rush with only five sacks tallied so far through six games.Overall, this feels like a great opportunity for SMU to bounce back against an inferior opponent. SMU is currently a two-touchdown favorite, and I think a lot of that has to do with the matchup. Navy simply can not keep up with high-flying offenses. Look at what BYU and Houston did to the Midshipmen. BYU rolled up 580 total yards (301 on the ground) and 55 points with big plays everywhere. Houston carved up Navy for 316 yards through the air and more than 400 yards with big plays everywhere. SMU's run defense has struggled lately, so this is not a great time to run into Navy. Cincy and Tulane had their way against SMU on the ground. Elijah Chatman was the lone bright spot last week, as he was fantastic and made Pro Football Focus' Team of the Week. SMU has to be disciplined with its eyes with Navy's offense. The Mustangs struggled to do so against Cincy, especially on Ridder's 91-yard touchdown run. I think this is a great bounceback spot, for the offense especially. Last week was the worst offensive output in the Shane Buechele Era, so look for SMU to get its QB1 going again after a rough week. Teams have been running all over Navy's defense as well. The rushing attack, led by Bentley, has been completely stifled for close to a month. This will be a breakout game for the Ponies on the ground.Navy is always a tough out, especially against SMU, but I think SMU has too much firepower for the Midshipmen, as this is not the Navy squad we are accustomed to. Navy will try to slow the game down early, but the Mustangs will take over and race to a 6-1 record and be one step closer to a conference championship game appearance. I like SMU to win comfortably.Nate's take: SMU 38, Navy 21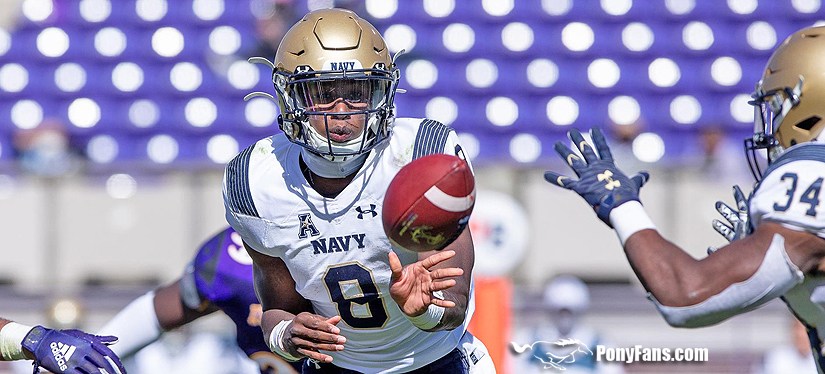 Under the leadership of quarterback Dalen Morris, the Navy offense is less prolific than in recent seasons, but the triple option still presents considerable challenges for opposing defenses (photo by navysports.com).

Previous Story
Next Story

| | |
| --- | --- |
| | Bearcats return to action after Covid-created hiatus |

| | |
| --- | --- |
| | Danny Gray reportedly will be back in lineup |