Pony NATE-tion: Mustangs visit Tulsa with eye on AAC title game berth
Ponies, Golden Hurricane kick off at 6 Saturday
Posted on 11/12/2020 by PonyFans.com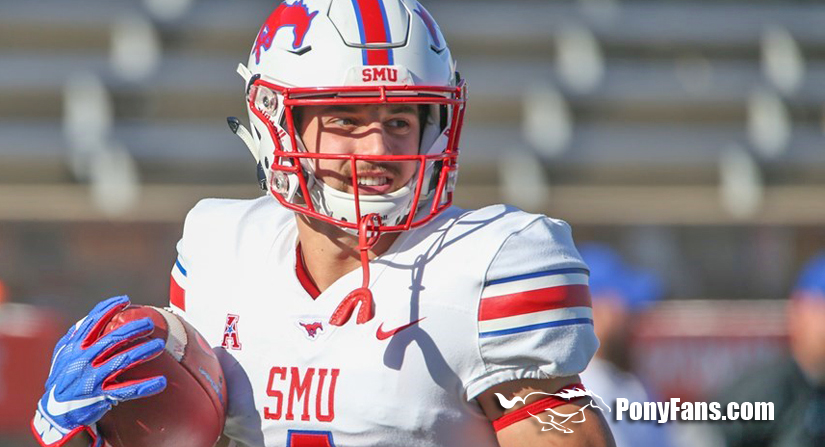 Nate says Tyler Page and the SMU wideouts will be tested Saturday by a big Tulsa secondary that thrives in press man defense (photo by SMU athletics).
PonyFans.com is proud to have journalism student Nate back as a guest columnist for the 2020 season. This week, Nate reviews last week's win over Temple and looks ahead to Saturday's showdown at Tulsa.
Feel free to post comments and constructive criticism, ask him questions, and/or give suggestions for upcoming columns! (He can be followed on Twitter at @Pony_NATE_tion.)___________________________________________________________________________________________________________________________SMU now sits at 7-1 after a wild blowout of Temple. The Mustangs trailed, 13-10, at halftime but rolled to a 47-23 win that included a run of 27 unanswered points in the fourth quarter that allowed Shane Buechele and the Mustangs to turn a dicey, tight matchup with an inferior opponent into a blowout.The Ponies' offense continued to carry on without missing a beat since the Reggie Roberson injury. Tight end Kylen Granson and receiver Tyler Page shouldered the load, as Granson hauled in six balls for 149 yards and a touchdown, while Page erupted for nine catches, 131 yards and two touchdowns. Page has been a complete godsend for SMU out of the slot and has been borderline uncoverable, while also being the team's best punt returner. Head coach Sonny Dykes sung Page's praises in his weekly media availability, saying that Page is the guy that coaches always try to replace, but never can. The senior from Friendswood finally is breaking out and has leapt at this opportunity. His emergence has been huge for Buechele, who had another great outing with 355 yards and four touchdowns.The running attack of Ulysses Bentley and Tyler Lavine is starting to take form, especially with Lavine taking on a role similar to what Ke'Mon Freeman had, as the North-South runner who runs powerfully and ferociously as a short-yardage back to spell the more athletic Bentley. Lavine found the end zone for the third time this season Saturday.The Mustang defense again was quite active, especially on third down. SMU locked down on third down, as the Owls went 6-17 on third downs. Linebacker Richard McBryde led the defense in tackles with eight, while linebackers Trevor Denbow and Delano Robinson were not far behind. One defensive lineman who continues to stick out is Elijah Chatman, who has been incredibly disruptive in the middle of the defensive line. As the season progresses, each game is one step closer to sealing a berth in the American Athletic Conference Championship. No game looms larger than this Saturday's matchup with Tulsa. Philip Montgomery's squad comes in at 3-1 (3-0 against AAC opponents) and currently is sitting in second place behind Cincinnati. SMU sits in third place at 7-1 (4-1 in AAC games), so it doesn't take advanced analytics to realize how important this game is with just three games (for SMU) to play.Tulsa's lone loss came in a 16-7 nail biter to Oklahoma State in the Golden Hurrican's season opener. Since that game, starting with a big 34-26 win over UCF, Tulsa has not lost since. Some of that has to do with COVID-19 issues, as Tulsa's games with Arkansas State and Navy were postponed. But the Golden Hurricane rolled South Florida and mounted a huge comeback to beat East Carolina in their most recent game.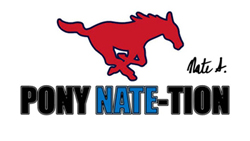 (photo by SMU athletics).
Offensively, Zach Smith is still leading Tulsa at quarterback. Smith is completing 59 percent of his passes for 231 yards per game with a 7-to-5 touchdown-interception ratio. Tulsa's rushing attack is primarily led by Deneric Prince and TK Wilkerson; Prince averages 5.9 yards per carry to Wilkerson's 4.0. Keylon Stokes is back as Tulsa's lead receiver, with 20 catches already for 306 yards and two scores. Josh Johnson, Sam Crawford Jr. and JuanCarlos Santana get the rest of the work through the air.A huge weakness in the Tulsa offense is that it has been terrible on third down, converting just 30 percent on third down. SMU's defense, on the other hand, has done well, holding opponents to just 42 percent on third down. Tulsa also is surrendering two sacks per game, and we all know SMU's affinity for sacking the quarterback, with 20 in eight games.Tulsa has been built on defense this year. TU opponents are scoring just 21 points per game, rushing for just 3.6 yards per carry, and passing for just a bit over 6.2 yards per pass. For contrast, SMU's offense averages 40.5 points per game, 5.0 yards per rush and 9.2 yards per pass. The Golden Hurricane might need its own "Club Takeaway," already with four interceptions and seven fumbles recovered through just four games. This should be quite the matchup between SMU's offense and Tulsa's defense.Tulsa's defense is led by linebacker Zaven Collins, who Sonny Dykes raved about. Dykes spoke very highly of Collins' size (6-4, 260) and speed and how he jumps off the screen to those who watch his tape. Collins is second on the team in tackles with 28, leads the team in sacks with three, has two interceptions (one of which he returned for touchdown) and two forced fumbles. Collins is simply a monster and might be the best defender SMU faces this year.Tulsa has an outstanding front seven and continues to churn out a solid secondary built on long, athletic defensive backs. The starters in the secondary of Kendarin Ray, Cristian Williams, Allie Green IV and Akayleb Evans are all at least six feet tall, the tallest being Ray at 6-4. Tulsa's lengthy press-style corners will certainly be an interesting matchup against SMU's smaller receivers like Page and Danny Gray. Kylen Granson also will be key as these bigger defensive backs are made for tight ends like Granson. But above all of that, the key is to contain Collins.This is certainly an intriguing matchup, as SMU comes in ranked No. 19, yet is viewed by some as an underdog to the unranked-but-3-1 Golden Hurricane. SMU's keys to the game shouldn't change, but there are some especially important things this week: • Get Tulsa off the field on third down. Tulsa has been terrible on third down all season long. Keep it that way.• The defense needs to come up with some big plays. Tulsa has been a bit turnover and sack-prone.• Take care of the football. Tulsa has been a bunch of ballhawks through four games — 11 takeaways in four games is no joke.• SMU's smaller (besides Rashee Rice) wideouts need to win with their releases. Tulsa's lengthy corners primarily play press man, so it's easy to imagine Gray and Page getting swallowed up by TU's press coverage.• Win the line of scrimmage and have an effective rushing attack. After getting completely stuffed against Cincy, the SMU rushing attack has come back alive in recent weeks (albeit against weaker defenses). Having no rushing attack against Cincinnati completely hamstrung the offense. That needs to be different Saturday.If SMU is able to take care of business, especially with these keys to the game, I like the Ponies' chances of coming away with a huge win. If last season's matchup is any indicator, this game will be a thriller. The Golden Hurricane is going to be looking for revenge after blowing a 30-9 fourth quarter lead a year ago, but I'm going to go with SMU. The Mustangs know what's at stake and will be prepared for a dogfight. Buechele and Co., are going to be able to score enough against Collins and the Tulsa defense. With what may amount to an AAC Championship Game berth on the line, I'm going to side with the more talented team. SMU will be 8-1 after Saturday night's matchup.Nate's take: SMU 34, Tulsa 28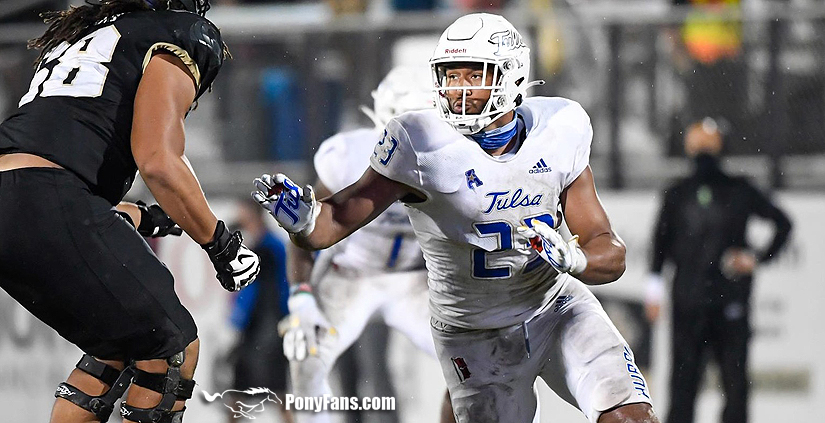 Nate pinpoints massive Tulsa linebacker Zaven Collins as one of the top defensive players the Mustangs will face all season (photo by SMU athletics).

Previous Story
Next Story

| | |
| --- | --- |
| | Danny Gray reportedly will be back in lineup |

| | |
| --- | --- |
| | Ponies host Texas A&M-Corpus Christi Monday |