Pony NATE-tion: Mustangs win No. 7 Saturday at Temple
Danny Gray reportedly will be back in lineup
Posted on 11/04/2020 by PonyFans.com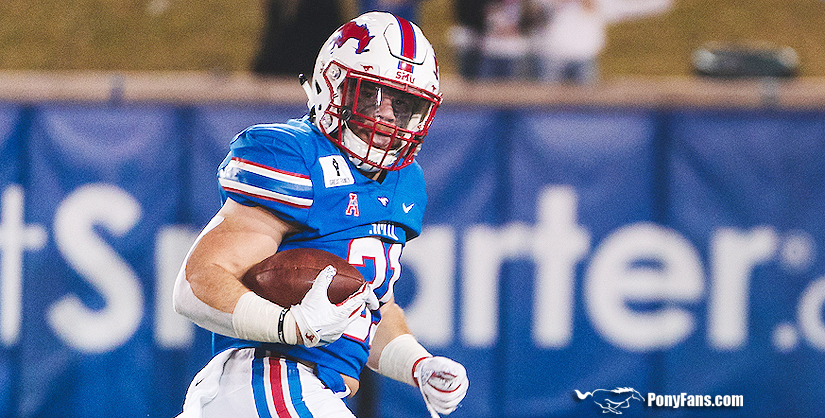 Nate says that Tyler Lavine and Ulysses Bentley need another productive performance like the one they mustered against Navy to alleviate the strain on the injury-depleted SMU passing game (photo by SMU football).
PonyFans.com is proud to have journalism student Nate back as a guest columnist for the 2020 season. This week, Nate reviews the Mustangs' victory over Navy and previews Saturday's game at Temple.
Feel free to post comments and constructive criticism, ask him questions, and/or give suggestions for upcoming columns! (He can be followed on Twitter at @Pony_NATE_tion.)___________________________________________________________________________________________________________________________SMU is now 6-1 after a convincing rout of Navy, 51-37. While that seems close, SMU held a 51-17 lead at one point and took its foot off the gas pedal, in a similar fashion to the way it did in the North Texas game.The offense looked sharp once again after a brutal outing against Cincinnati. Despite a slow start and the offense being down not just receiver Reggie Roberson and running back T.J. McDaniel, but also wideout Danny Gray, the SMU offense looked like itself again. Quarterback Shane Buechele had 300 yards and three touchdowns on 10.7 yards per attempt. Wide receivers Tyler Page, Rashee Rice and Austin Upshaw, and tight end Kylen Granson, all stepped up in a big way to help mitigate the losses of Roberson and Gray.It was also great to see the running game get back on track after a rough few weeks. Ulysses Bentley had 25 carries for 149 yards and two touchdowns (along with 68 receiving yards). Tyler Lavine is also turning out to be a decent backup as a North-South runner who brings physicality. Lavine had 74 yards and two touchdowns, including an impressive 48-yard touchdown run in which he broke a few tackles and broke out of a pile while Navy defenders assumed he was down. After an official review, Lavine's awareness held true as he never was down. If SMU is going to continue to have success, a strong running game is going to help lighten the load on the injury-riddled passing attack.SMU also was much better at finishing drives this week. Against Cincinnati, SMU had four drives cross midfield but scored no points on those drives. Also against Cincy, SMU scored just three times for 13 points in five red zone trips. Against Navy? SMU scored all six times for 38 points. It appears the struggles against Cincy were just an outlier.The defense was quite impressive. After a slow start, the defense locked things down and was able to live in the backfield all night with 12 tackles for loss. Linebacker Delano Robinson was all over the field with nine tackles, a sack and two tackles for loss. Richard McBryde also finished with two sacks and two tackles for loss, and Trevor Denbow was able to register a sack, as well. Eight different Mustangs registered a tackle for loss. Club Takeaway was also in session with a forced fumble.Now 6-1 and No. 18 in the Coaches Poll and according to the Associated Press, the Mustangs head to the City of Brotherly Love for a road matchup with a 1-3 Temple squad. The Owls have had a wild season in terms of COVID cancellations, as they did not play a non-conference game. They fell just short at Navy, lost 41-29 at Memphis, and are coming off a miserable 38-3 loss to Tulane. Temple's one win has come in a nail-biter against South Florida.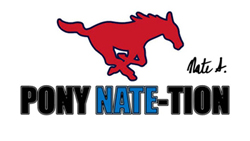 (photo by SMU football).
Rod Carey is off to a rough start in his second year as the Temple head coach. Making matters worse, quarterback Anthony Russo is going to miss his second straight game with a shoulder injury. The one game the Owls played without Russo was the 38-3 disaster to Tulane.The Owls offense, normally led by Russo, is now led by a tandem of Trad Beatty and Re-al Mitchell. Beatty will start, but Carey has said both will play. In limited action, Beatty has completed 11 of his 18 passes for 122 yards (6.8 yards per attempt) and a pick. Mitchell has seen even less action, throwing just eight passes at 2.9 yards per attempt. Temple's offense has been middling throughout the season, even before Russo went down. Scoring just 25 per game, the Owls only rush for 3.6 yards per attempt and are throwing for just 262 yards per game. Giveaways have been a huge issue, as the Owls have given the ball away eight times (seven interceptions) in just four total games. They also struggle to protect the signal caller, as Temple quarterbacks have been sacked seven times so far. Temple doesn't really excel in any area and doesn't appear to be nearly as scrappy as it normally is.Temple's running attack is primarily led by Re'Mahn Davis, who has received 78 carries in just four games for 308 yards and a touchdown. Tayvon Ruley has gotten some work as well, with 21 carries for 102 yards. The three receivers who get most of the work through the air are Randle Jones, Jadan Blue and Branden Mack. Jones is the leader with 284 yards and one score. Blue has the most receptions and has been the go-to guy with five touchdowns. Mack doesn't get the volume, but he has been more explosive with 11.9 yards per catch and three scores.SMU seems to match up well with Temple defensively. The Owls turn the ball over a lot and the Mustangs have shown a knack to take the ball away with 13 through seven games. Temple also gives up a lot of negative plays (tackles for loss and sacks) while the Mustangs thrive on that, as SMU has racked up 19 sacks and 55 tackles for loss in just six games. Things should be even worse for the Owls offensively with backups running the offense.Temple's defense has struggled rather mightily so far, too. The Owl defense is surrendering 37 points per game, 215 rush yards per game at 4.5 yards per carry, and over 8.5 yards per attempt. At 405.3 yards of offense allowed per game, the Owls have struggled to get stops all year. Teams also have converted about 50 percent of their third down attempts against Temple. The rushing and passing stats are very skewed since two of Temple's four games have come against two of the most run-heavy offenses in the country, Navy and Tulane.One area in which the Temple defense has excelled is forcing fumbles: the Owls have forced 14 in just four games, recovering seven of them. SMU never really has had issues with turning it over, but ball security surely will be an emphasis this week. Protection also will be key as the Owls have seven sacks as well.The Owls defense is led by linebacker William Kwenkeu, who leads the team with 28 tackles and a sack. Temple's leading pass rusher has been defensive end Arnold Ebiketie, who has lived in the backfield with two sacks and 6.5 tackles for loss. Linebacker George Reid and defensive end Manny Walker also have four tackles for loss. The secondary is headed up by safeties Amir Tyler and Jalen Ware, while the top corner is Christian Braswell, who has recorded an interception.Regardless of last week, this is yet another chance for SMU to get Bentley going again and continue to improve the running game. With Danny Gray reportedly back this week as well, SMU's offense should be back in high gear (which is comedic to say, considering the Mustangs racked up 51 points a week ago). Other than last week's game against Cincinnati, SMU's offense has proven to be nearly opponent-proof. Be it through the air or on the ground, SMU has found a way to run through all of its opponents. The key this week is ball security, though SMU has been solid in that regard all year.This is a big chance for the SMU defense to win this game single-handedly. As much as SMU defensive coordinator Kevin Kane's defense has generated splash plays and turnovers, this is a fantastic chance for the defense to make a big statement and do its job against a backup quarterback and a team that is not playing very good football right now. Look for SMU's defense to wreak all sorts of havoc up front to generate some turnovers.I really like how SMU matches up with Temple on both sides of the ball. Temple is obviously coming off a miserable performance against Tulane, but I don't anticipate another performance that poor. Regardless, SMU is the better and healthier football team, and is favored by 18 points for a reason. A trip to the conference championship is on the line over the next four games. I think SMU rolls Saturday and comes into the Tulsa matchup firing on all cylinders.Nate's take: SMU 42, Temple 17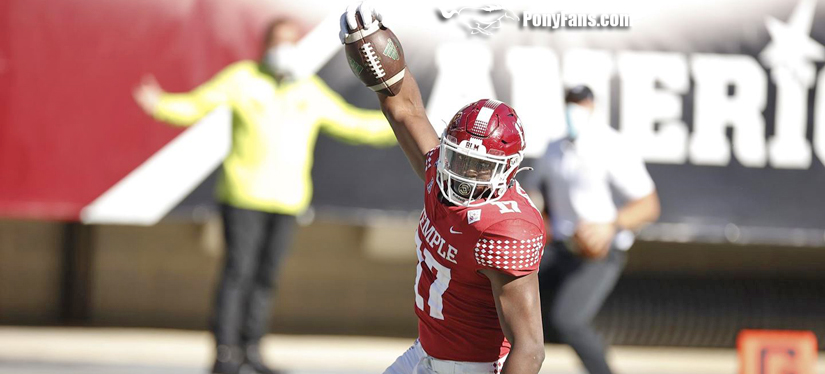 Defensive end Arnold Ebiketie has been one of the top Temple defensive players this season, with 6.5 tackles for loss and a pair of sacks in the first four games of the 2020 season (photo by owlsports.com).

Previous Story
Next Story

| | |
| --- | --- |
| | SMU hosts Midshipmen at 6:30 Saturday |

| | |
| --- | --- |
| | Ponies, Golden Hurricane kick off at 6 Saturday |