Pony NATE-tion: Mustangs hope to get back to winning ways at ECU
Ponies, Pirates kick off at 11 a.m. Saturday
Posted on 11/26/2020 by PonyFans.com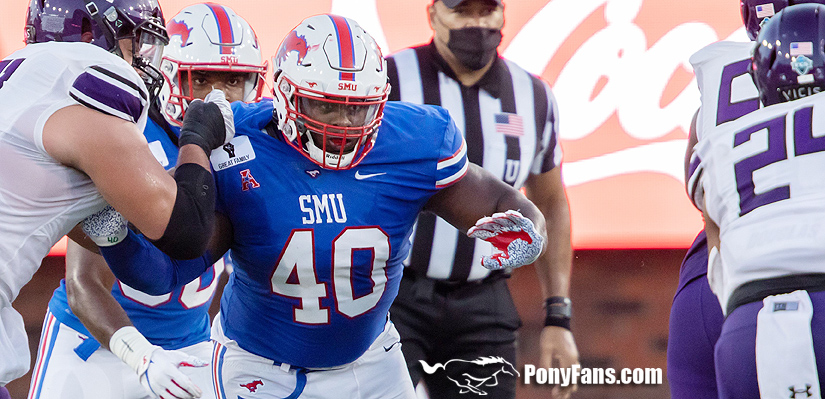 Nate says Elijah Chatman and the rest of the SMU defensive front need to get into the ECU backfield to pressure ECU quarterback Holton Ahlers, who had his best game of the 2019 season against the Mustangs (photo by Max Franklin).
PonyFans.com is proud to have journalism student Nate back as a guest columnist for the 2020 season. This week, Nate weighs in on the Mustangs' unplanned bye week after last week's Houston game was postponed, and looks ahead to Saturday's matchup at East Carolina.
Feel free to post comments and constructive criticism, ask him questions, and/or give suggestions for upcoming columns! (He can be followed on Twitter at @Pony_NATE_tion.)___________________________________________________________________________________________________________________________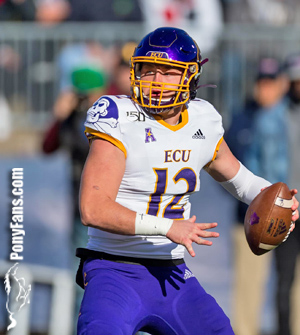 The SMU defense will have its hands full against ECU quarterback Holton Ahlers, who threw for 498 and six touchdowns last year against the Mustangs (photo by ecupirates.com).
It has been a wild two weeks for SMU, which now sits at 7-2 and is out of the race for the American Athletic Conference Championship. The season took quite the turn at halftime of the Tulsa game, as the Mustangs took a 24-7 lead into the intermission of a crucial game, only to be shut out in the second half and fall to Tulsa, 28-24. After a disappointing loss like that, the banged-up Mustangs had to get up for a home matchup against Houston, until COVID-19 struck the Houston program. In his media availability, Sonny Dykes acknowledged how important this extra week off was for his squad to get healthy. Now after two weeks, the Mustangs need to get up for a road matchup with the 2-6 East Carolina Pirates.Mike Houston is in his second season as the head man at ECU, and despite the 2-6 record, ECU has been competitive, including a loss to Tulsa on a controversial fumble call. Regardless of record, SMU can not take ECU lightly, especially given the wild 2019 matchup in which the two teams combined for 110 points and more than 1,200 yards.ECU's offense has had its fair share of struggles, scoring just under 28 points per game, ranking 80th in the nation in passing yards and 53rd in rushing yards. The offense is led by quarterback Holton Ahlers, who has more than 1,600 passing yards, averaging 6.8 yards per attempt, and has thrown 14 touchdowns and nine interceptions. ECU has struggled to protect Ahlers, who has been sacked 18 times this season.Ahlers has three main targets to whom he throws: Tyler Snead, Blake Proehl and C.J. Johnson. Snead is the leader in receptions and yards with 46 catches, 432 yards, and four scores. Proehl isn't far behind with 425 yards. Johnson is the primary deep threat, averaging over 22 yards per reception with five touchdowns. The bulk of the rushing attack is carried primarily by Rahjai Harris, who has 624 yards on five yards per carry and four touchdowns.The primary areas in which ECU has struggled offensively are three of the most critical areas: the Pirates are converting just 33 percent of their third downs, have turned it over 19 times in eight games and have scored touchdowns on fewer than half of their red zone trips.It doesn't appear ECU has the firepower it did a year ago when SMU got into a complete shootout with the Pirates. ECU's offensive weaknesses play right into SMU's defensive strengths: creating turnovers, getting after the quarterback and getting off the field on third down. SMU will need a big game from the front seven, especially Delano Robinson and Elijah Chatman.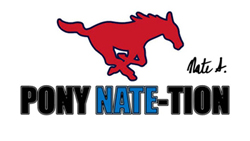 (photo by ecupirates.com).
East Carolina's defense has struggled this season, giving up more than 35 points per game and more than 450 yards per game. Teams are rushing for 5.4 yards per carry against ECU for an average of 217 yards per game, so be on the lookout for another big game from Ulysses Bentley. One thing ECU does a good job of defensively is winning on the money down, third down. Opponents are converting just 37 percent of their third downs.ECU is led on defense by the linebacker duo of Xavier Smith and Jireh Wilson, who lead the team with 66 and 60 tackles, respectively. Wilson leads the team with 3.5 sacks and Smith leads the team with six passes defended. The Pirates' top defensive backs are Shawn Dourseau, Warren Saba and Ja'Quan McMillian; the ECU secondary has racked up eight interceptions and 23 passes defended so far.The SMU offense, with two weeks of rest and preparation, should be ready to go Saturday. Bentley has an opportunity for another huge game against ECU's porous run defense. Overall, the Mustangs probably are itching to get back on the field after the rough ending to its last outing in Tulsa. I like the fact that the banged-up Mustangs got a chance to heal up for the home stretch of the schedule, as well. Shane Buechele and Co., have a chance for a huge rebound and to make a statement that the Tulsa performance was an anomaly. I expect a hungry SMU squad Saturday afternoon.Also, don't ignore that it is ECU's Senior Day, so the Pirates certainly will be getting up for this game. But SMU is the more talented team and is coming off a much-needed off week to heal up and prepare. I'll take a motivated SMU squad in a late-season conference game.Nate's take: SMU 38, ECU 24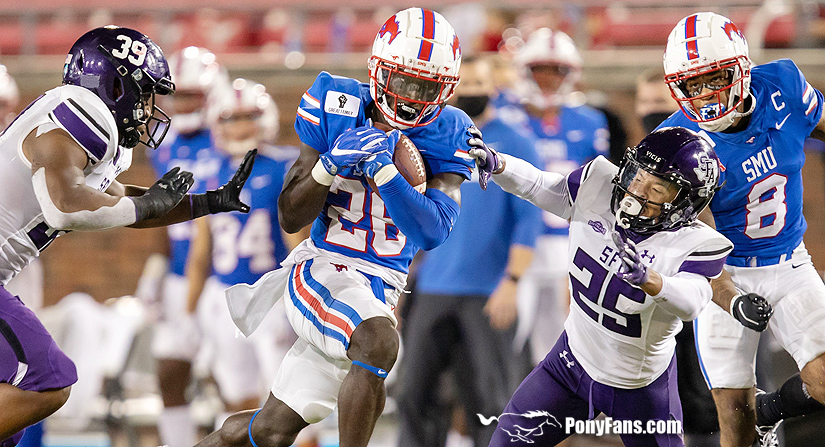 Nate says running back Ulysses Bentley and the SMU rushing attack could have another big game Saturday against a porous ECU defense (photo by Max Franklin).

Previous Story
Next Story

| | |
| --- | --- |
| | Ponies, Golden Hurricane kick off at 6 Saturday |

| | |
| --- | --- |
| | SMU quarterback reflects on Tulsa, looks ahead to ECU ... and beyond SMU career |