Pono Davis hoping to clear one more obstacle
Senior defensive tackle hoping work ethic, team-first attitude earns NFL opportunity
Posted on 04/20/2020 by PonyFans.com

A week before the SMU Pro Day that was cancelled because of the coronavirus pandemic, defensive tackle Pono Davis did 30 reps on the NFL-standard 225-pound bench press — a total that would have placed fifth among all defensive linemen at the NFL Combine (photo by Patrick Kleineberg).
Playing any interior defensive line position is, by definition, a thankless job. When defensive ends and linebackers race into the offensive backfield to stuff a running back or sack an opposing quarterback, it often is possible because the guys in the middle did their job, tying up blockers or even blowing up a double-team to open a lane through which teammates can run.That SMU defensive tackle Pono Davis has excelled in that role comes as no surprise to those who know him. He always has been focused on those around him. As a child, he and his siblings slept on the floor of the home their father was building. When selecting a junior college where he could start his college career, he opted for Tyler Junior College in East Texas so he could be within a couple of hours of his brother, Paka, who had walked on at TCU (before later transferring to SMU). When Zach Abercrumbia transferred to the Hilltop from Rice, Davis watched film with his new teammate, helping him pick up defensive coordinator Kevin Kane's system for Abercrumbia's lone season at SMU.When asked what he is most proud of in his own performance in three seasons with the Mustangs, Davis said, "that we won 10 games this year."Like players across the country who have played their last college game, Davis has spent the spring semester training and hopeful he will hear his name called in the NFL Draft April 23-25 or at least get signed as an undrafted free agent.Davis has made a habit of overcoming obstacles. As a youngster he was a less-than-focused student who improved academically, earning a place in the National Honor Society and a 4.0 average at Tyler, finishing among the top students in his class at SMU (he graduated with a Bachelor's in Applied Physiology and Sport Management). At the end of the spring semester, he'll be halfway to his Master's degree.He and his high school teammates saw few college scouts, because it was more expensive and time-consuming for them to visit the (big) Island of Hawaii instead of the tourist-centric island of Oahu. "Growing up as a little kid, I was seeing (NFL) games on TV," Davis said. "I thought it was cool, that I wanted to be able to do that, but it didn't click in my head when I was playing in high school that I realized I wanted to keep playing. That's when I started taking the steps to pursue that goal: lifting weights, going in early in the morning, all the things you have to do to play. That's when I realized I wanted to play at the highest level."With his brother a freshman walk-on at TCU, Davis looked at schools in Texas. A late-night flight into Dallas-Fort Worth International Airport was followed by a middle-of-the-night bus ride to Tyler … where an assistant coach met his bus at 4 a.m. He immersed himself in academics and football. When he signed with SMU, he was less than an hour from his brother, who then transferred to SMU.As a senior this season, Davis collected 30 tackles (14 solo, with four tackles for loss and a pair of sacks on a team that ranked first in the nation in sacks per game (3.92) and third in tackles for loss per game (8.5), in large part by wrecking opponents' blocking schemes to clear paths for his teammates. For his efforts, Davis earned an invitation to the Hula Bowl in Honolulu.Since that game, his focus has been on academics and training for what he hopes will be the chance he needs to make an NFL roster. He trains with Paka — his brother helps him with nutrition and scheduling workouts — and Logan Uyetake, a friend since childhood who now is an assistant on the SMU strength and conditioning staff.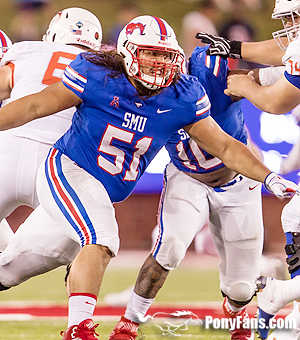 After his senior season at SMU, defensive tackle returned home to Hawaii to take part in the Hula Bowl all-star game (photo by Max Franklin).
"We grew up together, so I had the pleasure of watching Pono grow up and mature," Uyetake said. "He was always blowing people up on the field because he's so strong, but the biggest thing that has improved since I've been working with him is that: his power. He has always been able to push people around, but that power has increased a ton. You can see it in the weight room, and you can see it in his sprints. Starting off, he didn't have that top speed, but through the training he has put in, especially in college, you can see that force he puts in the ground. His first step is really powerful, and he's a lot quicker because of it."Davis, who has yet to select an agent, said he never had a favorite childhood team — his mother supports the Denver Broncos, his father the Philadelphia Eagles. He has heard the most from the Indianapolis Colts, but said he isn't exactly sure how many teams are considering him; to be fair, countless players end up with a new team each year that showed no interest prior to the draft.He also said he doesn't know how much of the draft, if any, he'll watch; in years past, he has not watched the three-day event, opting instead to simply check for on-line updates. If anything, Uyetake might be as anxious to know where his friend will land as Davis is."It's not really nervous, but I'll definitely feel anticipation," Uyetake said. "Growing up on the Big Island, it's tough to get out. There's not a lot of opportunity to get a scholarship, to play Div. I football. Pono did those things, and now he's getting ready to take another step. We're blessed to be in this situation."Davis, like every other player training for a chance to make a living on the field, had his training regimen altered by the coronavirus pandemic. A week before the quarantine, he was training with Uyetake and Paka, who suggested that someone record Pono's bench press. Because of his brother's suggestion, video now exists on-line of Pono doing 30 repetitions with the NFL-standard 225 pounds, a total he said was not his limit. "I racked it after 30 reps, because I didn't want to over-exert myself," Davis said. "I know I could have gotten more if I had that one more week (before SMU's scheduled Pro Day). I did 28 the week before, and 26 the week before that. It wasn't a Pro Day environment — just me, my brother and Logan. I'm disappointed I didn't get to try it in a Pro Day environment. I was tired, but I wasn't done. I could have hit 34, or something like that."As it stands, his 30 repetitions would have been the fifth-highest total among all defensive linemen at the NFL Combine; had he mustered 34, he would have led all players at his position (Ohio State's DaVon Hamilton led all defensive linemen with 33).His coaches at SMU have assured him that if NFL scouts focus on game film, Davis has a chance."They told me, 'watching your film, you did your job every play, you're doing the things you need to do to be successful,'" Davis said. "'You take on a double-team, and there's Pat Nelson getting a sack, Richard McBryde getting a tackle for loss, Turner Coxe pressuring the quarterback. You stuff that line of scrimmage, you get that push, that penetration — you've got good film. You don't have to worry about Pro Day getting cancelled because of the quarantine.' "It was reassuring to hear that from them. Now I'm hoping an NFL team gives me that chance to prove them right."

Previous Story
Next Story

| | |
| --- | --- |
| | Defensive tackle Zach Abercrumbia hopes to parlay season at SMU into NFL job |

| | |
| --- | --- |
| | SMU defensive end Delontae Scott's NFL hopes may hinge on possible position change |