Standing up to get noticed
SMU defensive end Delontae Scott's NFL hopes may hinge on possible position change
Posted on 04/21/2020 by PonyFans.com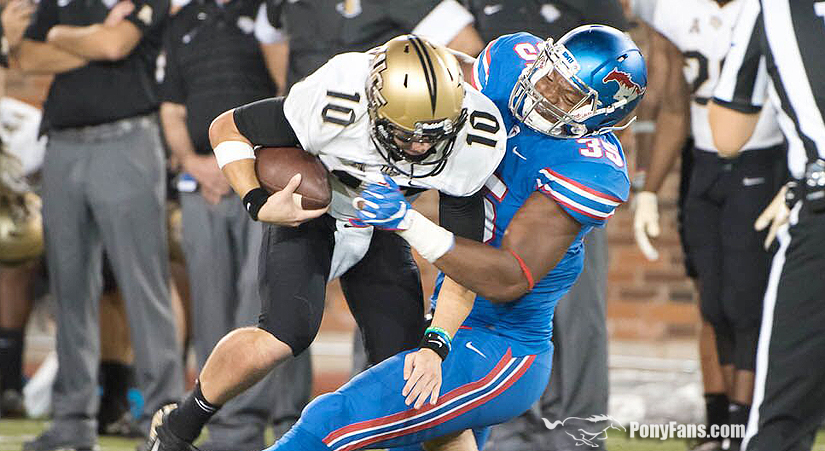 After recording eight sacks in his first three seasons at SMU, defensive end Delontae Scott burst out for 10 in 2019 (photo by Patrick Kleineberg).
Everyone knows the saying:
Some things are not as they appear
.Consider the case of SMU's Delontae Scott. The senior defensive end had 39 tackles for the Mustangs in 2019, finishing second on the team with 10 sacks and tying for the team lead with 18 tackles for loss. Do the math, and that means 46.1 of Scott's tackles were behind the line of scrimmage, by far the highest percentage of any SMU defender.The NFL noticed.Told that an NFL scout said during the 2019 season that he "loves No. 35 (Scott) but his professional future is probably as a stand-up outside linebacker," Scott wasn't surprised."That's what they all said."After the season, Scott was invited to play in the NFLPA Bowl in Los Angeles, an all-star game in which he was coached by former NFL coach Marvin Lewis. In addition to the game itself, the players were coached by current and former NFL players on playing the game at the highest level, and on how to meet the off-the-field challenges that face players when they start playing professionally. The players also had a window of a few hours after practice in which they could visit with NFL scouts and coaches. Scott had meetings with almost every team in the league."The only teams I didn't talk to at the NFLPA game were New England and the Houston Texans. Just about all of them said they saw me as a stand-up edge rusher," Scott said. "That (moving to a stand-up linebacker position) is all I've been told. At SMU, my role was to put my hand in the dirt (as a defensive end) for the team, because that's where I could help the team the most."In addition to his emergence as a pass rusher, Scott said he heard from scouts who were impressed by his versatility.The reviews from the scouts are not without merit. Scott's 10 sacks in 2019 represented a breakout performance after he had just eight sacks in his first three seasons combined."At SMU, they would play me up and down the line — Coach (defensive coordinator Kevin) Kane and (defensive line) Coach (Randall) Joyner did a great job of moving us around, putting us into positions where we could be effective. I even liked getting in the middle (as a defensive tackle) and putting my hands on those inside guys, making them mad because a guy who weighs 50 pounds less just cooked 'em."The coaches did a good job of teaching us not just our own job, but other guys' responsibilities, too. At defensive end, I know what the inside guys were supposed to do, what the linebackers were supposed to be doing. That's something I've always done, and it will help if a team wants to move me."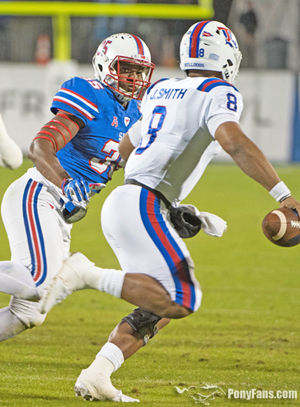 After playing mostly defensive end, Delontae Scott very well might be chasing NFL quarterbacks as a stand-up linebacker (photo by Patrick Kleineberg).
Assuming it happens, the move to linebacker won't be a completely foreign concept to Scott, who sometimes dropped to the defense's second level under then-defensive coordinator Van Malone when Chad Morris was the Mustangs' head coach. At the NFLPA Bowl, Scott lined up outside, although he primarily rushed the passer from that role.Scott spreads the credit for his development around, to the veteran players before him, to his teammates, to Kane. But he reserved a significant nod for Joyner."I was really learning how to pass rush when Coach Joyner came down from Ohio State, where the defensive line coach … if you know college football, you know (Ohio State defensive line) Coach (Larry) Johnson is one of the best in the country. He puts out first-round draft picks every year, he puts out All-Americans every year … and Coach Joyner got to work with him."Johnson's recent gems at Ohio State have included Joey and Nick Bosa, and Chase Young, who is widely expected to be one of the first few players selected in the first round of the NFL Draft."So if you know Coach Joyner, he brings the juice every day, this incredible energy," Scott said. "He has so much confidence in himself, in us. When he came down, Coach Joyner said I look just like those (Ohio State) cats, and there's no reason I shouldn't be just as dominant. He really believed in me, and helped me believe more in myself. I have more confidence now, because he elevated my game, physically and mentally."At 6-5 and 265 pounds, Scott is the same height and just nine pounds lighter than Young, and like Young, Scott the speed to chase down quarterbacks and long arms to knock down passes and fend off would-be blockers. Scott said he watched Young's Ohio State film, and while he is not as polished as Young, he doesn't think Joyner's comparison is too outlandish."(Young is) one of best defensive linemen ever to play in college football," Scott said. "My improvement has helped me get better every year. I'm not saying I'm Chase Young, but my goal is to be one of the best defensive players in the league."A lot will get ready to change for Scott. Thursday is limited to just one round. Rounds 2 and 3 will be held Friday, and the final four rounds of the seven-round event will take place Saturday. Scott said his agent has been told he could get drafted "early on Day 3" although he hopes to sneak into Day. Sometime after the draft, he and his fiancée, Gabriela Cartin, will set a wedding date.But first, he needs to learn where he — they — will live. Scott said he'll watch the entire event. He doesn't anticipate being nervous. Instead, he plans to watch it as much for others as for himself."I'm going to watch throughout the whole thing," he said. "I want to know where I'm going, but it's not just about me. I have teammates getting drafted. Their success is my success. We all worked for this since we were kids, and all the hard work is going to pay off. When one of them gets drafted, I'm going to be excited."I know I can play. Now I just need a chance to prove it."

Previous Story
Next Story

| | |
| --- | --- |
| | Senior defensive tackle hoping work ethic, team-first attitude earns NFL opportunity |

| | |
| --- | --- |
| | SMU tight end Ryan Becker hopes to turn free agent contract into NFL career |