In the Cards?
SMU tight end Ryan Becker hopes to turn free agent contract into NFL career
Posted on 05/02/2020 by PonyFans.com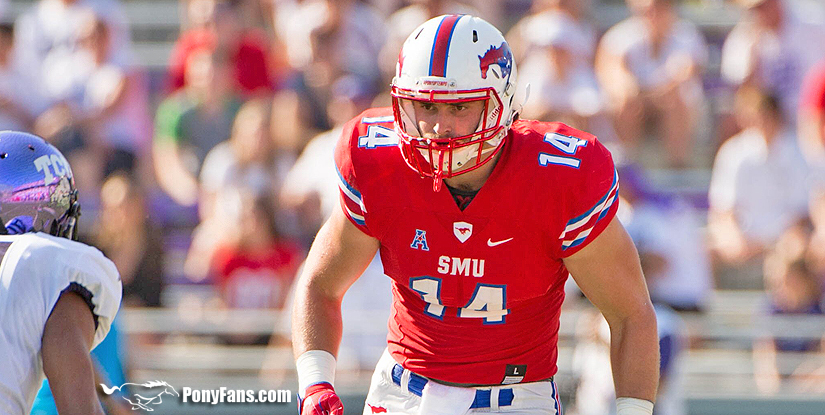 SMU tight end has an opportunity to keep playing — and wearing red — after signing as an undrafted free agent with the Arizona Cardinals (photo by Patrick Kleineberg).
For college football players across the country hoping to play in the NFL, the spring after their final seasons is all about training — for Pro Day, for the Combine, to impress scouts. They train to drop precious tenths of a second off their times in the 40-yard dash, or to raise their numbers of repetitions in the bench press, all in the hopes of catching the attention of the league's talent evaluators. Some scouts get so enamored with a player's "measurable" that he forgets what that player did on the field. But every year, after players get drafted or signed as undrafted free agents, stories begin to emerge about a player who wasn't the headliner on his college team or maybe lacked something in the physical tests but produced at such a level that his new team can't let him go.After he was hired in January as SMU's new offensive coordinator, Garrett Riley coupled his immediate recruiting responsibilities with watching the Mustangs' 2019 games, to evaluate the personnel he was inheriting for the 2020 season."Coach Riley, when he was watching cutups of last year's games, he was asking 'who's 14?'" tight ends coach Josh Martin said. "He's
really
good."No. 14 was tight end Ryan Becker. In a time when media and fans scour the internet, reading about players' on-field statistics, Becker's numbers — he caught 16 passes for 198 and five touchdowns in 49 games over his SMU career — don't exactly jump out. But as soon as the NFL Draft ended April 23, Becker became one of three Mustangs headed to the next level, having agreed to a free agent contract with the Arizona Cardinals."He's the best tight end I've ever coached," Martin said. "He doesn't have quite the speed that Kylen (Granson) has — although he's faster than you think — but he's 6-5, 255, he's smart, he's unbelievably tough, and he's one of those guys who just loves football and will do absolutely anything you ask him to do … and he'll do it well."Becker said his agent fielded overtures from other teams, but said that since before the draft even took place, the Cardinals seemed to be an ideal landing spot. He felt there were parallels that could be drawn between himself and Arizona tight ends coach Steve Heiden, a former tight end who went from playing at South Dakota State to carving out an 11-year NFL playing career with the San Diego Chargers and Cleveland Browns, largely because he excelled at blocking and doing the so-called "dirty work" at which Becker also excels.""I had been talking to Coach Heiden, their tight ends coach," Becker said, "and we just kind of clicked. He grew up somewhere up north, he was a small-town kid, like to hunt and fish … and those are things I've done my whole life. It just seemed like we could relate to each other."His praise for Becker notwithstanding, Martin said it was critical that Becker doesn't just get a chance, but gets that chance with the right team."He might not fit in a place like Kansas City — he's not Travis Kelce," Martin said. "But he'll excel in what the Cardinals want him to do."I'm fired up for him. I think he's in a great system, for his skillset in Kliff Kingsbury's offense. They're very versatile in what they do, and their personnel, with their skillsets — I think Ryan fits well with them. They have really elite receivers. Of course they have Larry Fitzgerald, they have Christian Kirk, and now they got DeAndre Hopkins from Houston. Those are three great targets, and they can use a guy like Ryan, who really plays well with RPO (run-pass option) reads and some of the other running plays they run with Kyler Murray and their running backs. He'll play H-back, he'll play in-line tight end. There are so many things a good tight end does that make the offense work, but don't necessarily show up on the stat sheet. Ryan understands how important those things are, and he does them really well. He was a huge part of why our offense was successful this year."Becker comes by his willingness to get his hands dirty naturally. Before heading to SMU, he was an offensive tackle at Marble Falls High School and competed in rodeo. "He's got a lot of cowboy in him," Martin said, "and cowboys have to be tough. He is."Becker said that there was a time when he thought playing for the Mustangs was as far as his football playing career would go.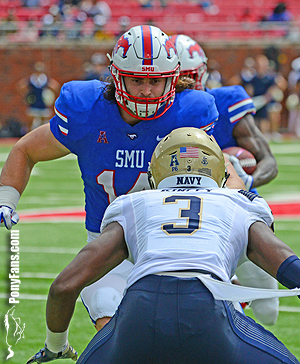 Although an underrated receiving threat, whether Ryan Becker makes the Arizona roster likely will depend in large part on his blocking and contributions on special teams (photo by John Kleineberg).
"I didn't even think about playing in college until probably my junior year in high school," he said. "I just wanted to play (high school games) on Friday nights. But my coaches told me that if I take this seriously, I might have a chance (to play in college). I thought if I worked my ass off, I might make a Div. III team, and that was good enough for me. Then I started getting offers, and I got to SMU, but even then, I only thought about the NFL once a year, when the older guys were doing Pro Day."Urban Meyer said the way to make it to the next level is to be the best player on the team you're on now. So I put in the work, even with so many unknowns. It got me to SMU, and doing the same thing at SMU got me here now."When asked for an example of Becker's toughness, Martin is at a loss, saying "there are too many to name. Just watch him practice, what him play." When pressed, Martin refers to the end of the 2018 season."Ryan got hurt against Memphis when he got hit in the knee," Martin said. "He didn't tear it, but he strained it pretty bad. We had Tulsa the next week, playing for (eligibility to get invited to) a bowl game. Our rule, you know, is that if you don't practice by Wednesday, you don't play. He could barely walk, but he was out there Wednesday, trying to limp through some reps so he could play in that game. When we got to that game, he was absolutely beside himself, because he hated not playing. The guy loves football as much as anyone I know. He loves the contact, and he'll do anything to play.""That Tulsa game was our last game of the season, and we needed to win it to go to a bowl game," Becker said. "Tulsa's record wasn't very good, but they were better than their record. The coaches said 'do what you can, and if you can't go, we'll have you for the bowl game.'"The Mustangs lost, 27-24, falling short of the postseason."Your best ability is availability," Becker said. "I dressed for warm-ups that day, because I wasn't going to be that guy just standing on the sideline in a jersey and sweats. I didn't play, and then our second tight end (Hunter Thedford) got hurt, so now we're down to the third guy and a true freshman. I told the trainer, 'take it up so I don't feel it.' I don't know if I could have run a pass route, but I felt like if it was a running play, I could do it."The game was the only one Becker missed during his career at SMU. He missed none in high school, either, at one point even playing with a broken bone in his leg.Becker has played through injuries, learned a new position when he got to college and thrived, albeit in a role that didn't feel the stat sheet. The Cardinals' scouts, however, liked what they saw, and now the high-school-tackle-turned-college-tight-end is going to an NFL camp."I'm not surprised at all" that Becker is getting a chance, Martin said. "If you turn on the tape, watch him, do your due diligence, you'll see how good he is. The Cardinals did it. I give full credit to (Arizona general manager) Steve Keim and their scouting department. They did their work, they watched his film, and they saw a player who can help win."The majority of the Cardinals' passing game last year went from Murray to Fitzgerald and Kirk, and the focus on getting the ball to wide receivers only will go up since Arizona surprisingly pried Hopkins away from the Houston Texans. Whether he makes the team will be determined whenever the NFL gets training camps underway, but Becker's underrated receiving skills will be a bonus on top of the other ways in which he will help the Cardinals' offense, and he can be a valuable contributor on multiple special teams."As long as I'm still on the roster, I've still got a chance, and that's all can ask for," Becker said. "If I get a chance and screw it up, that's on me, but my gosh, I've got a chance. Now it's time to go make it happen."

Previous Story
Next Story

| | |
| --- | --- |
| | SMU defensive end Delontae Scott's NFL hopes may hinge on possible position change |

| | |
| --- | --- |
| | DC Kevin Kane looks to returning players, newcomers to replace productive 2019 senior D-linemen |