Season preview 2020: Offense
Sonny Dykes optimistic Mustangs' attack can remain potent despite key losses
Posted on 08/12/2020 by PonyFans.com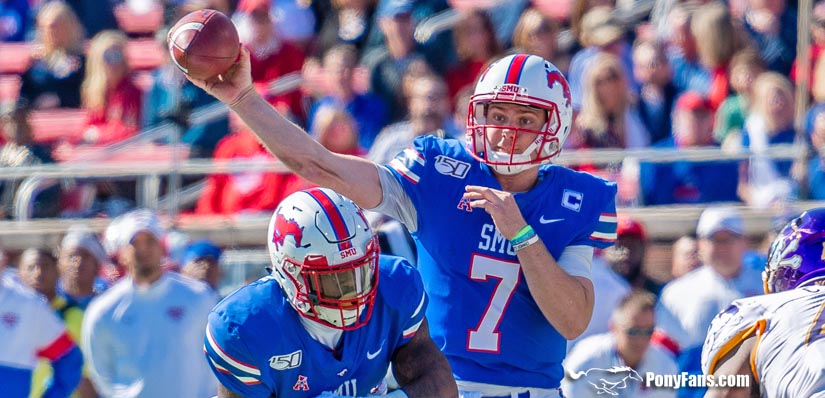 Quarterback Shane Buechele is back for his senior season after leading the American Athletic Conference in his first season at SMU in touchdown passes (34) and passing yards per game (302.2) (photo by Spencer Stewart).
Look back at the 2019 SMU football season and it's easy to get carried away admiring the statistics and accolades.After all, the Mustangs scored a program-record 554 points last season (for an average of 41.8 per game), racing past the previous record of 492 (37.8) en route to a 10-3 record, including a 6-2 mark against American Athletic Conference opponents. The Ponies put up those gaudy scoring numbers by chewing up opposing defenses to the tune of 6,368 yards of total offense, or 489.8 per game — also new records that has had some fairly potent offensive weapons through the years.After a season like that, accolades poured in. Wide receiver James Proché earned second-team All-America honors from the Football Writers Association of America (FWAA); he, quarterback Shane Buechele, linebacker Pat Nelson and running back Xavier Jones earned first-team All-AAC honors from the conference's coaches. Jones was a semifinalist for the Doak Walker Award, which is given annually to the nation's top running back, Proché was named a semifinalist for the Biletnikoff Award, which goes to the nation's top receiver and Buechele was a finalist for the Earl Campbell Award, which is presented to the top college player with Texas ties. Dykes was in the running for all of the major coaching awards and landed a contract extension after the season.So what lies ahead for the Mustangs' offense?Buechele transferred to SMU amid a swirl of hype sparked by the fact that he is the son of a former professional athlete and had started his college career at Texas … and exceeded just about everyone's expectations. He completed 307 of 490 passes (62.7 percent) for 3,929 yards (302.2 yards per game), and threw 34 touchdowns against just 10 interceptions. Throughout his first season at SMU, Dykes raved about Buechele for more than his throwing ability. Buechele quickly dove into the playbook and worked to establish timing and chemistry with his new teammates, and it showed when he took the field, guiding an SMU offense that ranked second in the AAC in both scoring and passing. He was the only quarterback in the conference to average more than 300 yards through the air, and he edged out Memphis quarterback Brady White for the conference lead in touchdown passes.So it isn't exactly peering in to a crystal ball to predict that Buechele will remain the Mustangs' starting quarterback. After a year of working together, Dykes does not shy away from the fact that he expects another strong year from his senior passer. What has him particularly excited, Dykes said, is the improvement he has seen in backups Will Brown, Terrance Gipson and Derek Green. "They all have come a long way in a year," Dykes said. "We have a really solid quarterbacks room."The most obvious change on offense is at running back, where 2019 seniors Xavier Jones and Ke'Mon Freeman accounted for 366 of the Mustangs' 534 rushing attempts (68.5 percent), 1,793 of the team's 2,351 (76.3 percent) of the rushing yards and 28 of the Ponies' 35 rushing touchdowns (80 percent) last year.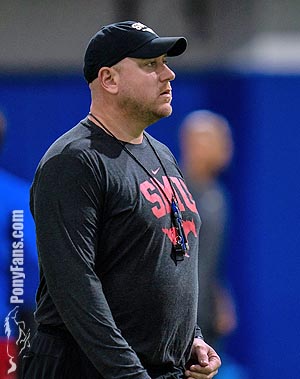 Thanks in part to a stable of incoming freshmen and a pair of transfers, offensive line coach (and co-offensive coordinator) A.J. Ricker has a group of offensive linemen that is far bigger in number and physical size (photo by SMU athetics).
Vying to replace Jones and Freeman will be sophomores T.J. McDaniel, TaMerik Williams and Tyler Lavine and redshirt freshman Ulysses Bentley. Dykes acknowledged that the group lacks a lot of experience — McDaniel had 41 carries a year ago, while the other three combined for 26 — but said he is optimistic about the talent in the group, and said he always expects his offenses to employ a running back-by-committee approach."We're always going to have three or four guys at that position who we can play in a game," Dykes said. "As the season goes along, guys get banged up, and that can affect how we split up the reps. More than anything, though, those guys have very different running styles, so different guys will fit the game plan better than others from week to week. Tyler is having a great camp, T.J. and Ulysses are really getting better, and TaMerik is is much-improved, too. "Because they're so different from each other, we want to use them in ways that allow us to create matchups that give us an advantage. Those guys haven't played a whole lot at this level, but they're good football players, and I feel great about that group."At receiver, the Mustangs have to replace Proché, who now is in training camp with the Baltimore Ravens. His 111 catches tied for the national lead last year, his 15 receiving touchdowns ranked fourth in the country, and his 1,225 yards ranked 15th — numbers that were made even more impressive because defenses could focus on him even more after Reggie Roberson went down with a foot injury and missed the last five games of the season.Roberson, who had 54 receptions for 803 yards and six scores before getting hurt last season, is by far the most experienced returning receiver and is a home-run threat the Mustangs could have used down the stretch last year. Dykes said that while Roberson and Proché have completely different styles, Roberson is more than capable of leading the group. Most importantly, Dykes said, Roberson is fully healthy."Thing with Reggie is that everyone has always known he's capable of being a No. 1 guy," Dykes said. "But we were lucky that we had him and James. The thing with Reggie is just about staying healthy, and he's having a great fall camp. He hasn't missed a rep, he's in great shape, and he has learned to train without overtraining. He has looked the best he has ever looked — I'm really excited about him."Dykes said throughout the 2019 season that Roberson and Proché benefited greatly from the fact that opposing defenses had to split between the two. When Roberson got injured last year, then-freshman Rashee Rice stepped in and performed admirably, pulling in 25 passes for 403 yards and a score; Dykes said that when he has watched Rice in camp, "there's a big jump there." Others who will be asked to play major roles include senior Tyler Page, transfer Danny Gray and redshirt freshmen Calvin Wiggins and Keke Burns.One of the Mustangs' breakout performers a year ago was tight end Kylen Granson, who caught 43 passes for 721 yards and nine touchdowns — numbers upon which Dykes said he thinks Granson can improve in 2020."He did a really nice job for us last year," Dykes said of the former Rice transfer. "This year, he's more comfortable, because he and Shane have spent more time together, getting their timing and chemistry even more fine-tuned. Shane has a better understanding of how Kylen likes to run routes and tries to put the ball in certain spots, and Kylen has a better understanding of which passes Shane throws best. With a year of working together, I think he has a chance to have a really good year."Of course, every coach will quickly point out that an offense is only as good as the offensive line that leads the way, and this year, the Mustangs have a group with far more returning experience than last year's unit. Starters Jaylon Thomas, Hayden Howerton, Alan Ali and Beau Morris, as well as part-time starter Cobe Bryant, are back, but the depth should be vastly improved. Transfer Thomas Shelmire sat out last season per NCAA transfer rules and is now available, and JUCO transfer Demetri Jordan is a sizeable (6-5, 330) addition to the line. Redshirt freshmen Danielson Ike and Tai Brooks, who are listed at 6-6, 338 and 6-4, 335, respectively, bring obvious size and athleticism. Cameron Ervin arrived last year as a freshman walk-on at about 260 pounds; a year later, Dykes said, Ervin is up to about 290 and in the rotation at center. That doesn't even include the 10 true freshman linemen on the roster. Since he was hired, Dykes has made no secret of the fact that he wanted the Mustangs to get bigger on the offensive line, in terms of the size of the players and the number of players in the group. Which ones will develop remains to be seen, but he clearly has reached those two goals."I have been really pleased with what I have seen from that group," Dykes said. "We needed to get bigger, and we definitely have. Cameron Ervin is tough and strong and smart, and he'll help us. Danielson Ike and Demetri Jordan are giving us more competition than ever at right guard. We have a really big freshman class, full of big guys who are tall and athletic, and I think there are a couple of freshmen in that group with a chance to get in the mix and compete for playing time, as well."That's probably the position group where we have improved the most since last year, in terms of the number of bodies and just having bigger people. (Offensive line coach) A.J. (Ricker) did an incredible job last year, and now he has more to work with."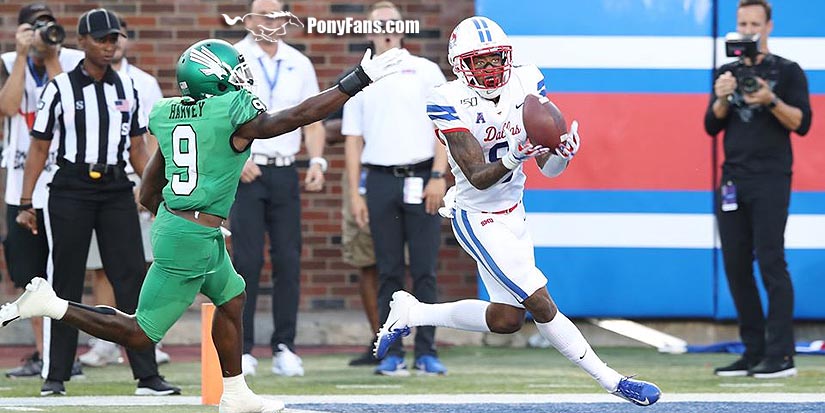 Reggie Roberson brings his game-breaking speed back to the SMU offense after missing five games last season with a foot injury (photo by SMU athletics).

Previous Story
Next Story

| | |
| --- | --- |
| | Ponies combining preparation, protection in preseason camp |

| | |
| --- | --- |
| | Mustangs relying on retooled defensive line, welcome back Moore |