Season preview 2020: Defense / Special Teams
Mustangs relying on retooled defensive line, welcome back Moore
Posted on 08/14/2020 by PonyFans.com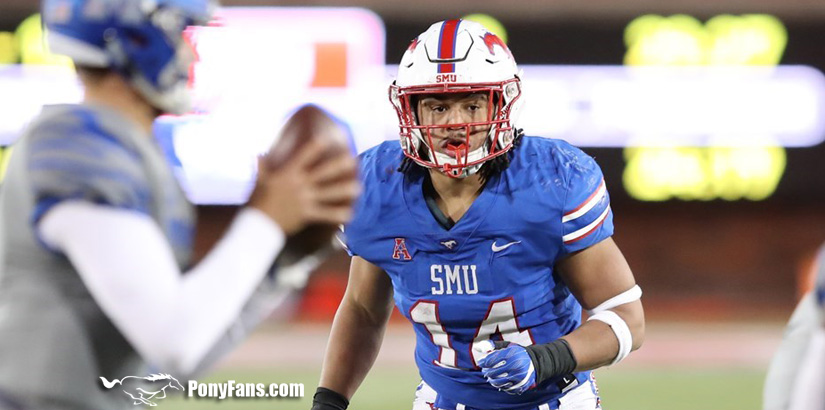 Senior linebacker Richard Moore was granted an extra year of eligibility is back for a final season after missing most of 2019 with a knee injury (photo by SMU athletics).
Of the reasons the 2019 SMU defense was improved over the 2018 version, none was more visible than the pass rush. The Mustangs piled up 51 sacks; their average of 3.92 was the highest of any FBS team in the country.The Ponies welcome back many key players from last year's defense, but the pass rush will look decidedly different as six players who were seniors a year ago are gone.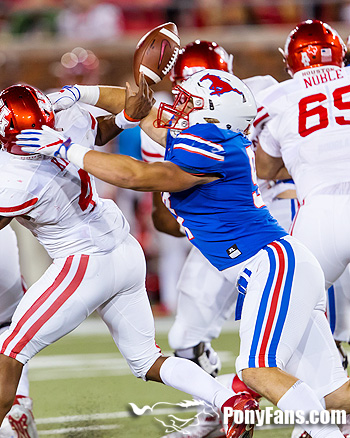 Junior Turner Coxe leads all returning defensive linemen in tackles, tackles for loss and quarterback sacks (photo by Max Franklin).
"That's not just a lot of players — it's a lot of very productive players," defensive coordinator Kevin Kane said. "They were absolutely critical to our success on defense last year."Head coach Sonny Dykes agreed with Kane's assessment about the departed seniors, but said the departures of players like Delontae Scott, Pono Davis and Zach Abercrombia have left voids, but not craters that can not be filled.As evidence, Dykes points to players like junior defensive end Turner Coxe, whose 51 tackles, 8.5 tackles for loss and 3.5 sacks lead all returning defensive linemen. "Turner is a guy who I think sometimes gets overlooked, but he's an incredibly productive player for us," Dykes said. "He can do so many things that make our defense better."Dykes said he also is pleased with what he has seen during preseason camp from interior linemen like sophomores Terrance Newman, who he said is "really coming along, and incredibly strong" and Elijah Chatman, who he said is the Mustangs' most improved defensive lineman from this time a year ago."It's fantastic to see those guys playing at a high level," Dykes said, "and when you add the pieces around them, you can see where we're starting to establish some of the depth again that was so important for us last year."Dykes and Kane are counting on three newcomers — Stanford transfer defensive tackle Mike Williams, DeVere Levelston and Junior Aho — to step in and bolster the defensive front."I'm really excited about that group," Dykes said. "The guys we have coming back are better, they're stronger. Then you have DeVere and Junior who are really big bodies who I think will help us early. Mike is a big, physical guy who has played at a really high level against top competition. He's a guy who will grind all day, what call a 'heavy-handed' guy. He's a strong, physical presence inside, a hold-the-point-of-attack guy who can knock people off the ball. He has a chance to be a really good player for us."The changeover at linebacker is not as large in number, but no less significant, as the Ponies bid farewell to Pat Nelson. All he did in his only season at the "Fox" position was set the program record with 12 sacks in a season, finish second on the team with 80 tackles and tie Scott for the team lead with 18 tackles for loss. But while they must replace Nelson's attacking rush off the edge, the Mustangs will welcome back senior Richard Moore, the heartbeat of the defense two years ago who missed most of last season with a knee injury. In his place, Auburn transfer Richard McBryde stepped in and led the team in tackles, with 90. "It's going to take a little time to get Richard (Moore) all the way back," Dykes said when asked how Moore and McBryde will fit together. "We play enough multiple fronts — sometimes with three (linebackers), sometimes four — that we'll have more than enough ways to get them both in there.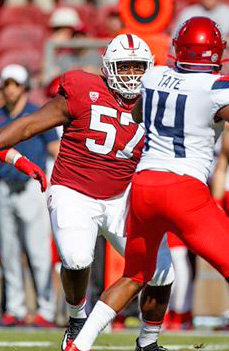 Defensive tackle Mike Williams is one of several newcomers expected to contribute right away on the defensive line (photo by gostanford.com).
Replacing someone as productive as Nelson is no small task, and the Mustangs have three players vying for snaps at the position. Trevor Denbow, Cam Jones and transfer Ty DeArman all are former safeties moving up to the Fox position."The biggest thing at that position is you want someone who will just go play football," Dykes said. "You want guys who are smart football players and can rely on their instincts. At that position, you want someone who can blitz, who's a sure tackler and can get into coverage, if we need him to. All three of those guys can do those things, so that gives is some options. Those guys will push each other and make each other better."I like the linebacker group, with Richard Moore, Richard McBryde, Delano Robinson, Trevor and those guys at the Fox. One guy who is really opening eyes in camp is Jimmy Phillips — he's really starting to make a move. He can play a standard defensive end and rush off the edge, and he can really run, and drop into coverage. He's a great athlete, and pretty versatile. The other guy I don't want to overlook is Turner Coxe, who we drop back sometimes. You know he can rush the passer, but he's just a smart player, a really good football player. He's a guy who, game in and game out, you know he's always going to be there and do his job."The overhaul on the defensive line might get the most attention, but the secondary also will have a decidedly different look. Brandon Stephens and Ar'Mani Johnson are back after starting a combined 25 games last season. Where it gets interesting in the secondary is at safety, where 2019 starters Rodney Clemons and Denbow are with the Kansas City Chiefs and playing Fox linebacker, respectively."Rodney and Trevor played a lot of football for us, and they were productive back there," Dykes said. "Now we have a group that's really young, but can run and tackle. Chevin Calloway played last year and did pretty well. Chace (Cromartie) can really run, he's long and a good tackler. Then we have three even younger guys, (redshirt freshmen) Roderick Roberson and Donald Clay, and (true freshman) Karl Taylor, who we like a lot. They're going to learn as they go, but overall, I like that group. As a group, they can really run and tackle."
Special teams
Kicker Kevin Robledo and punter Jamie Sackville are gone, leaving the Mustangs with question marks in the kicking game. "We have a punter from Australia working to get his visa," said Dykes, who can not name a player who is not yet enrolled, although
Matt Fraanje was added Friday to the roster on SMUMustangs.com
. "He's a guy we identified a year ago, and we expect him to come and take over the punting duties, and (Texas transfer) Chris (Naggar) has been fantastic in camp with the placekicking duties. He has been everything we wanted him to be and more.The Mustangs also have to replace return specialist C.J. Sanders. Dykes said receivers Reggie Roberson and Thad Johnson are the likely candidates to handle kickoff return duties, while transfer wide receiver Danny Gray likely will get first crack at the punt return job.

Previous Story
Next Story

| | |
| --- | --- |
| | Sonny Dykes optimistic Mustangs' attack can remain potent despite key losses |

| | |
| --- | --- |
| | SMU quarterback breaks down 2020 season, offense position groups, handling of pandemic |