PonyFans.com Q&A with Shane Buechele
SMU quarterback breaks down 2020 season, offense position groups, handling of pandemic
Posted on 08/25/2020 by PonyFans.com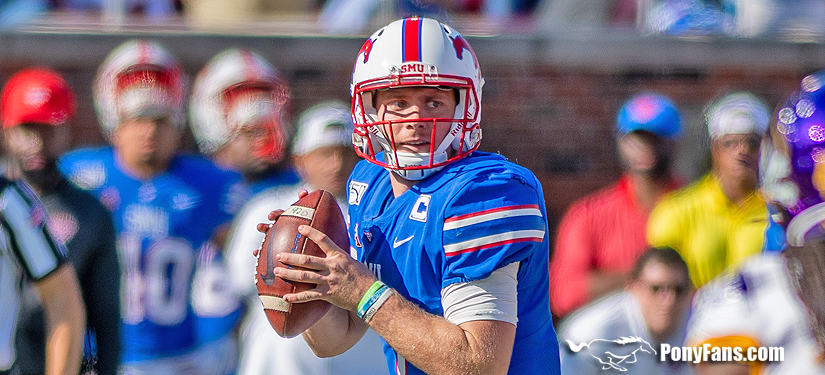 Quarterback Shane Buechele said that despite the departure of some key players at the skill positions after the 2019 season, the SMU offense has a chance to be just potent this season as it was a year ago (photo by Spencer Stewart).
When Shane Buechele took over as quarterback of the SMU Mustangs in 2019, he already was something of a known commodity, having turned his run as the standout signal caller at Arlington's Lamar High School into a scholarship at Texas, where he became just the second freshman to start at quarterback, the first since Bobby Layne.
The son of former Texas Rangers third baseman Steve Buechele, expectations rose for Shane before he took his first snap at SMU. He quickly learned his new offense and developed chemistry and timing with his new teammates, starting immediately for his new team and putting up stellar numbers: 3,924 passing yards, 34 passing touchdowns and, most importantly, 10 victories, a plateau that had not been reached at SMU since 1984.His scoring passes, average of 302.2 passing yards per game and 222 points responsible for all led the American Athletic Conference. He threw for more than 400 yards three times (against Temple, Memphis and ECU) and his 4,034 total yards were the second-highest single-season total in SMU history. For good measure, he went 3-for-3 on two-point conversions and even punted seven times — with four of his punts getting downed inside the opponent's 20-yard line.He arrived at SMU with his Texas degree in hand. While learning his new teammates and the Mustangs' offense, he took on a rigorous academic load and earned his Master's degree in Business Management. This year, he is pursuing a one-year MBA with a concentration in Strategy and Entrepreneurship.Now 22, Buechele is gearing up for what is supposed to be his senior season (the NCAA reportedly will vote on whether to grant an extra year of athletic eligibility to all student-athletes, regardless of whether or not they play because of the coronavirus pandemic). He visited with PonyFans.com to discuss his offseason and preparation for the upcoming season, and to offer his perspective impressions of the 2020 SMU offense.
PonyFans.com
: How would you characterize this year's preseason camp? What are the biggest changes and challenges you and your teammates are facing as you prepare for the upcoming season under unprecedented circumstances?
Shane Buechele
: It definitely is different. What we're going through, obviously we're doing everything a little bit differently. We practice differently. But the plan Coach (Sonny) Dykes and the strength and conditioning staff have given us is very different, too — it has to be. A lot of what we're doing on offense, we're not going against a live defense as much, which is limiting wear and tear, and keeping us separated as much as we can. We don't want to take a chance of sharing something that spreads like wildfire.We're putting in a lot of really good work, and I'm really happy with the plan the coaches have put together. We'll go against a live defense some, but a lot of it will be against air. It helps us get sharp without starting the season with too many hits. We're taking a safe approach, and we'll be ready for Texas State.
PonyFans.com
: You only had a few spring practices before everything shut down because of the pandemic, but before you took the field in the spring, you got a new offensive coordinator when Garrett Riley was hired to replace Rhett Lashlee. What has it been like working with Coach Riley?
Shane Buechele
: It has been really good. I had a good relationship with Coach Lashlee — we got along really well — and it has been the same way with Coach Riley. We get along really well, and his teaching style is pretty similar, on the practice field and over all of the Zoom calls we have had. It's my second year in the offense, and Coach Riley knows the offense really well, so it's good to bounce ideas off him and get his perspective. I'm excited to work with him.
PonyFans.com
: The quarterback is critical to the success of any offense. When Coach Riley came aboard, he said it was important that he get to know you. What were those first conversations like? What were the first things you wanted to know about your new coach?
Buechele
: The first thing was just getting to know each other from a personality standpoint, more than a football standpoint. When you get to know someone like that, you can get a sense of how you'll be able to work with each other. I learned right away that we have pretty similar personalities: we're both pretty calm and laid-back, but with an edge when the game starts, and I think that will translate pretty well to the game. After that, since the offense is a lot like what we ran before, I wanted to see how he calls a game, what he likes to call in different situations.
PonyFans.com
: In your first year at SMU, you put up numbers (3,924 yards, 34 touchdowns) that were impressive, especially for a quarterback leading a new offense for the first time. The season didn't end the way you and your teammates wanted with the loss in the Boca Raton Bowl, but you also led the Mustangs to 10 wins, which had not been done in more than three decades, piled up individual awards at the end of the season and going into this season. Did you exceed your own expectations?
Buechele
: I always write down goals — team goals and individual goals. My biggest things were that I wanted to win and I wanted to be a part of the team leadership. I knew that with the senior class we had last year, if we played well, we could win. So no, I wouldn't say we exceeded expectations, because my expectation was that we would win. That's the goal. I want to help make winning an expectation, a tradition at SMU.
PonyFans.com
: You had those few practices in the spring, and then all of your Zoom meetings over the offseason … what have you seen from the other quarterbacks?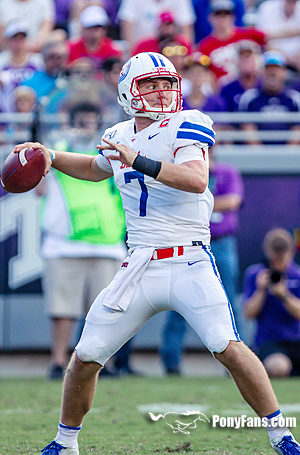 Quarterback Shane Buechele passed for 3,924 yards and 34 touchdowns and led the Mustangs to 10 victories in his first season at SMU (photo by Max Franklin).
Buechele
: They've done a really good job. I've seen them grow from a football standpoint — they're knowledge, learning the offense, diving in to everything Coach Riley is teaching. They're putting in a lot of extra time, diving in, and it shows. That's one thing I have always tried to bring: work ethic. When it's football season, that has to be your priority, and you can see it is for them. They're always competing, always pushing each other, and what that means is the whole quarterback room gets better.
PonyFans.com
: As you gear up for the 2020 season, the offense looks quite a bit different than it did a year ago, especially at the skill positions where you no longer have James Proché, Xavier Jones and Ke'Mon Freeman, among others. Those are guys who didn't just play a lot of football at SMU, they played a lot of
productive
football. With guys like that leaving, can the offense be as productive as it was last year?
Buechele
: I really think it can. We're going to miss those guys — they're great players. "Pro" is an All-American who holds all of the records at SMU. "Xa" and "Free" are great running backs who did a lot for the offense. But we have good players taking their places. Reggie (Roberson) is back. Kylen (Granson) had a great year and he's back. We have new guys like Danny Gray, who looks like he's been in this offense for years. TP (Tyler Page) is a great player — the only thing that held him back last year was that he was behind "Pro," but he's a tough player, a smart player. We have some great athletes, so I just need to get the ball in their hands so we can see what they can do. We have enough talented players that I think we can do what we did (offensively) last year.
PonyFans.com
: Xavier Jones and Ke'Mon Freeman, who combined for 28 rushing touchdowns in 2019, are gone, but Sonny Dykes said that he's excited about the running backs you have: T.J. McDaniel, Ulysses Bentley, TaMerik Williams and Tyler Lavine, who Coach Dykes said is having an exceptional camp. Last year, the offense ran a few more running plays (534) than passing plays (503); do you anticipate a heavier reliance on the pass, at least while the young running backs establish themselves?
Buechele
: I don't think so. We want to be like we were last year — if we're not 50-50 on running plays and passing plays, we want to get close to it. An offense that can have that 50-50 balance makes it tough on defenses, because if you can be effective at both, they can't load up to stop one or the other. Coach Riley likes to run the ball, so you know we we will. T.J., "Doo" — we call Ulysses "Doo" — TaMerik and Lavine, we have guys who can do a lot of different things, and that's important. T.J. and Doo have put on a little weight and look really good running the ball, TaMerik is a big, strong guy, and Lavine is just a bulldozer. With the offensive line more experienced than it was last year, we should be able to run the ball again this year.
PonyFans.com
: You spoke last year about how James Proché and Reggie Roberson benefitted from playing together because defenses couldn't key in on just one of them. How much did you and the offense miss Reggie when he got hurt?
Buechele
: We did miss him — he's the deep threat. I wouldn't say we took away part of the playbook when went down, but there some calls we didn't make. Rashee (Rice) stepped up as a true freshman, so we were still able to run those plays, but we just didn't use them as much.I'd say Reggie is the No. 1 guy, and he deserves it, he has earned it — he's a great player, and when (opponents) want to put two (defensive backs) to his side or play two (safeties) high, we have Rashee who has shown what he can do. Reggie looks really good — he's strong and confident cutting off that foot, his speed is there and he looks really confident. Rashee has gotten bigger. (Strength and conditioning) Coach Kaz (Kazadi) has done a great job with him — he's bigger and thicker and hasn't lost any speed — and now Rashee is a lot more confident after a year in the offense.
PonyFans.com
: Several newcomers, or players who had limited roles last year, are working their way in to the receiver rotation. What do you see from transfer Danny Gray, and the young, big targets you have in Calvin Wiggins, Keke Burns and TQ Jackson?
Buechele
: Danny is a natural receiver who looks really good so far, like he has been in this offense for a while now. With him, it's all about getting more reps and staying in his playbook because he's new, but you can see his talent. Thad (Johnson) is really good, too — a quick-twitch guy. With the bigger guys … TQ is a new guy I haven't gotten to throw to all that much, but he's a really good athlete. He, Calvin and Keke are pretty similar: they're big, and they play big, which is really important. They play to use their size to their advantage.
PonyFans.com
: You and Kylen Granson really clicked last year, especially in the second half of the season, until he finished with 43 catches, 721 yards and nine touchdowns. Sonny Dykes talked about how you and Kylen spent a lot of time working together over the offseason — what were those workouts like? What did you and he try to add or improve?
Buechele
: He's a great athlete, but the best thing about Kylen is that he's a really smart player. Having a great athlete at the tight end position can really help an offense, and he really understands space and spacing, what to do against different coverages, where he can get open. We spent a lot of time talking about things like that. That's what I like about him most — his head. He understands spacing, he understands defense and he understands how to attack defenses.
PonyFans.com
: A lot of quarterbacks are like coaches, in the fact that they usually say an offense is only as good as the offensive line that leads the way. You have most of your linemen back from last year, including four starters from a year ago, you have a couple of Thomas Shelmire who sat out last season, young guys like Danielson Ike and Tai Brooks, a transfer in Demitri Jordan and a stable of freshmen. From your perspective in practice, how different does the line look this year?
Buechele
: Those guys have had a great fall camp — they're bigger, and like you said, they have a lot more depth, and when you have more depth, you get better competition. I think the biggest difference from a year ago is the confidence. They worked with each other last year, and their communication is better, which is important — they have to know where each guy is going to be, where their blind spots are.On the offensive line, you need a lot of reps, and the returning guys got that last year by playing together, and they're helping the new guys. You can see a big difference in the way they communicate, and that will always make a line better.
PonyFans.com
: Now that we have talked about the rest of the offense, how are you different now than when you arrived a year ago?
Buechele
: I have a much better understanding of the system, and that's more important than anything physical. I have a better understanding of when I can check out of a play. In year 2 in the offense, I'm more confident. Just having the offseason, being able to throw with the guys, my timing is better now than it was when we started camp last year. The quarantine really shook things up, but we were able to make the most of it and get some good work done.
PonyFans.com
: Since you mentioned the pandemic, one of the effects we're seeing is players across the country opting out of the 2020 season. Have you considered that?
Buechele
: I haven't considered that at all. I'm focused on the season, and I'm excited to play with these guys. We have a plan in place, and with everything we're doing on our side, I'm confident we can stay healthy. You don't want to say it (transmission) can't happen, but I have complete confidence in our trainers and our medical team. I think our approach starts with the team leaders, showing the younger guys that we're content with the plan SMU has put in place. I think once the young guys see that from us, that confidence rubs off on them, too.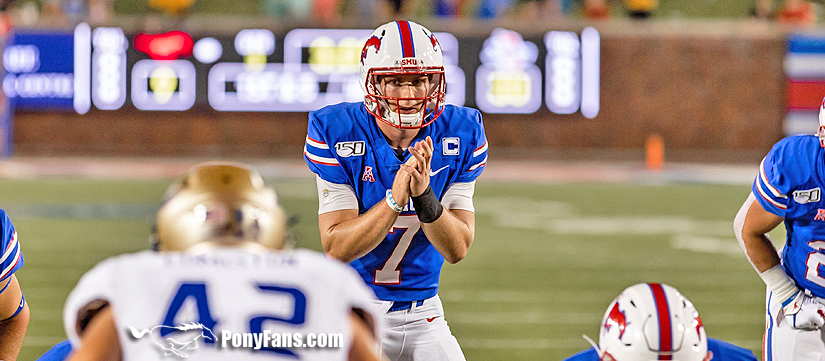 For the second time in as many seasons, Shane Buechele has been named one of the SMU captains for 2020 (photo by Max Franklin).

Previous Story
Next Story

| | |
| --- | --- |
| | Mustangs relying on retooled defensive line, welcome back Moore |

| | |
| --- | --- |
| | Sonny Dykes, Jake Spavital coached together in 2016 at Cal |