Pony NATE-tion: Retooled Mustangs, Bobcats face off in 2020 opener
Sonny Dykes, Jake Spavital coached together in 2016 at Cal
Posted on 09/03/2020 by PonyFans.com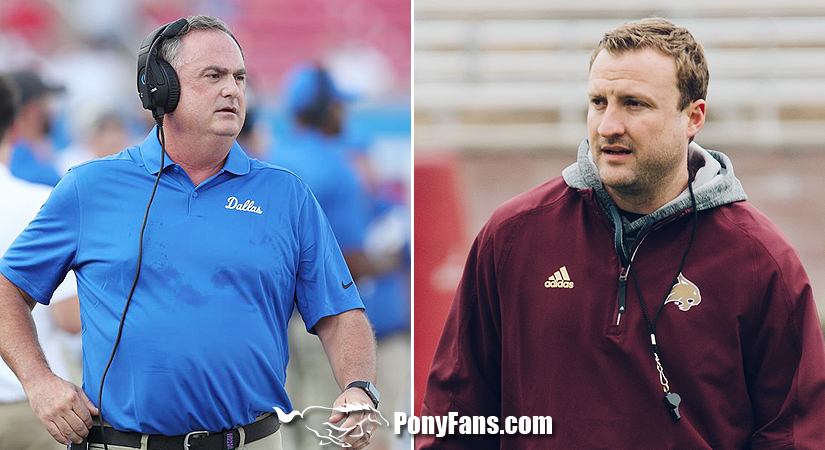 SMU coach Sonny Dykes and Texas State coach Jake Spavital are more than familiar with each other; Spavital was the offensive coordinator at Cal in 2016 while Dykes was head coach (photo by SMU athletics / txstatebobcats.com).
PonyFans.com is proud to have journalism student Nate back as a guest columnist for the 2020 season. This week, Nate shares his thoughts on Saturday's season opener at Texas State
Feel free to post comments and constructive criticism, ask him questions, and/or give suggestions for upcoming columns! (He can be followed on Twitter at @Pony_NATE_tion.)___________________________________________________________________________________________________________________________With all that has gone on in the world, the start of the season appears to have snuck up on us. Would you look at that? It's game week! SMU will travel down to San Marcos to kick off the 2020 season against the Texas State Bobcats. Expectations are lofty on the Hilltop once again after a 10-win season in head coach Sonny Dykes' second season with the Ponies.The Mustangs open up with a familiar opponent in Texas State, a team that the Ponies steamrolled last year, 47-17. Texas State head coach Jake Spavital is more than familiar to Dykes as well, as he served as Dykes' offensive coordinator at Cal in 2016. Spavital is coming off a tough first year as the head man in San Marcos, as the Bobcats only won three games in 2019. The football scene in San Marcos has been quite bleak, as Texas State has won 13 games in the last five years and has not cleared four wins since 2014. This turnaround project for Spavital is going to be very difficult.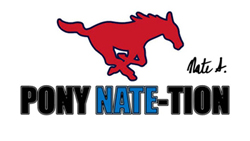 (photo by SMU athletics / txstatebobcats.com).
Known for calling prolific offenses, Spavital comes from the Kliff Kingsbury/Dana Holgorsen Air Raid coaching tree. Unfortunately for Spavital, that didn't translate in his first year at Texas State. The Bobcats averaged just 18 points per game and were the worst rushing attack in the Sun Belt Conference last year. The quarterbacks were simply awful in 2020, throwing 20 interceptions to just 16 touchdowns. A new starter was named this week, and it is Memphis transfer Brady McBride. If we know anything about the Memphis offensive system, if the Tigers recruited him, he can spin it. While he might not be Brady White, he should be a significant step up from what the Bobcats ran out there in 2020.While no one on the Bobcat offense was terribly productive in 2019, Spavital has injected the offense with several Power Five transfers to join receivers Trevis Graham and Javen Banks on the outside. Receivers Drue Jackson and Waydale Jones and safety Tory Spears all come from Power Five programs and will enter their first season in San Marcos. Arizona State transfer Brock Sturges should be the lead tailback as he tries to improve on the worst rushing attack in the Sun Belt. A combination of poor o-line play and always being behind, the run game was nonexistent in 2019.Defensively, Texas State has a ton of holes, especially up front. With 13 of its top 20 tacklers gone, Spavital has plenty of work to do with his defensive front that was gashed against the run, including against SMU when T.J. McDaniel ran for 159 yards and three touchdowns against the Bobcats in 2019. Nico Ezidore and Caveon Patton are the main returners up front for a d-line that only recorded a measly 13 sacks last season. If SMU's Shanbe Buechele has that kind of time, this could get ugly early on. Losing now-Los Angeles Ram Bryan London hurts the defense as well, as the former Bobcat linebacker led the team in tackles. Keep an eye on leading returning tackler Jarron Morris at corner, who is quite small at just 5-9, but still is a playmaker who had two picks and seven pass breakups in 2019. With the secondary down three starters as well, the entire defense appears to be in the middle of an overhaul.Overall, this appears to be a mismatch for SMU. The timelines of the two squads don't match up. SMU is ready to take off and is full of talented veterans who are coming off an outstanding season. Texas State is young, breaking in a new quarterback, and is in the early stages of a rebuild. With this being such a weird season and a strange offseason, you have to lean with the more experienced squads, especially early on. SMU's offense will overwhelm Texas State early and often, but look for McBride and Co., to put up some points against an inexperienced SMU secondary that looks to again be a bit thin in 2020. SMU will roll, but Dykes won't run up the score on an old friend in Spavital. The Ponies will extend their non-conference winning streak to six rather easily.Nate's take: SMU 45 Texas State 20

Previous Story
Next Story

| | |
| --- | --- |
| | SMU quarterback breaks down 2020 season, offense position groups, handling of pandemic |

| | |
| --- | --- |
| | Ponies, Mean Green face off at 5 Saturday |