Pony NATE-tion: Expect a shootout in Denton
Ponies, Mean Green face off at 5 Saturday
Posted on 09/16/2020 by PonyFans.com

After Houston Baptist put up 480 passing yards against North Texas in the season opener, Nate says that Reggie Roberson and the SMU receivers should be able to get behind the UNT secondary Saturday in Denton (photo by SMU athletics).
PonyFans.com is proud to have journalism student Nate back as a guest columnist for the 2020 season. This week, Nate reviews the Mustangs' opener at Texas State and looks ahead to Saturday's matchup at North Texas.
Feel free to post comments and constructive criticism, ask him questions, and/or give suggestions for upcoming columns! (He can be followed on Twitter at @Pony_NATE_tion.)___________________________________________________________________________________________________________________________After a week off due to the cancellation of the annual SMU-TCU game, the SMU Mustangs will try to build on their opening win against Texas State against crosstown rival North Texas. Following a 31-24 win in San Marcos, the Mustangs have a lot of issues to clean up before Saturday.Without hashing on the Texas State game too much, it was clear it was the Ponies' first game in a while. While the defense made some plays, there were blown coverages, missed tackles and general rustiness. Offensively, the biggest concern comes along the offensive line. The offensive weapons looked great. But Shane Buechele was under duress for much of the game and he was quickly forced into mistakes. Texas State's below-average defensive line shockingly gave SMU's front five issues all afternoon. That absolutely can not happen going forward.Saturday at UNT, in front of a limited-capacity crowd, it will be yet another weird afternoon of Covid college football with all the safety protocols in place and masks galore. Head coach Seth Littrell will field a UNT squad that also had a week off following the cancellation of its game with Texas A&M last week. After a disappointing 4-8 year in quarterback Mason Fine's final season in Denton, Littrell cleaned house in the coaching staff, sending away both coordinators.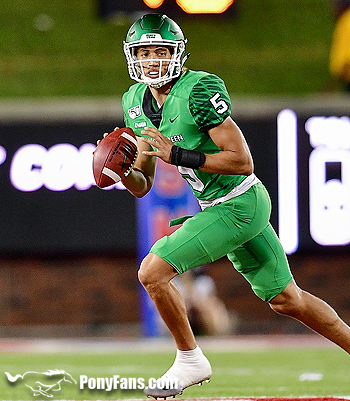 After Mason Fine piloted the North Texas offense for what seemed like forever, Jason Bean was the better of two passers to play in the UNT opener, throwing three touchdowns against Houston Baptist (photo by meangreensports.com).
The new-look Mean Green looked great offensively in its first outing against Houston Baptist, rolling to a 57-31 win and racking up the most single-game yards (721) in school history. UNT also rolled up more than 300 passing and rushing yards in the same game for the first time in school history, with nearly perfect balance, piling up 360 rushing yards and 361 through the air.There was a quarterback competition between Jason Bean and Austin Aune, but after the first game, it appears Bean is the guy, and he showed as much after backing up Fine. His debut for UNT included 11-of-18 passing for 217 yards and three touchdowns with an interception to go along with a 37-yard rushing touchdown. The ball was spread around quite efficiently as well, as UNT had 11 different players with at least one reception. Senior wideout Jaelon Darden led the way again with five catches for 71 yards and three scores. Darden was the Mean Green's leading receiver in 2019.Runners Tre Siggers and DeAndre Torrey got the bulk of the groundwork, combining for 25 carries for 126 yards. Torrey was the more explosive back, averaging 7.7 yards per carry to Siggers' 2.9.Now, though UNT's offense looks potent once again, its defense is again susceptible to the Ponies' attack after SMU hung 49 on it in 2019. Houston Baptist appears to be the pesky lower-level school that refuses to stop scoring, as it gave Texas Tech issues last week as well. But Houston Baptist rolled up 480 passing yards and over 550 total yards on North Texas. UNT's secondary was carved up all night by Houston Baptist quarterback Bailey Zappe. On top of that, after losing All-Conference defensive end Ladarius Hamilton, UNT couldn't get to the quarterback. Only recording one sack, UNT's secondary was picked apart as Zappe had all day to throw. North Texas does return its two linebackers, KD Davis and Tyreke Davis. Both linebackers started all 12 games last year, and KD Davis was again all over the field with nine tackles, one sack, and a tackle for loss.It's hard to figure out what exactly either team is going to be this year with a strange offseason and lots of new faces, but continuity is going to be king in the 2020 season. The most consistent and continuous group roster-wise is SMU's offense. Returning so many starters, especially the quarterback, SMU's offense will continue to handle adversity and put up points.A 31-point outing against a weak Texas State defense was certainly not ideal, but there was some obvious rust. There were unforced errors, penalties, turnovers and more, as the Mustangs absolutely should have scored many more points. While only scoring 31, SMU had a fumble at the goal line and also had a long touchdown pass to Kylen Granson called back because of a questionable flag.Last year's matchup between these two schools was exactly what SMU wanted: let Buechele get it to his playmakers downfield (Reggie Roberson and James Proché combined for over 200 yards and three touchdowns), and supplement the great downfield attack with an efficient and effective run game (Xavier Jones had 127 yards and three touchdowns).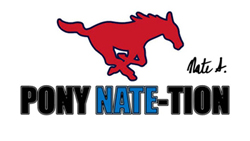 (photo by meangreensports.com).
Offensively, SMU just needs to clean up the silly mistakes like red zone turnovers, penalties and interceptions, and generally sharpen up. Most expected a bit of a sloppy Week One performance, but that was sloppier than expected. Defensively, SMU might have its hands full. While the secondary held up well against Texas State and limited the big plays, the new-look defensive front is going to have to step up in a big way. Putting pressure on Bean and slowing down a rushing attack that had over 300 yards a week ago is the key for the defense. There was some promise from the defensive front with guys like Elijah Chatman and Turner Coxe making plays, and that will need to continue Saturday against the Mean Green.Overall, this seems to be a rather similar matchup to 2019, and with that said, I think the result will be similar. Both offenses will light up the scoreboard, but SMU's defense will be able to get the key stops and even a takeaway or two. This will be the first real offensive eruption from the Mustangs in 2019, and Rashee Rice, Roberson, and Danny Gray will torch UNT's secondary and have a big day. After a 130-yard outing from T.J. McDaniel and two touchdowns from Ulysses Bentley, the Mustang ground attack will continue to cook as well. I've got SMU in a rout. UNT is simply overmatched on defense and won't have an answer for Sonny Dykes' attack.Nate's take: SMU 48 UNT 24

Previous Story
Next Story

| | |
| --- | --- |
| | Sonny Dykes, Jake Spavital coached together in 2016 at Cal |

| | |
| --- | --- |
| | Mustangs, Jacks kick off at 6 p.m. Saturday |