Pony NATE-tion: Preseason Pony Players of the Year
Who will play the biggest roles for SMU in 2020?
Posted on 09/03/2020 by PonyFans.com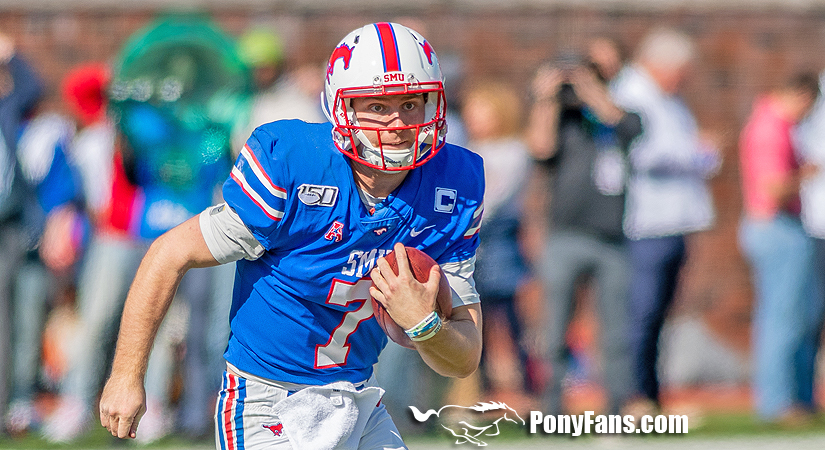 In his first season directing the SMU offense, quarterback Shane Buechele program records with 3,929 passing yards and 34 touchdown passes (photo by Spencer Stewart).
PonyFans.com is proud to have journalism student Nate back as a guest columnist for the 2020 season. This week, Nate shares his thoughts on Saturday's season opener at Texas State
Feel free to post comments and constructive criticism, ask him questions, and/or give suggestions for upcoming columns! (He can be followed on Twitter at @Pony_NATE_tion.)___________________________________________________________________________________________________________________________The most historic SMU football season in 35 years was followed up with the most historic offseason in college football history. The coronavirus pandemic left everything, including college football up in the air. After much uncertainty and discussion, it appears that the strangest season in college football history is a go. With no Big Ten, Pac 12 or several other smaller FBS and FCS conferences, that leaves the Power ... Three? Plus the American Athletic Conference?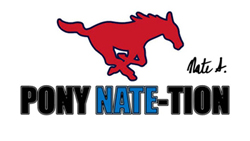 (photo by Spencer Stewart).
So much confusion and uncertainty lie in what the postseason could look like, that it is best to take this season one game at a time. With rescheduled games and player opt-outs left and right, it's simply the best approach to kick back and enjoy this season week by week. After all, a strange version of college football is better than no college football! Coming off the most exciting SMU season in recent memory, the Mustangs are poised to build on an outstanding 2019. There are several new faces, especially on the defensive side of the ball, but the offense will have a new playcaller in Garrett Riley (brother of Lincoln Riley) after Rhett Lashlee got the offensive coordinator gig at Miami. It was expected that Lashlee would be a hot name on the coaching market and he is well on his way to becoming a head coach somewhere. With that said, let's get into my annual preseason awards:
Offensive MVP: Shane Buechele
Offensively, the Mustangs return most key players. Quarterback Shane Buechele, wide receiver Reggie Roberson, tight end Kylen Granson and tackle Jaylon Thomas all have been placed on several different award watch lists and are ready to build on great 2019 campaigns. It's an easy and vanilla answer, but it's the truth. After setting school records in passing yards (3,929) and touchdown passes (34), Buechele is one of best quarterbacks in the country and might be the best player in the American Athletic Conference. He is without a doubt the offensive MVP for the Mustangs. He was one of the best deep ball passers in the nation last year and has even begun to garner some NFL attention. With a still-loaded pass-catching corps and an offensive line that returns four starters, there's no reason Buechele won't repeat or even improve upon his 2019 numbers.
Defensive MVP: Richard McBryde
With so much defensive talent going out the door, McBryde is one of the only mainstays from 2019 who is a go for 2020. McBryde came on in relief for Richard Moore at the linebacker position last year and became a key cog in the Mustang defense. He was selected to Phil Steele's preseason All-AAC First Team and now will be joined at linebacker by a healthy Moore and Delano Robinson. He had 69 tackles, 9.5 for loss and 3.5 sacks in 2019. The Auburn transfer once again will be leaned on heavily in 2020.
Breakout Player: Danny Gray
Who will replace James Proché? Enter JUCO transfer Danny Gray, who spurned rival TCU on Signing Day for the Mustangs. On tape, Gray's speed jumps off the screen, and he is electric with the ball in his hands. Sonny Dykes could not stop raving about him Monday, even going so far as to say that he "is probably the fastest college football player I've ever seen week in and week out." Look for Danny Gray to be the latest addition to the ever-growing list of star Mustang wideouts.

Previous Story
Next Story

| | |
| --- | --- |
| | SMU quarterback breaks down 2020 season, offense position groups, handling of pandemic |

| | |
| --- | --- |
| | Ponies, Mean Green face off at 5 Saturday |