Pony NATE-tion: Mustangs' speed should lift SMU to 3-0
Mustangs, Jacks kick off at 6 p.m. Saturday
Posted on 09/23/2020 by PonyFans.com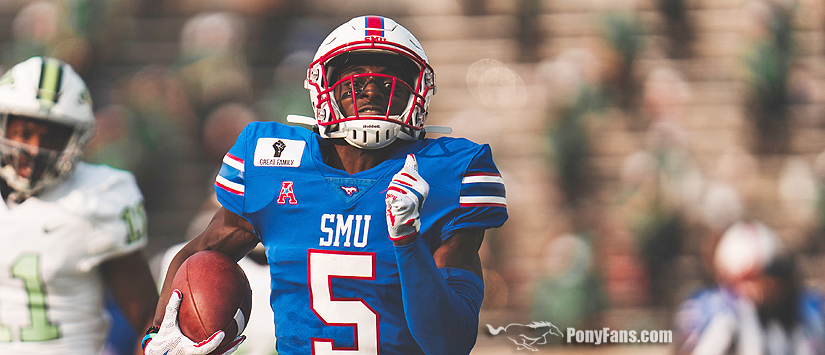 Nate predicts a big day forthe SMU wide receivers against the SFA secondary that will struggle to keep up with speedsters like Danny Gray (photo by SMU athletics).
PonyFans.com is proud to have journalism student Nate back as a guest columnist for the 2020 season. This week, Nate weighs in on on last week's win over North Texas and how the Mustangs will fare against Stephen F. Austin in their attempt to improve to 3-0.
Feel free to post comments and constructive criticism, ask him questions, and/or give suggestions for upcoming columns! (He can be followed on Twitter at @Pony_NATE_tion.)___________________________________________________________________________________________________________________________The 2-0 Mustangs kick off their 2020 home slate as big favorites against Stephen F. Austin, a team that is still searching for its first win of 2020. It won't be the typical home opener for SMU, as capacity at Ford Stadium will be limited to only about 8,000. Without the atmosphere of The Boulevard and a typical gameday, SMU will need to learn to play without its typical home field advantage. SMU is coming off a 65-35 win over crosstown rival North Texas in which the offense looked incredibly sharp and potent. Shane Buechele accounted for five touchdowns, four through the air, as well as 344 passing yards. Buechele's weapons looked fantastic as Reggie Roberson, Rashee Rice, Danny Gray and Kylen Granson are turning out to be one of the best arsenals in the country. Roberson and Rice combined for 14 catches for 205 yards, while Roberson hit paydirt twice. Granson continued to be a red zone terror. Gray was referred to by Sonny Dykes as one of the fastest players he's been around, and he showed it on his 62-yard touchdown catch. Gray caught a pass along the sideline at about the UNT 42-yard line, cut toward the middle of the field and simply outran five UNT defenders to the end zone. It was one of the more athletically impressive plays by an SMU player I can remember. Simply put, speed kills.The offense as a whole racked up a whopping 710 yards, 366 of which came on the ground. Most of that groundwork came off the legs of Ulysses Bentley IV, who totaled 227 rushing yards and three touchdowns on just 19 carries. While T.J. McDaniel still will be a big factor, Bentley is turning out to be a huge part of the Mustangs' revamped rushing attack.The defense, on the other hand, forced two turnovers but didn't put together a full game, allowing 28 of UNT's 35 points in the second half as UNT racked up 517 total yards. The defense clearly has regressed some in terms of pass rush after leading the nation in sacks in 2019, but there are still some standouts so far, especially Elijah Chatman, who continues to be an anchor in the middle. Linebacker Delano Robinson also continued to impress with strong play as he racked up 10 tackles. Cornerback Brandon Stephens led the secondary and made a very impressive interception in the end zone early on when UNT was threatening, as well.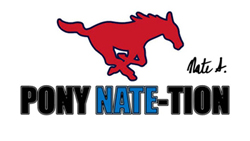 (photo by SMU athletics).
Going forward, Dykes is looking for consistency. That was one of the things he harped on in his weekly media availability as he wants his teams to be able to compete at a high level wire to wire, regardless of whether backups or young guys are in the game or not. While it was a fantastic first half for SMU, things looked much shakier in the second, especially defensively. This third game against SFA is SMU's last chance to sharpen things up before conference play begins with a huge game against Memphis.SFA comes in with an 0-2 record after two rather uninspiring losses to UTEP (24-14) and UT-San Antonio (24-10), and the Lumberhacks' offense is continuing to struggle. SFA won just three games in head coach Colby Carthel's first season, and all three wins were vacated by NCAA violations.The strength of SFA is clearly its defense, which makes sense since that is Carthel's background. He returns three impact players in his secondary, including 2019's leading tackler Trenton Gordon, All-Southland corner Willie Roberts, as well as Alize Ward. Myles Heard currently leads the team in tackles with 17 tackles.What killed SFA in 2019 was its run defense, as the Jacks were last in the Southland in run defense, surrendering over 190 rushing yards per game. That trend has continued through two games in 2020, as UTEP ran for 152 yards and UTSA rolled up 229 yards. Look for the SMU offense to go back to the well and try to get Bentley and McDaniel going again. SMU's offensive line remains a strength and the Mustangs will try to impose their will against the Lumberjacks.Offensively, SFA's junior quarterback, Trae Self, only threw for 2,550 yards with a 12-12 touchdowns-to-interceptions ratio in 2019 and likes to spread the ball to all his receivers, but his only real impact weapon is Xavier Gipson, a preseason All-Southland selection. The 5-9 receiver had nearly 1,000 yards in his first season for the Lumberjacks last year and is again their leading receiver through two games with 123 yards and a touchdown on nine catches. SFA really works to spread the ball around; five receivers have at least four catches and 50 yards so far. Self only averages 7.7 yards per attempt, so SFA doesn't push the ball downfield too much.The key for SMU will be to stop the run and put pressure on Self, who doesn't attack downfield aggressively. If the Mustangs can put him in third-and-long situations repeatedly, it will give SMU pass rushers a chance to pin their ears back and go. This offense has only scored 24 total points against two low-level opponents, so a much-improved, 60-minute performance from the SMU defense is necessary as SMU prepares this week for Memphis next week.Offensively, SMU simply needs to exploit SFA's weakness: defending the run. The Jacks simply can not stop the run right now, and SMU just so happens to be coming off a 300-plus-yard rushing performance with an explosive back like Bentley on a roll. SFA's secondary is stronger, but still should not be able to contain the SMU passing attack. Despite that, SMU should attack SFA relentlessly on the ground, which will in turn open up the play-action deep shots for speedsters like Roberson and Gray.Overall, this is a big mismatch for the Mustangs. SMU comes in as a 34-point favorite, so the Ponies should roll. SFA has struggled mightily to score, so this will be a chance for SMU to sharpen some things up on the defensive side of things. SMU will run over SFA's run defense and coast to a big win. The Ponies will be 3-0 heading into the huge conference-opening matchup with Memphis.Nate's take: SMU 45, SFA 17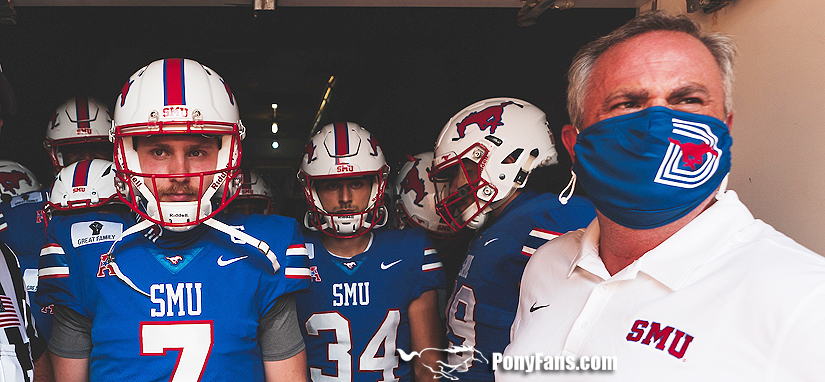 Nate says that beyond winning, quarterback Shane Buechele, head coach Sonny Dykes and the Mustangs need to use the Stephen F. Austin game to sharpen their play in advance of the AAC opener next week against Memphis (photo by SMU athletics).

Previous Story
Next Story

| | |
| --- | --- |
| | Ponies, Mean Green face off at 5 Saturday |

| | |
| --- | --- |
| | High-powered clash Saturday at Ford Stadium |