Pony NATE-tion: Mustangs open AAC play against Memphis
High-powered clash Saturday at Ford Stadium
Posted on 09/30/2020 by PonyFans.com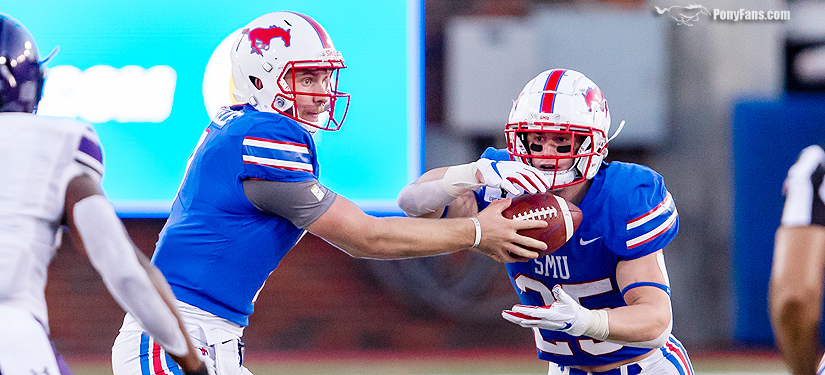 Nate says quarterback Shane Buechele, running back T.J. McDaniel and the Mustangs are in for a high-powered shootout when they host Memphis Saturday afternoon (photo by Max Franklin).
PonyFans.com is proud to have journalism student Nate back as a guest columnist for the 2020 season. This week, Nate shares his thoughts on Saturday's AAC opener against Memphis.
Feel free to post comments and constructive criticism, ask him questions, and/or give suggestions for upcoming columns! (He can be followed on Twitter at @Pony_NATE_tion.)___________________________________________________________________________________________________________________________SMU is 3-0 after a 50-7 win over Stephen F. Austin. SMU jumped on the Jacks, and jumped on them early. The Mustangs led, 22-0, after just the first quarter as they moved the ball with ease, especially on the ground, as both T.J. McDaniel and Ulysses Bentley both ran for 104 yards; Bentley averaged over 17 yards per carry. The defense stifled the weak SFA offense is it should have, and the game was over by halftime. SFA managed just 216 total yards of offense. The bottom line is the Mustangs did what they were supposed to do: steamroll a team they should steamroll and look sharp in preparation for a huge conference opener against No. 25 Memphis. This year's matchup won't come close to the pomp and circumstance that came with the 2019 matchup in Memphis, which was accompanied with ESPN's College Gameday and the primetime slot on ABC with Kirk Herbstreit and Chris Fowler on the call. However, this game is just as important for American Athletic Conference title implications down the road.It has been a wild first few weeks of the season for Memphis: the Tigers have not played since Sept. 5, with games against UT-San Antonio and Houston cancelled and postponed, respectively. The Tigers dealt with a COVID-19 outbreak on the team, which is something football fans are going to have to become accustomed to in this strange COVID season. Nonetheless, it will have been a little under a month by the time Memphis takes the field Saturday.The Tigers' offense was nothing short of phenomenal in 2019. While Mike Norvell bolted for the Florida State head coaching job, former offensive line coach Ryan Silverfield was promoted to head coach, and the Tigers return Kevin Johns at offensive coordinator.Memphis is missing a lot of its weapons from an offense that was 10th in total offense and 8th in scoring in 2019. Antonio Gibson plays for the Washington Football Team now and Kenneth Gainwell opted out of the season due to COVID-19 concerns. Star tight end Joey Magnifico is gone as well. But the Tigers return senior quarterback Brady White, who is undoubtedly one of the best signal callers in the country, and 1,200-yard receiver Damonte Coxie is back, as well. Memphis struggled to protect White last season and was 111th in tackles for loss allowed. While four starters from last year's offensive front return, it will be interesting to see what improvements Memphis has given the lack of film on the 2020 Tigers to this point. In the Arkansas State game, Memphis surrendered five tackles for loss and no sacks.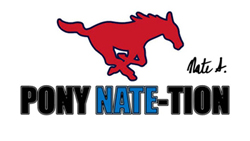 (photo by Max Franklin).
Arkansas State certainly gave Memphis a game, as the final score was 37-24, and was much closer than that final score indicates. White was sharp, completing 73 percent of his passes for 280 yards and four touchdowns. Runners Rodrigues Clark and Kylan Watkins appear to be the main backs replacing Gainwell and Gibson as they received a combined 34 carries. Coxie's new running mate appears to be Sean Dykes, who had 10 catches for 137 yards and two touchdowns. Coxie had 90 yards of his own, accompanied with a touchdown. Those two were on the receiving end of 18 of White's 27 completions.After a rough 2019 on defense for the Tigers, Mike McIntyre comes to the Tigers after spending time as Ole Miss's defensive coordinator. Memphis does return top edge rusher Joseph Dorceus, who had five sacks and 14.5 tackles for loss last year. The middle of the defense still has senior defensive tackle O'Bryan Goodson and junior linebacker Xavier Cullens. Memphis lost many parts in its secondary but Sanchez Blake is back at safety and is accompanied with Quindell Johnson in the back end.Memphis forced Arkansas State into three turnovers — two picks and a fumble. Memphis gave up more than 400 yards but thrived on turnovers. The Tigers again struggled a bit to defend the run but only gave up 3.5 yards per carry despite 125 Arkansas State rush yards. Quindell Johnson led the team in tackles with eight. The Tigers were active in the backfield with three sacks and five tackles for loss.A huge storyline is which team will be at an advantage in terms of freshness or rust. Will Memphis be fresher or will it be rusty? The Tigers will get some guys back that missed the Arkansas State game, but we don't know which Memphis players will be out with COVID after the outbreak on the team. SMU might be sharper, an issue head coach Sonny Dykes addressed in his weekly media availability. "We've had a lot of practices and we've had some game action, but we are kind of at that point in the season where you do start to get a little banged up and a little bit worn down," Dykes said. "That affects you, and then all of a sudden you're going to play a team that is going to be fresh — hadn't played anybody in a number of weeks, potentially could be at full health."He also remarked about the uncertainty about who Memphis will run out there as well. "I think that's the one thing that's a little bit frustrating, with all of this, you just don't know which of their players are going to play," he said. "From a personnel standpoint, I think they have a tremendous advantage. Just because they've seen what we've done. They've seen our players. They've had a chance to evaluate our starters."The bottom line is this SMU team has an "anyone, anywhere, anytime" attitude, which Dykes has done a great job instilling in the roster. While preparation will be difficult given the unusual circumstances, SMU will be ready.Offensively, I think Shane Buechele is in for a rebound game after a quieter game against SFA with only 141 passing yards. While it's not known how involved he will be Saturday, former Arkansas transfer wideout TQ Jackson was granted immediate eligibility by the NCAA. Adding Jackson to an incredible pass-catching corps of Reggie Roberson, Danny Gray, Rashee Rice and Kylen Granson should make the group even more lethal as Buechele, who is already second in the nation in passing yards, gets another weapon. Memphis has struggled to defend the run in the past, and the Mustangs should lean on their red-hot running game led by Bentley. While Buechele likely will continue his tear, an effective run game will be key for SMU in this matchup. As long as the Mustangs protect the ball, which they've done a good job of to this point, the offense absolutely should have no problem lighting up the scoreboard again. This SMU offense scored 48 without Roberson last year, and now the Mustangs have their top receiver ready and healthy. Scoring won't be an issue.Stopping the electric Memphis offense that always thrives on big plays will be essential. Coxie gave SMU's secondary huge problems last year as he had 140 yards and two touchdowns. White threw for more than 300 and had three touchdowns. Big plays killed SMU last year and the linebackers and secondary will certainly have their hands full.This is one of the underrated matchups on Saturday's slate of college football. I fully expect this game to be a firework show of points and explosive plays as both offenses are incredibly impressive. But I think that Memphis' rust will show a bit as the Tigers aren't in the midseason rhythm that SMU is in. SMU has played very well since the Texas State game and has looked very sharp in the North Texas and SFA games. While this is certainly a big jump up in competition, it is for Memphis as well after Arkansas State (plus 28 days with no games).Buechele and Co., should put up a big performance and I like the Ponies to continue their tear and outplay Memphis in a bit of a revenge game. SMU is a three-point underdog, and I think SMU is a barking dog. Give me the Ponies outright in a shootout.Nate's take: SMU 45, Memphis 41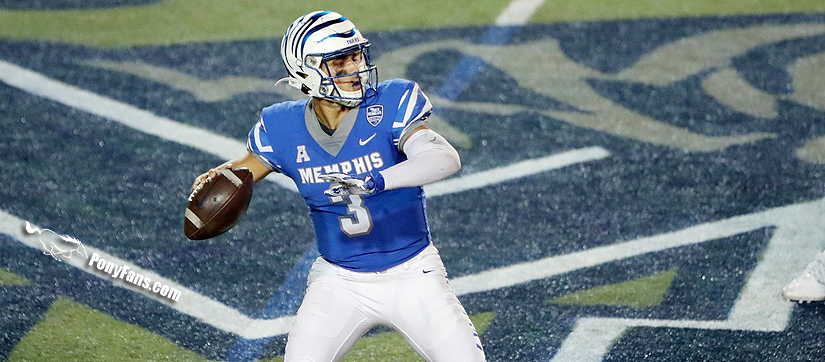 Memphis lost former do-everything star Antonio Gibson to the NFL and prized running back Kenneth Gainwell opted out of the 2020 season, but the offense still boasts one of the top American Athletic Conference quarterbacks in Brady White (photo by gotigersgo.com).

Previous Story
Next Story

| | |
| --- | --- |
| | Mustangs, Jacks kick off at 6 p.m. Saturday |

| | |
| --- | --- |
| | SMU faces Tulane at 5 p.m. Friday |